Steinhoff's "accounting irregularities" crush its stock.
If you're holding shares or bonds of a company, such as Steinhoff International Holdings — which acquired Mattress Firm Holding in 2016, Sherwood Bedding in 2017, and a bunch of other companies — well, you don't want to get this kind of corporate announcement, even if you're the ECB that bought the bonds that Steinhoff's European subsidiary had issued just this July:
The Supervisory Board of Steinhoff wishes to advise shareholders that new information has come to light today which relates to accounting irregularities requiring further investigation. The Supervisory Board, in consultation with the statutory auditors of the Company, has approached PWC to perform an independent investigation.

Markus Jooste, CEO of Steinhoff has today tendered his resignation with immediate effect and the Board has accepted the resignation.
After the press release of "accounting irregularities" appeared today, Steinhoff's shares, which are traded in Frankfurt, plunged 64% in one fell swoop and closed at €1.07.
Investors have been smelling a rat for months: Even yesterday's closing price of €2.95 was already down 41% from the €5-range in June.
And you don't want to hold the bonds when this debacle happens. But being smart, you're not holding the bonds, you sold them to the ECB, which has acquired them under its corporate bond purchase program that is part of its QE.
It would be funny if it weren't so ugly. Steinhoff Europe AG issued the €800 million of bonds in July 2017. The bonds, with a 1.875% coupon, mature in January 2025. Moody's rates them Baa3, so one notch above junk. Hence they were eligible for ECB purchases.
To keep its bond operations opaque for the public, the ECB doesn't disclose by name what it buys, how how much it buys, or when it buys those bonds. But it discloses a list of its current bond holdings (you can download the list here and search it for Steinhoff). And voilà.

Those bonds were trading at over 100 cents on the euro shortly after they were issued in July, probably under the pressure from the ECB's purchases. Today, they plunged 33% to 56.18 cents on the euro and are down 45% from mid-September!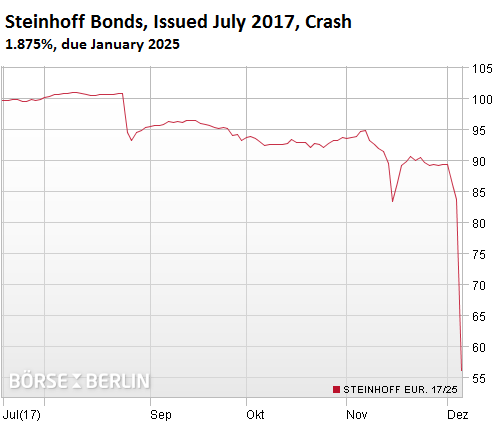 Steinhoff became a powerful force on the acquisition circuit in 2016, acquiring nine large retailers and related companies, in addition to the retailers it already owned. In the US, it acquired Mattress Firm Holding in September 2016 for $2.4 billion and a majority stake in mattress manufacturer Sherwood Bedding in July 2017. It got to the point where Wall Street was asking, while licking its chops, "Who would Steinhoff buy next?"
But in addition to the "accounting irregularities," perhaps designed to cover up some unpleasant issues, Steinhoff has some operating problems, according to Bloomberg:
Retail sales have been weak, and this Christmas — after a much better than expected festive season in 2016 — is looking grim. Add in higher input costs thanks to the slump in the pound, and that some rental payments are due at the end of December, and that could make for a toxic combination.
Moody's, in rating the misbegotten bonds, wrote on July 13 with unintended irony:
A decentralized management model mitigates inherent risks associated with an ever evolving organizational structure spanning a number countries and business sectors with integrating multiple acquisitions. Management teams remaining post acquisition allows for a seamless transition and are aligned with group operating performance success through remuneration comprising a considerable long-term equity award component.
Now the ECB holds some of these bonds. It shows what risks the ECB is taking by buying corporate bonds. Though the ECB doesn't buy junk-rated bonds, it buys bonds that are rated just above junk, such as the Steinhoff bonds, and it buys not-rated bonds of undetermined quality. Due to downgrades, it ends up with junk-rated bonds. The chart, based on data from UBS and Bloomberg, shows that the ECB recently held 26 issues of junk bonds (rated BB+ or below on Standard & Poor's scale), 233 issues of not-rated bonds (NR), and 84 issues rated just above junk (BBB-):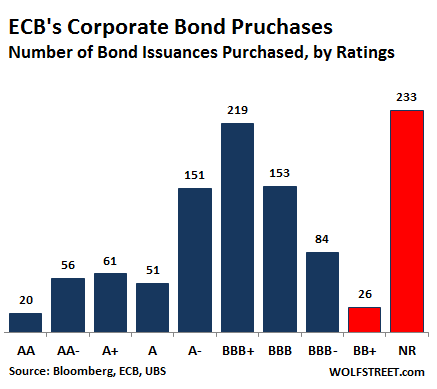 But these are the boom times for euro corporate bonds and particularly junk bonds – boom times because the ECB has been buying these instruments, purposefully inflating their prices and pushing down yields. This scheme allowed a company like Steinhoff to borrow at a cost below 2%.
However, the average euro junk bond yield – currently at 2.5% according to the BofA Merrill Lynch Euro High Yield Index – is up sharply from peak bond-market benightedness in early November, when the average junk bond yield fell briefly below 2.1%. Investors are starting to wonder what will come next, as the ECB will further taper its bond purchase program. And the Steinhoff bonds underline how the ECB has become a "bad bank" of sorts, buying bonds from weak companies and watching how the bonds crash on its books.
The tax cuts and "elevated asset prices" are on the Fed's table. Read…  The Fed Might "Surprise" Markets with its Hawkishness in 2018
Enjoy reading WOLF STREET and want to support it? You can donate. I appreciate it immensely. Click on the beer and iced-tea mug to find out how:

Would you like to be notified via email when WOLF STREET publishes a new article? Sign up here.