No, our American consumers didn't suddenly perform a  miracle.
As part of the data dump on Friday, the Commerce Department released its estimates for retail sales for September. If you just looked at the headlines, you'd get the impression that our American consumers suddenly had gone out to splurge, fired up by two powerful, destructive, and deadly hurricanes:
"U.S. retail sales surge, driven by autos and gasoline purchases": Reuters

"Retail sales in September surge most in 2 years": Los Angeles Times

"Storms Surge and US Retail Sales Surge; Most in 2 ½ Years": New York Times:

"U.S. Retail Sales Rose 1.6% in September: Strong car sales and higher gasoline prices power largest one-month increase since March 2015": Wall Street Journal

"U.S. Retail Sales Rise Most Since 2015 on Storm-Related Lift": Bloomberg News
So US consumers performed one their infamous last-minute miracles and suddenly got on the internet and drove to the mall and to auto dealers and splurged? The headlines pointed at the hurricanes and replacement demand, but this is what you get into when the headlines draw big conclusions from seasonally adjusted month-to-month data that is trying to estimate a very seasonal and volatile reality.
What are these glowing headlines talking about?
Retail sales rose 1.6% in September from August. That's a big one-month surge, the largest since March 2015. And it appeared after retail sales in August had edged down 0.1% from July. But these sales figures are based on data that has been "adjusted for seasonal variation and holiday and trading-day differences, but not for price changes," as the Commerce Department says. So in short, this is seasonally adjusted month-to-month data.
What happened really?
Not adjusted for seasonal and calendar differences, retail sales actually dropped by $23.4 billion or 4.8% from August, to $468.2 billion. Why? Because unadjusted retail sales always drop in September. August is part of "back to school" selling season. For example, in September 2016, retail sales dropped 4.9% from the prior month. So this September was right in line with its 4.8% drop.
And the peak month is always December. Last December, retail sales hit $542.1 billion. It will take another December to take out that record.
This chart shows monthly not-seasonally-adjusted retail sales in billions of dollars. Note the spike during the November-December holiday selling season and the plunge in January and February: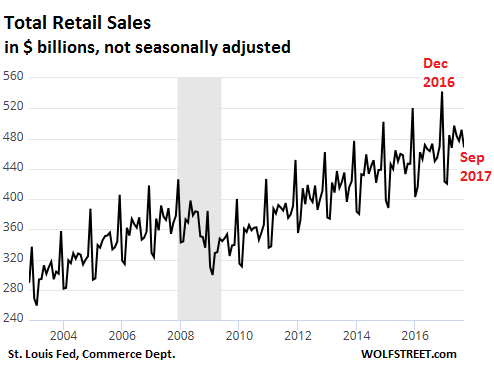 These vast fluctuations due to predictable seasonality make this chart difficult to read, especially for month-to-month observations. There is a lot of "noise" in it. So the Commerce Department adjusts this data to smoothen out the seasonal variations.
Seasonally adjusted data is only as good as the seasonal adjustments.
So how strong are the seasonal month-to-month variations that have to be adjusted out of it? Huge! This chart looks like my electrocardiogram when I get angry about the latest price increases, but it's just the month-to-moth percent change of humdrum retail sales: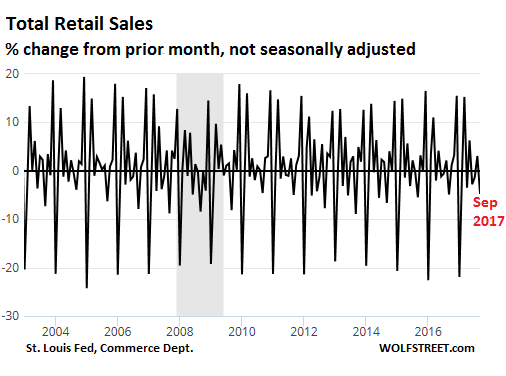 The range is from a month-to-month surge of 20% to a plunge of 20%, without anything drastic happening. These huge month-to-month variations require huge seasonal adjustments to smoothen them out. Any small error in estimating the needed adjustments make the seasonally adjusted month-to-month data useless.
So rather than get tangled up in the seasonal variations and adjustments, we can look at year-over-year changes in unadjusted retail sales, for example from September 2017 to September 2016. This mostly eliminates seasonal fluctuations, though trading-day differences remain. But with the 24/7-Internet grabbing an ever larger share, and with long store hours on weekends, trading day differences are declining in importance.
The chart below takes down the adrenaline level by a few measures. It shows the year-over-year percent change in retail sales. In September, retail sales rose 4.1% from September 2016. This was in the normal range since the Financial Crisis. It was better than in August, and it was the fastest growth in, well, four months:
But price increases caused much of that.
This 4.1% is decent growth, but it's "nominal" growth – meaning that price changes are not figured into this. Consumer prices, as measured by the Consumer Price Index released today, have surged 2.2% year-over-year in September. So on an inflation-adjusted bases, "real" retail sales – I'm just ball-parking here because CPI is based on total consumer spending, including things like rent that are not part of retail sales  – would be up about 1.9% from a year ago.
So there's not much to gush about in the headlines. It fits right in with the same languid growth rate the economy has seen since the Financial Crisis of around 2%, plus or minus a little, in real terms. Last year, the economy grew a lousier-than-usual 1.8%. This year, the economy will likely grow a little above 2%. Right on track to do absolutely nothing special. And retail sales in September were smack-dab in the middle of it.
What's boiling beneath the Surging Inflation? Read…  Yellen Was Right: "Transitory" Factors of "Low" Inflation Are Reversing, with Much More to Come
Enjoy reading WOLF STREET and want to support it? You can donate. I appreciate it immensely. Click on the beer and iced-tea mug to find out how:

Would you like to be notified via email when WOLF STREET publishes a new article? Sign up here.