What's Boiling Beneath the Surging Inflation?
Consumers are going to shell out more money for the same stuff, that's for sure. Inflation as measured by the Consumer Price Index jumped 2.2% in September compared to a year ago, the Bureau of Labor Statistics reported this morning. All fingers pointed at energy costs: the index  jumped 10.1% year-over-year. Within it, "motor fuel" prices (gasoline and diesel) jumped 19.2%.
Food prices rose 1.2% year-over-year, kept down by prices for "food at home" – the stuff you buy at the grocery store – which inched up only 0.4% year-over-year in part due to the price war currently tearing into the supermarket sector.
In the chart below of CPI, note the dreadful "Deflation Monster" – one of those rare and brief occasions in the US when the purchasing power of wages actually rose just a tiny bit on a year-over-year basis. It was caused by the energy bust. And it was "transitory":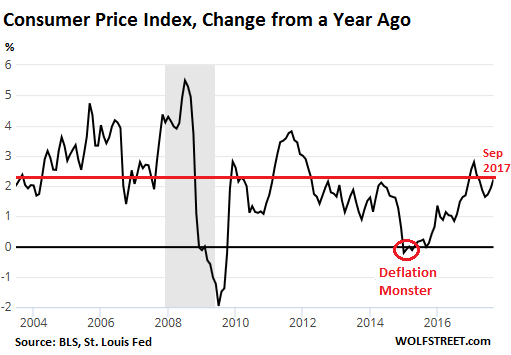 In the chart, note how CPI jumped 2.8% in February and then retreated through June. This retreat was brushed off as "transitory" by Fed Chair Janet Yellen and other Fed governors when they vowed to continue raising rates. She had specifically pointed out a few of those "transitory" factors. And they're now turning around.
One of these factors that Yellen had pointed out was telephone services, which includes the monthly costs that consumers pay for their smartphones. Those costs plunged as a price war among wireless carriers had broken out in 2016. This summer, the price index for telephone services was down around 9% year-over-year. The wireless component plunged as much as 13%. But that consumer bonanza could not last.
In September, the price index for telephone services rose 0.2% from August, and for wireless services 0.4%. This chart shows the year-over-year percentage changes – and how the price war is now petering out: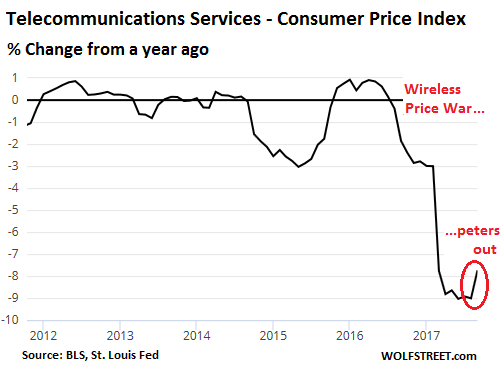 Another "transitory" contributor to "low" inflation this year is the auto industry. Sales at new and used vehicle dealers and auto parts stores account for 21% of total retail sales. Under pressure from record incentives, new vehicle prices fell 1.0% year-over-year. And the CPI for used vehicles fell 3.7%.
Then came Hurricanes Harvey and Irma. Their effects on vehicle prices are not yet reflected in the CPI survey data, but they're already showing up in the prices on the ground: used vehicle wholesale prices are now soaring.
New vehicle sales have declined so far this year and might come in at just under 17 million units. But used vehicle sales have boomed this year and may set a new record north of 40 million units.
Hurricanes Harvey and Irma damaged or destroyed an unknown number of vehicles. The estimates range from 400,000 to over 600,000 vehicles. Some of those vehicles will be repaired and recycled on the used vehicle market, either with flood titles or with clean titles (watch out!). But many ended up in the salvage yard.
This has the effect of taking several hundred thousand vehicles off the road that have to be replaced, mostly used vehicles – that's all insurance companies are paying for.
There is a mad scramble underway to bring vehicles into the affected areas from other parts of the US, and auction prices are now surging.
The Used Vehicle Value Index by Manheim, the world's largest wholesale auto auction, was already rising in the months just before the hurricanes. But as soon as the hurricanes approached, wholesale prices spiked. The index (on a mix-, mileage-, and seasonally adjusted basis) jumped 6.3% year-over-year in September to a record 134.9, the fifth record in a row, and further price increases are expected: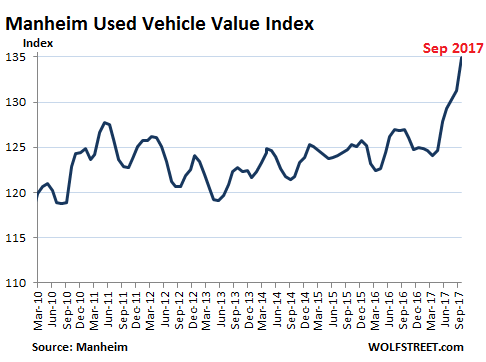 Manheim adds some detail:
On a year-over-year basis, all major market segments saw gains, including midsize cars. Luxury cars, pickups, and vans outperformed the overall market.

Though wholesale market values continue to show strength as a result of growing retail demand, most of this price strength can be attributed to the recovery following Hurricane Harvey and Hurricane Irma. Replacement demand combined with a reduction in available supply is causing wholesale inventories to tighten.
This is what an independent used vehicle dealer in central Texas told me:
We are having a hell of a time acquiring inventory since Harvey. The first week after the great flood in Houston we watched cars bring retail at Manheim Dallas! Things have settled down a bit since, but prices are still very high.

The problem is, by the time you add auction fees and transport you're almost at retail. The book [used vehicle prices] has not reflected the vast price increases at the wholesale level.
This surge in used vehicle wholesale prices doesn't immediately translate into higher retail prices. These vehicles may sit on the dealer's lot for a while before customers buy them. The dealer has to push the higher wholesale price into the retail price, but the current used-vehicle book values are only gradually picking up on those price increases. So all this will take a few months to wash out before the Bureau of Labor Statistics can pick up the higher retail prices with its surveys.
Used vehicle prices also support new vehicle prices because they compete with each other, often on the same lot. This will likely turn around the decline in the new-vehicle price index as well.
The three factors mentioned here – telephone services, new vehicles, and used vehicles – account for nearly 8% of the total Consumer Price Index, and for a much higher weight of the "core" CPI (without food and energy). A turnaround in those three sub-indices, from falling sharply to rising, will have a significant impact on the core CPI, as well as on the core PCE measure of inflation that the Fed looks at for its policy decisions. And those folks at the Fed, such as Yellen, who'd stated, against a flood of protests in the media, that low inflation was "transitory" will be vindicated. This inflation has legs.
Next year is a wild card for the Fed. Yellen may not be reappointed, and there are three additional vacancies, and no one knows whom President Trump will appoint to fill them, and the new Fed could be off the chart. Read…  The Fed will be a New Creature Soon, and No One Knows What It'll Look Like
Enjoy reading WOLF STREET and want to support it? You can donate. I appreciate it immensely. Click on the beer and iced-tea mug to find out how:

Would you like to be notified via email when WOLF STREET publishes a new article? Sign up here.