But IBM's strategy isn't working out. 
In its long and illustriously checkered history as technology pioneer, IBM has more recently become famous for three things:
1. Apparently endless revenue declines.
IBM has booked 21 quarters in a row of year-over-year revenue declines. Annually, revenues peaked in 2011 at $106.9 billion and have now dropped relentlessly five years in row, for a total decline of 25%: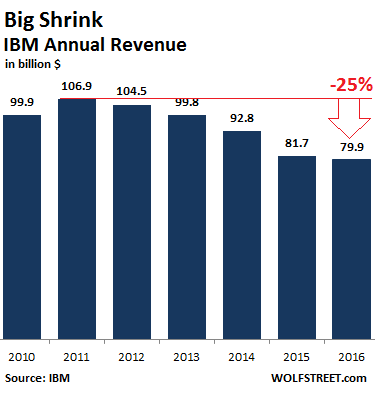 2. Massive share repurchases and soaring debt
Over the past 10 years, even as revenues have been swooning, IBM has repurchased $116 billion of its own shares.
To counter falling revenues, IBM has become an expense-cutting machine, thus generating cash flow, but not enough to pay for the share buybacks. So it has been borrowing to buy back its own shares. In 2006, IBM had $22 billion in debt. In 2011, it still had about the same, $23 billion. But then revenues began to decline, and IBM tried to prop up its shares by increasing its share buybacks, borrowing ever more to do so. From 2011 to 2016, even as revenues fell 25%, its debt nearly doubled to $42 billion.
3. Its ever shrinking footprint in the US
IBM still discloses its global workforce – now at 380,000 and about flat with 2007 – but stopped disclosing its US workforce in 2009, after it became apparent what was happening, and it wasn't pretty. According to IBM's annual reports:
In 2007, IBM had 387,000 employees globally, including 121,000 in the US, "down modestly" from 2006.
In 2008, IBM had 398,000 employees globally, including 115,000 in the US. It explained: "The company continues to add resources aggressively in emerging markets, particularly in the BRIC countries," which include India.
In 2009, IBM had 399,000 employees globally. But suddenly it was silent about employees in the US. It was getting too ugly. Instead it said it "continually assesses its resource needs with the objective of balancing its workforce globally…."
In congressional testimony in 2010, it was revealed that in 2009, IBM's US workforce had shrunk to 105,000. And after waves of quiet layoffs since then, the employee count has been whittled down to "well under 100,000" by now, according to the New York Times, citing "outsiders."
Now IBM employs 130,000 people across India, according to The Times. That's 34% of its global workforce, and substantially more than in the US:
Their work spans the entire gamut of IBM's businesses, from managing the computing needs of global giants like AT&T and Shell to performing cutting-edge research in fields like visual search, artificial intelligence and computer vision for self-driving cars. One team is even working with the producers of Sesame Street to teach vocabulary to kindergartners in Atlanta.
And there's more:
Indians perform consulting services, write software and monitor cloud-based computer systems for many of the world's banks, phone companies and governments.

IBM even has a Bangalore "garage" full of app designers who build corporate iPhone and iPad apps to simplify tasks like helping airline agents rebook passengers, bankers make loans and doctors update patient files.
Why? Cost cutting. The Times:
Depending on the job, the salaries paid to Indian workers are one-half to one-fifth those paid to Americans, according to data posted by the research firm Glassdoor.
IBM isn't the only US tech company to shift employment to India. Much of US tech has moved that way. Oracle employs 40,000 people in India, or about 29% of its global workforce. Dell employs 25,000 in India or 18% of its workforce. Cisco employs 10,600 in India or 15% of its workforce. Microsoft employs 8,000 in India, or 6% of its workforce.
IBM is also in sixth position this fiscal year with H-1B visa petitions. The top five are companies – three of them Indian, such as Infosys – that provide H-1B contract workers to US companies. IBM is listed with 3,569 H-1B petitions so far this fiscal year through June 30, 2017.
But IBM is unusual among big American tech companies because it employs more people in a single foreign country than it does in the US. The Times as some perspective:
Ronil Hira, an associate professor of public policy at Howard University who studies globalization and immigration, said the range of work done by IBM in India shows that offshoring threatens even the best-paying American tech jobs.

"The elites in both parties have had this Apple iPhone narrative, which is, look, it's O.K. if we offshore the lower-level stuff because we're just going to move up," he said. "This is a wake-up call. It's not just low-level jobs but high-level jobs that are leaving."
Has IBM's corporate focus been confused for years? Clearly, the policy of blowing $116 billion on share repurchases in ten years while cutting costs and employees in the US, and offshoring employment to cheaper countries has not produced any results other than cutting costs: Revenues have dropped five years in a row.
Dropping revenues year after year doesn't "unlock" or create "shareholder value" and isn't "shareholder friendly," as the Wall-Street jargon goes. It's shareholder punishment by a thousand cuts. The hype surrounding the announcements of share buybacks serves only as briefly soothing ointment.
Sure, the fact that IBM itself has been the biggest buyer of its own shares has propped up their price. Yet, shares have dropped 32% since February 2013. Now imagine what IBM could have accomplished if it had invested that $116 billion in R&D and productive activities – which doesn't include M&A – in the US! But that's not what Wall Street wanted. Wall Street wants M&A deals, fees, share buybacks, and cost cuts that gut the US workforce. And that's what it got.
What the phenomenon of cheap credit has accomplished. Read…  Corporate Mirage: Debt out the Wazoo, Sales Languish, Stocks Soar
Enjoy reading WOLF STREET and want to support it? You can donate. I appreciate it immensely. Click on the beer and iced-tea mug to find out how:

Would you like to be notified via email when WOLF STREET publishes a new article? Sign up here.