They did the same in January 2000 just before the dot.com crash.
For years, individual investors in the US have been a dreary bunch, as stocks soared relentlessly since bottoming out in 2009. But 18 months ago, in February 2016, they finally caught the bug, and now optimism has surged at a record pace. Optimism about the stock market in particular has reached the record highs established during the Dot.com bubble, just before it all fell apart.
The quarterly Wells Fargo/Gallup survey of investors with at least $10,000 in the markets, undertaken in the period between July 28 and August 6 when the Dow Jones Industrial Average was approaching and then exceeded 22,000 (now at 21,798), investor optimism about the stock market did something very special — something it hadn't done in 17 years:
68% of these investors said they're optimistic about the stock market's performance next year.
This matches the prior records set in December 1999 and January 2000. Peak optimism occurred two and three months before one of the most epic crashes commenced in March 2000.
25% of the investors said they're "very optimistic," an all-time record, besting the prior record of 24% set in the first quarter of this year. This is up from 11% a year ago!
But stock market sentiment is only part of it. The survey gauges investor sentiment about four economic factors: the stock market, economic growth, unemployment, and inflation. It also gauges three factors on personal finances: meeting long-term investment goals, meeting short-term investment goals, and maintaining income.
This optimism has spread across various factors:
61% said now is a good time to buy stocks, up from 53% two years ago. Of them, 47% cited as the main reason that the market will continue to rise.
17% see downward volatility in the stock market as a buying opportunity.
But there were still a few worrywarts left: Only 37% do not think that now is a good time to buy stocks. Just over half of them, so only 19% of all respondents, after an eight-year stock market boom, cited a market correction as a reason for their reluctance to buy, buy, buy.
Driven by this "new surge of optimism," as Gallup put it, the overall index of investor optimism jumped to 138, the highest since September 2000, during the dead-cat bounce of the index as the dot.com crash was already in full swing.
This chart by Gallup shows the 20 years of the index. The current optimism exceeds by a good margin the optimism during the pre-Financial Crisis housing and stock market boom and is only outdone by the peaks of the dot.com bubble (red marks added, click to enlarge):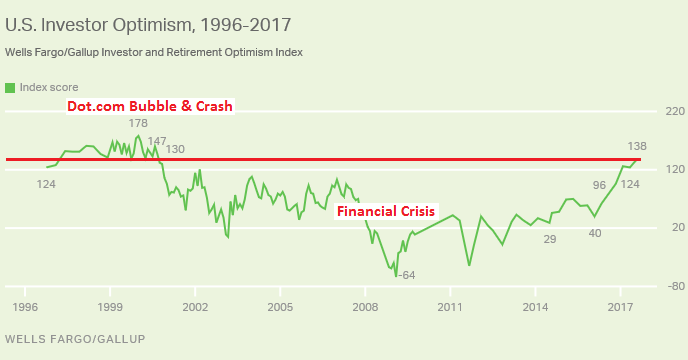 Note that during the dot.com bust, which commenced in March 2000, investor optimism remained high throughout the year, even as stocks were falling off a cliff. By August 2002, the Nasdaq had plunged 78% from its peak and started rising again.
The current lofty level of the index, at 138, is up from 124 in the second quarter. Since February 2016, the overall index has soared 98 points, "the largest increase in the 20-year history of the index that is not a rebound immediately after a major drop in optimism."
As an aside, the current silver price and gold price indicate that there's at least one asset class for which investors still lack any sort of enthusiasm.
Retired investors are on cloud nine. For them, the optimism index hit 158 – while optimism for non-retires is also high, but lagging woefully behind, at 130.
As the market has surged recently, "retiree investors have grown more optimistic about meeting their financial goals," Gallup said. "With the financial status of retirees becoming more and more important as baby boomers flood the retirement rolls, the growing confidence of retiree investors provides a welcome piece of evidence about their financial well-being."
Just in the nick of time. Gallup points out that "investors have been slow to shed their skepticism about stocks as a good investment." But this has now finally changed:
This year's continued climb of the market to record-setting heights, however, has given investors enough evidence that more than two-thirds are optimistic and one-fourth are now very optimistic about its near-term performance.
This is what everyone has been waiting for: Retail investors becoming super-optimistic about stocks. In 1999 and early 2000, high enthusiasm for stocks was a powerful sign that the stock market bubble was on its last legs. Of course, no one can say how much higher their enthusiasm will surge this time around. During the dot.com bubble, the index hit 178 for a moment before the market came unglued, at a horrendous expense to those very same investors. But the current level of the index has already left the optimism before the Financial Crisis in the dust.
Hype works, until it doesn't. Read…  Global Stock Prices Fueled by Ugly Earnings
Enjoy reading WOLF STREET and want to support it? You can donate. I appreciate it immensely. Click on the beer and iced-tea mug to find out how:

Would you like to be notified via email when WOLF STREET publishes a new article? Sign up here.