Even the Fed put commercial real estate on its financial-stability worry list.
No, the crane counters were not wrong. In 2017, the ongoing apartment building-boom in the US will set a new record: 346,000 new rental apartments in buildings with 50+ units are expected to hit the market.
How superlative is this? Deliveries in 2017 will be 21% above the prior record set in 2016, based on data going back to 1997, by Yardi Matrix, via Rent Café. And even 2015 had set a record. Between 1997 and 2006, so pre-Financial-Crisis, annual completions averaged 212,740 units; 2017 will be 63% higher!
These numbers do not include condos, though many condos are purchased by investors and show up on the rental market. And they do not include apartments in buildings with fewer than 50 units. This chart shows just how phenomenal the building boom of large apartment developments has been over the past few years: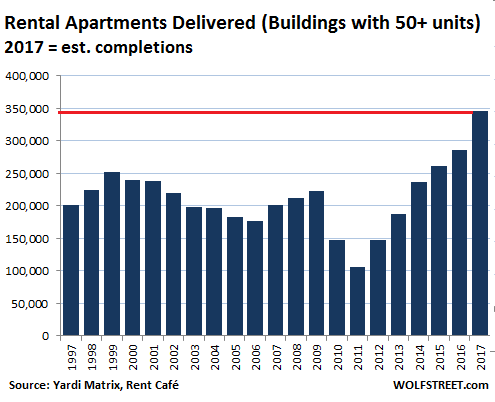 The largest metros are experiencing the largest additions to the rental stock. The chart below shows the number of rental apartments to be delivered in those metros in 2017. But caution in over-interpreting the chart – the population sizes of the metros differ enormously.
The New York City metro includes Northern New Jersey, Central New Jersey, and White Plains and is by far the largest metro in the US. So the nearly 27,000 apartments it is adding this year cannot be compared to the 5,400 apartments for San Francisco (near the bottom of the list). The city of San Francisco is small (about 1/10th the size of New York City itself), and is relatively small even when part of the Bay Area is included.
Other metros on this list are vast, such as the Dallas-Fort Worth metro which includes the surrounding cities such as Plano. Driving through the area on I-35 East gives you a feel for just how vast the metro is. However, I walk across San Francisco in less than two hours: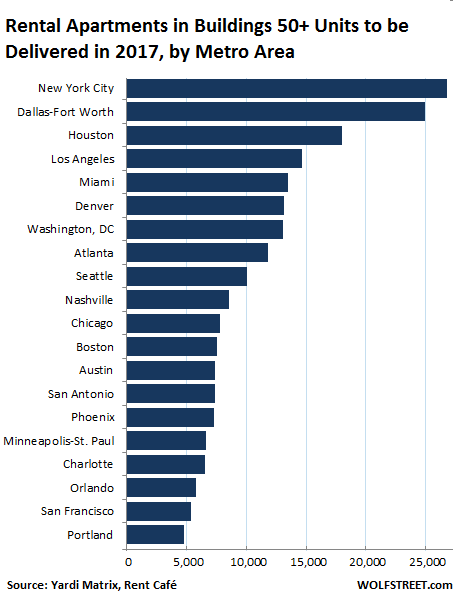 Special note: Chicago is adding 7,800 apartments even though the population has begun to shrink. So this isn't necessarily going to work out.
This building boom of large apartment buildings is starting to have an impact on rents. In nearly all of the 12 most expensive rental markets, median asking rents have fallen from their peaks, and in several markets by the double digits, including Chicago (-19%!), Honolulu, San Francisco, and New York City.
And it has an impact on the prices of these buildings. Apartments are a big part of commercial real estate. They're highly leveraged. Government Sponsored Enterprises such as Fanny Mae guarantee commercial mortgages on apartment buildings and package them in Commercial Mortgage-Backed Securities. So taxpayers are on the hook. Banks are on the hook too.
This is big business. And it is now doing something it hasn't done since the Great Recession. The Commercial Property Price Index (CPPI) by Green Street, which tracks the "prices at which commercial real estate transactions are currently being negotiated and contracted," plateaued briefly in December through February and then started to decline. By June, it was below where it had been in June 2016 – the first year-over-year decline since the Great Recession: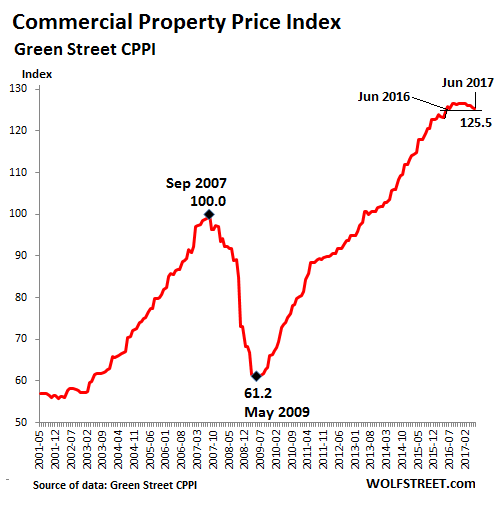 Some segments in the CPPI were up, notably industrial, which rose 9% year over year, benefiting from the shift to ecommerce, which entails a massive need for warehouses by Amazon [Is Amazon Eating UPS's Lunch?] and other companies delivering goods to consumers.
But prices of mall properties fell 5%, prices of strip retail fell 4%, and prices of apartment buildings fell 3% year-over-year.
So for renters, there is some relief on the horizon, or already at hand – depending on the market. There's nothing like an apartment glut to bring down rents. See what the oil glut in the US has done to the price of oil.
Investors in apartment buildings, lenders, and taxpayers (via Fannie Mae et al. that guarantee commercial mortgage-backed securities), however, face a treacherous road. Commercial real estate goes in cycles as the above chart shows. Those cycles are not benign. Plateaus don't last long. And declines can be just as sharp, or sharper, than the surges, and the surges were breath-taking.
Even the Fed has put commercial real estate on its financial-stability worry list and has been tightening monetary policy in part to tamp down on the multi-year price surge. The Fed is worried about the banks, particularly the smaller banks that are heavily exposed to CRE loans and dropping collateral values.
But the new supply of apartment units hitting the market in 2018 and 2019 will even be larger. In Seattle, for example, there are 67,507 new apartment units in the pipeline. Read…  Crane-Counting in Seattle: Something Has to Give
Enjoy reading WOLF STREET and want to support it? You can donate. I appreciate it immensely. Click on the beer and iced-tea mug to find out how:

Would you like to be notified via email when WOLF STREET publishes a new article? Sign up here.