Houston is recovering from the oil bust. Didn't consumers get the memo?
Auto sales in Houston, whose economy had been battered by the oil bust, should be turning around from their Financial-Crisis-type levels, but they just got worse: New vehicle sales plummeted 26% in June from a year ago, with car sales getting totally crushed and even trucks sales plunging.
For the 12-month period through June, auto dealers sold 284,085 new vehicles, down 16.8% from the same period last year, and down 25% from the levels in late 2015 and early 2016, before the oil bust began clobbering consumers and their desire to buy a new car or truck. Sales are now back to the same level as in January 2009 (chart by the Greater Houston Partnership, red marks added):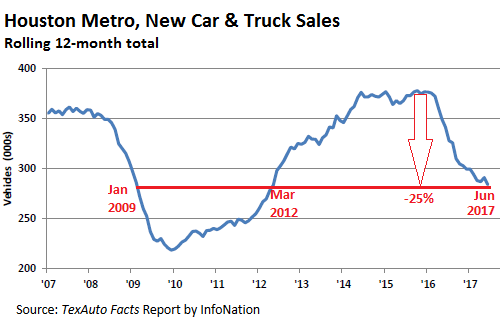 The thing is, on paper, Houston has been recovering from the oil bust that has, at least in Texas, once again turned into an oil-drilling boom, with billions of dollars once again flowing from Wall Street into shale oil plays, particularly into the Permian. The Texas rig count soared to 463 operating oil-and-gas drilling rigs in the week ending July 7, according to Baker Hughes, up 130% from a year ago!
In line with this renewed activity, the Houston Purchasing Managers Index, at 51.8 in June, has been in growth mode (above 50) for months, according to the Greater Houston Partnership. In June a year ago, at 43.7, it depicted a sharp contraction.
Building contracts, which had collapsed last year, are recovering, with total contracts up 47% year-over-year in May, and with non-residential building contracts skyrocketing 121% from the depressed levels a year ago.
Home sales are up 8% from a year ago, the median price is up 3%, but listings are up 16%, indicating that there might be supply pressures coming down the line.
Employment was up 1.5% year-over-year in May. Even the goods-producing sector (which includes oil and gas) eked out a gain of 0.3%. Service employment rose 1.8%. But the unemployment rate inched up to 5.1%.
So why are car and truck sales still crashing?
Houston-area auto dealers sold 19,830 new vehicles in June, down 25.9% from June a year ago, according to TexAuto Facts, published by InfoNation, and cited by the Greater Houston Partnership. The trend is accelerating: for the first six months, new vehicle sales had dropped "only" 10%.
Granted, the new-vehicle industry in the US has been in a recession. In the US overall, new vehicle sales declined 3% in June, the sixth month in a row of year-over-year declines. They're down 2.1% year-to-date despite record incentives that desperate automakers threw at the market. But Houston sales are just getting crushed.
Car sales in Houston plunged 36% year-over-year, and even truck sales (pickups, SUVs of all sizes, and vans) plunged 19.8%. And this in "Truck Country": In Greater Houston, 68% of new vehicles sold were pickups, SUVs, and vans. So the plunge in truck sales is a sign of major consumer stress.
Year-to-date, car sales in Houston are down 18.5% and truck sales are down 5.1%. Again, signs that the trend accelerated in June.
OK, car sales are crashing around the country as consumers are switching to trucks and SUVs, with a growing selection of smaller SUV replacing cars. Nationally, car sales in June dropped 13.2%, but truck and SUV sales rose 4.1%.
So what's happening in Houston?
"The decline comes after dealers experienced the strongest sales month of the year in May," the Greater Houston Partnership said in its note. May had been the month of hope. You can see it in the tiny uptick for May in the chart above. And it vanished.
This kind of collapse in auto sales in Houston leaves me somewhat baffled. I have no data on used vehicle sales for Houston. But given the drop in used wholesale prices, the surge in supply, and the record sales pace of used vehicles in the US this year, used vehicles in Houston likely did much better than the new side.
There are about 175 franchised new vehicle dealers – not counting the independent used car dealers – in the Houston area that employ about 30,000 people, according to the Houston Automobile Dealers Association. They're all selling used vehicles that they purchase at auctions around the country. These are vehicles from rental car companies or leasing companies. It's a profitable business and can keep these car dealers afloat. Otherwise, a 25%-plunge in new vehicle sales would crush them.
But it doesn't explain the crash in new vehicle sales. Why would home sales jump and car sales collapse? Why would truck sales crash?
Here's another tidbit on that conundrum. The data says that "asking rents" in multi-family buildings in Houston have been surging in the double-digits. That too contradicts the crash in new vehicle sales. But "Todd," an astute observer in Houston, noted in a comment on WOLF STREET that this may not be the case with effective rents (which include incentives such as 2-month free):
I had to rent in 2015 when my house was destroyed in a flood. There were no deals in Houston at all. The price was the price. 12 months later (July 2016), my apartment complex (inside the Loop, high end) gave, without asking, a 20% reduction in rent.

This year, I went shopping. Again, inside the loop, high end. All of them, not some, not most, but all offered two months free and waived app fees.

More apartments are coming on line that were being planned in 2014-2016. I chose an apartment last month. I still get calls, emails every other day from some of these apartment complexes asking if I have made a decision….
So maybe the recovery in Houston looks good on paper, and it may be strong from catastrophically depressed levels in some sectors, but consumers in Greater Houston are not feeling flush, and they're not in the mood to splurge on new vehicles, and maybe not on a slew of other things.
In the US, the next recession will be tougher for workers and rougher for the economy. Read…  Why the Next Recession will be a Doozie for Consumers
Enjoy reading WOLF STREET and want to support it? You can donate. I appreciate it immensely. Click on the beer and iced-tea mug to find out how:

Would you like to be notified via email when WOLF STREET publishes a new article? Sign up here.