Here's how commodities fared in the first half.
Some people might consider this development a flaming contrarian buy signal for commodities:
"Goldman Sachs Group Inc., the dominant commodities trader on Wall Street, is reviewing the direction of the business after a slump in the first half of the year," Bloomberg reported, citing "people with knowledge of the matter."
Will Goldman exit commodities trading?
In 2009, Goldman's commodities trading revenues reached $3.4 billion. By 2016, it was down to $1.1 billion, "according to one of the people" cited by Bloomberg. In April, Goldman blamed its lousy first-quarter results in part on "significantly lower" net revenue from commodities trading. It pointed out at the time that client volumes suffered as crude oil volatility averaged the lowest level in over than two years.
Bloomberg added, citing "the people":
While the bank flagged the poor results for the first quarter — without giving specific numbers — the weakness has continued and the unit's start to the year has been the worst in more than a decade….
On Friday, Barron's reported that Wells Fargo downgraded the stocks of three US oil field services companies because the analysts expected a "prolonged stagnation" in oil prices due to an "unexpected glut" as US shale oil production surged.
"Unexpected?" Here's a chart of the oil glut in the US, in terms of crude oil and petroleum products in storage. This glut has been going on for over two years: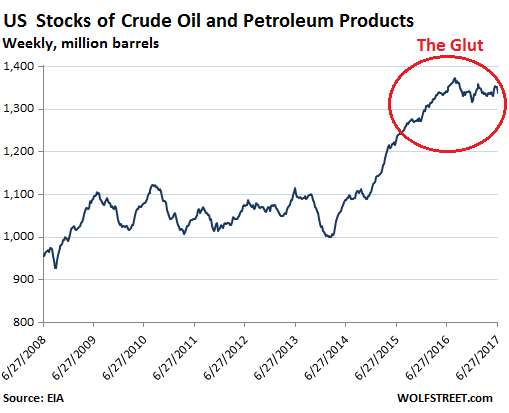 As a consequence, prices of crude oil and petroleum products keep getting hammered this year. During the first half of 2017, prices for WTI fell 12% and for Brent 14%.
So Goldman is licking its wounds from the market and is pondering how to proceed. According to Bloomberg, "The commodities division was one of the topics of discussion at a board meeting held in London late last month." But no decision has been reached whether or not to exit the commodities trading business.
Other banks have already reached a decision: Morgan Stanley, JPMorgan Chase, Barclays, and Deutsche Bank have either curtailed or exited commodities trading, "amid falling revenue and tougher regulation."
But crude oil and petroleum products are not the only commodities at play. And this is where it gets complicated. The chart below shows Standard and Poor's Goldman Sachs Commodity Index (GSCI) going back to 2007. For 2017 though July 7, it's down 10.5%. And longer-term it looks dismal: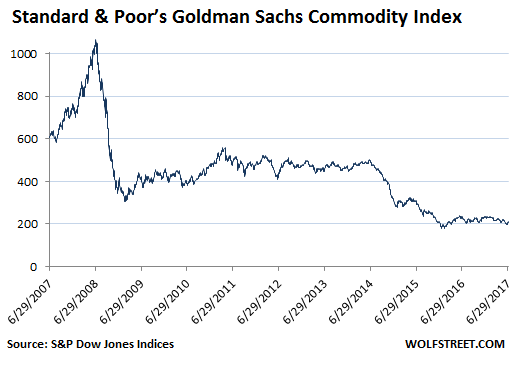 But beneath the surface, there's some real-world chaos. Here are the price changes for the different component groups, so far this year:
All the energy components are down.
All livestock components are up, with lean hogs up 43%!
Agriculture components are a mixed bag, with sugar having plunged 33% and Chicago wheat having soared 26%.
Industrial metals were up except for nickel.
Gold and silver were up, but silver just a smidgen.
This chart via the EIA shows just how far commodities diverged in the first half: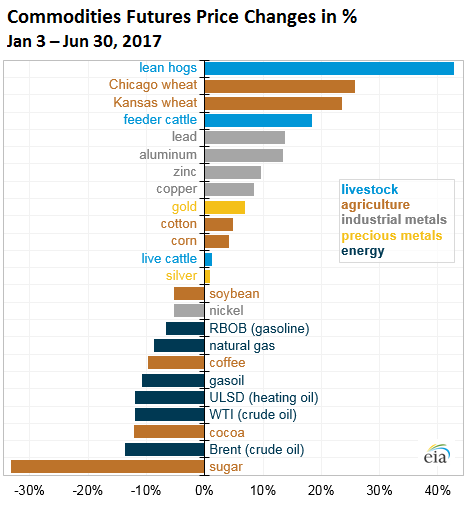 Gasoline pricing tends to be seasonal, with prices rising ahead of the driving season – and this seasonality "likely contributed to less of a decline in prices compared with crude oil and other petroleum products," the EIA said. But despite the seasonality, it was still a decline.
Cocoa prices fell 12%. On a side note, I'm not expecting my favorite 86%-cocoa chocolate to get cheaper; it seems the price of chocolate only goes up, or at best doesn't change.
So some people might consider Goldman's contemplated exit from commodities trading – that it is finally throwing in the towel – as a contrarian signal that the multi-year commodities bust is over and that it is time to jump in with both feet. But the divergence of the different commodities shows that this is not so clear-cut – though that divergence certainly doesn't show up in the overall commodity index.
And it's about time that deposit-taking banks that are deemed too-big-too-fail and are backed by taxpayers get out of the commodities betting business.
The Fed has been tightening by raising rates and it has announced the unwinding of QE, and financial conditions should be tightening in response, and the Fed wants them to tighten, but the opposite has happened. Read…  Stock and Bond Markets Blow Off Fed, Fed Gets Frustrated
Enjoy reading WOLF STREET and want to support it? You can donate. I appreciate it immensely. Click on the beer and iced-tea mug to find out how:

Would you like to be notified via email when WOLF STREET publishes a new article? Sign up here.