After years of asset stripping by private equity firms and hedge funds.
This morning, luxury handbag retailer Michael Kors Holdings, which had had stellar sales through 2014, revealed in its Q4 earnings report that it would close up to 125 retail stores and take a $125 million charge, to save $60 million this fiscal year.
Sales plunged 11.3% year-over-year in Q4, and the company lost $27 million, or 17 cents a share. It doused investors with a gloomy outlook for its fiscal year 2018, with revenues expected to drop over 5% to $4.25 billion, and with same-store sales plunging "in the high-single digit range."
The company was dogged by heavy promotions, a "difficult retail environment," and a "product and store experience" that didn't "sufficiently engage and excite consumers," CEO John Idol said. So the company needs to enhance the store experience "to deepen consumer desire and demand for our products."
Despite a "new $1 billion stock repurchase program" – funded with the money the company is losing, so to speak – share plunged 8.5%.
Other retailers aren't so lucky.
On June 1, Gymboree, a children's clothing retailer, will face an interest payment on its debt that it is unlikely to make. So a bankruptcy filing could be next. Serious bankruptcy rumors started swirling on April 11 when issues with the interest payment cropped up.
On May 4, "people familiar with the matter" told the Denver Post that Gymboree was looking to close 350 of its 1,200 stores as part of a broader restructuring in bankruptcy court. Buckling under its debt, the company has been in talks with its lenders. According to the Wall Street Journal, the company has contacted firms known for liquidating inventories and other assets during store closures.
Inevitably, there is a private equity angle. PE firm Bain Capital acquired the retail chain in 2010 for $1.7 billion, stripped out assets, and loaded the company up with debt – by now $1 billion, an amount company founder Joan Barnes described to Bloomberg as "horrendous." Meanwhile, Walmart, Children's Palace, and online retailers have put the squeeze on sales and margins.
To raise cash and stay alive and carve out a niche online, the company mortgaged its distribution center in 2015. In 2016, it sold Gymboree Play and Music to Zeavion Holding, a Bain investor. But in its fourth quarter, the company lost $325 million, and the CEO was sacked.
Bain Capital has been buying up Gymboree's beaten-down bonds to have more leverage during the bankruptcy and participate in what Bain hopes will be Gymboree's revival, "a person familiar with the matter" told Bloomberg. As of April, prices for those bonds collapsed to 4 cents on the dollar. Bain's equity stake is essentially worthless.
This has become a common PE game in the run-up to a bankruptcy filing: buying the bonds to get more leverage and possibly, as part of the bankruptcy, exchange those bonds for equity, and regain ownership after much of the debt has been shed, only to start all over again.
On May 25, Sears Holdings announced that quarterly sales had plunged another 20% year-over-year. They were down 46% from Q1 2014 and 63% from Q1 2007. The plunges are accelerating, and given the endless store closings, cuts in advertising, and so on, revenues are now projected to drop to zero by Q1 2020. In theory. In practice, a bankruptcy filing is on the horizon. It's hard for a highly indebted retailer run by a hedge fund manager to keep going when sales just disappear: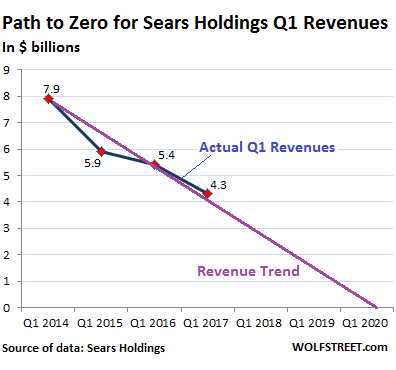 On May 15, Rue21 filed for bankruptcy. The teen apparel chain, which once had 1,179 stores in the US, has already started closing 400 stores in April and may close more stores. During the bankruptcy process, "Rue21 expects to continue normal business operations," it said.
This came after "people familiar with the matter" had told Debtwire in April that Rue21 had missed principal and interest payments on its debt and was preparing to file for bankruptcy.
Once again, there is a private equity angle: the company was acquired by PE firm Apax in 2013 for about $1 billion. Back in September 2013, problems were already piling up when JPMorgan, Bank of America, and Goldman Sachs had trouble selling the junk debt they pledged to sell to fund the buyout. It took less than four years to blow up the company.
But Apax might still come out ahead. This is a prepackaged filing: the company said it had entered into a restructuring agreement with lenders holding 96.8% of the company's secured term loan and 60.2% of the company's unsecured notes. Apax is part of that deal.
On May 11, Marsh grocery store chain in Indiana and Ohio filed for chapter 11 bankruptcy. At its peak in 2006, it operated 116 supermarkets and 154 convenience stores.
And the private equity angle: During the LBO boom that year, the Marsh family sold the chain to PE firm Sun Capital for $325 million. Sun Capital then did what PE firms do: cut expenses, close stores, strip out assets, and load the company up with debt. It took the PE firm 10 years to get through with this.
At the time of the bankruptcy filing, Marsh was down to 67 stores. In the filing, it said it already sold its in-store pharmacy business to CVS Pharmacy. It's trying to find a buyer for the stores and proposed an auction on June 12. If a buyer doesn't materialize, the stores will be shuttered.
When the company notified the Indiana Department of Workforce Development that it may have to lay off 1,535 workers, it blamed "unexpected difficulties and increased competition."
On May 4, Central Grocers filed for bankruptcy protection, after General Mills, Coca-Cola Co., and other suppliers filed an involuntary Chapter 7 liquidation petition for the grocer, claiming it owed them $1.7 million, according to the Wall Street Journal. Other suppliers too have gotten cold feet as the company has run out of liquidity to pay them.
The cooperative of grocery wholesalers in the Midwest sells its Centrella-branded products to independent retail chains. It also owns and operates three regional chains, Strack & Van Til, Ultra Foods, and Town & Country Markets. The company is trying to sell some of the more viable stores and close the rest. Inventory at its distribution center is being liquidated.
This concludes the May installment of brick-and-mortar retail meltdown. Here's the prior installment… I'm in Awe of How Fast Brick-and-Mortar Retail is Melting Down.
And what's going to happen to the malls? Read… Retail Meltdown Demolishes Mall Investors
Enjoy reading WOLF STREET and want to support it? You can donate. I appreciate it immensely. Click on the beer and iced-tea mug to find out how:

Would you like to be notified via email when WOLF STREET publishes a new article? Sign up here.