It has a history of tripping the stock market.
Revenues in the current quarter – Q3 of its fiscal year – would drop 4% to 6% year-over-year, Cisco said after hours today. Shares plunged 8% to around $31 in late trading. Timing of the announcement was impeccable: Minutes after the Dow finished its 372-point plunge.
It also announced 1,100 layoffs on top of the 5,500 layoffs it revealed last August (7% of its workforce at the time), and it added $814 million in charges related to those restructuring efforts, spread over Q3 and Q4.
Cisco has a history of tripping up the markets.
In an earnings call in November 2007, then CEO John Chambers famously used "very lumpy" to describe growth in the US. The S&P 500 and the Dow had just edged down from all-time highs. The market was still blissfully ignoring the hissing from the housing bubble and the stench from the banks. Cisco's quarter had been phenomenal, with revenues up 17%. But after some gushing, Chambers said revenue growth in the US would be "very lumpy." The Financial Crisis was next.
So Cisco's revenue "growth" – in quotes because it's a decline – no longer compares to the heady days of that time. Revenue in its fiscal Q3 fell 0.5%% to $11.94 billion, with product revenue flat and service revenue down 2%. For the three quarters combined, revenues are down 2%.
But cost cutting has been effective: operating expenses fell 8%, particularly in the wrong places for a company with declining sales: In research and development, and in sales and marketing. So net income rose 7%.
But instead of continuing down this path of revenue stagnation, Cisco indicated that it would go down a path of sharper revenue declines, and expected its Q4 revenues to fall by 4% to 6% year-over-year.
With Q4 2016 revenues at $12.6 billion, a 6% decline would bring Q4 2017 to $11.8 billion, which would bring fiscal 2017 annual revenues down to $47.7 billion, the lowest since 2014, and barely above 2012 revenues.
This chart includes estimated annual revenues for 2017 as per Cisco's lowered Q4 forecast. In other words, after four years of stagnation comes the decline: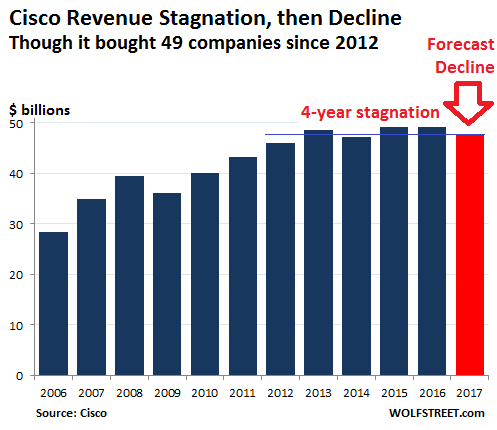 "I am pleased with the progress we are making on the multi-year transformation of our business," said CEO Chuck Robbins in the statement.
In the conference call, Robbins blamed federal government spending for about a quarter of that decline (1 point of the 4% to 6% decline). The rest of that decline was just plain lumpy demand, as Chambers might have put it.
This revenue decline is occurring despite Cisco's permanent acquisition binge. Since 2012, Cisco has acquired 49 companies, from tiny startups to not so small companies, in order to boost its revenues and technologies and stay relevant and change its future. So far this year, it has made four deals, including the $3.7 billion acquisition of AppDynamics.
Cisco has not disclosed how much it spent on 28 of those 49 companies. But for the 21 acquisitions for which it disclosed the terms, including AppDynamics, Cisco spent $18 billion! And yet, during those five years, revenues have gone nowhere!
It also blew $27 billion on buying back its own shares over those five years. Between acquisitions and share buybacks, that's at least $45 billion out the window with nothing to show for.
Many of Cisco's problems are company specific. For example, it's hard for a tech company to design new and better mousetraps when it's busy cutting in-house R&D, axing its people, and buying back its own shares.
But "lumpy" demand for a company as large as Cisco that sells primarily to corporate customers has broader implications, especially if there is a sudden and unexpected shift. Why is corporate demand suddenly drying up? Is it like November 2007, when stocks were just barely down from super-inflated all-time highs, but corporate customers were spooked by the real problems and uncertainties they saw in the economy that could no longer be brushed under the rug?
In 2007, Cisco was a key thermometer for corporate demand. Today, its revenues are 37% larger. Cisco may be on the path to irrelevance, but it cannot be ignored when it comes to corporate demand. It might be an indication that corporate investment in tech has taken as sudden and sharp turn lower, as Cisco's customers are closing their wallets and battening down their hatches, spooked by whatever they see coming over the horizon.
But there remains a sign of our crazy times: Despite Cisco's five years of revenue stagnation, serial layoffs, and $18-billion acquisition binge to nowhere, its shares have actually doubled!
And it's not the only company riding up miraculous asset bubbles. But pressures are building on these bubbles – and some of them are already deflating. What the slow crash of classic car prices says about the future of other asset classes. Read…  This Is How an Asset Bubble Gets Unwound these Days
Enjoy reading WOLF STREET and want to support it? You can donate. I appreciate it immensely. Click on the beer and iced-tea mug to find out how:

Would you like to be notified via email when WOLF STREET publishes a new article? Sign up here.