With a tinge of bitter irony and perhaps desperation.
Mattress startup Casper Sleep Inc. is going to disrupt, again. Brick-and-mortar retailers are melting down. Today, clothing store rue21 filed for bankruptcy, shuttering 400+ of its nearly 1,200 stores. A slew of brick-and-mortar retailers announced a similar fate this year. To survive, they're trying to carve out their niche online. But online retail is tough. And online-only retail startups too are finding out that it's tough, and now they seek salvation in, well, brick-and-mortar retail.
"You have to start with digital," Philip Krim, CEO and co-founder of Casper, told the Wall Street Journal. But once the brands is better known, "offline distribution – that's where you're really able to get a lot of scale," he said, apparently oblivious of the meltdown.
Casper's primary product is a foam mattress, sold online, and shipped in condensed form directly to a bedroom near you. Its revenue reached about $200 million in 2016, up from $100 million in 2015, Krim told the Journal, which added: "Casper raised prices on its mattresses in January to $950 from $850 for a queen, saying it made improvements that justify the higher cost."
But a snag has cropped up. "Casper is finding it can no longer shun the storefront." So it made a deal with Target.
Target expects in June to put Casper's products [pillows, sheets, and other accessories] at the end of rows, a high-profile area, and 35 stores are scheduled to have a larger display with a Casper mattress to try out.

Target, which said the deal came together after about a year of talks, doesn't yet sell mattresses in stores…. But Casper said it would become the exclusive mattress of Target.com and is discussing the possibility of bringing the bed into stores.
For three years, Casper has "lured customers through Facebook ads and podcast sponsorships," as the WSJ put it. "It plastered New York subways with posters featuring cute cartoons, sponsored podcasts and flooded Facebook and Instagram with ads."
Casper came to my attention in November 2014, inside a black envelope addressed to "Resident," and titled "San Francisco Offers." The envelope contained six glossy sheets, each for a different online retail startup. One sheet showed this: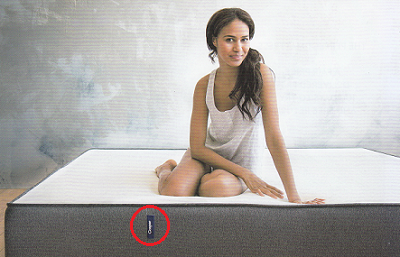 No text, just a girl with a mysterious smile waiting for me. In tiny print, the brand, which I circled.
You had to look at the other side to find out what this was. The whole package got my attention – in that respect it worked. It was old-style advertising, delivered by the Postal Service. It relied on hormones. Car ads used to be that way before they were pooh-poohed.
At the time, Casper had just gone through its second round of funding, $13.1 million in August 2014, and the ad is part of what they spent this money on.
None of the six online retailers in the packet had invented anything that hadn't been done before. Anyone with enough funding could offer the same thing. "This is how they're going to disrupt," I wrote at the time. "With glossy junk mail."
Now they found a new method with which they're going to disrupt: brick-and-mortar retail.
Even after all these years, I'm still getting junk mail regularly from Casper and other online retail startups. The USPS delivered Casper's most recent offer six days ago. Minus the girl. And the paper was thinner – shrinkflation even in junk mail.
But that nifty junk mail isn't doing the job properly, it seems. Hence, the deal with Target.
Here's the problem. Online retail has been soaring – 14.8% in Q1 year-over-year, the Commerce Department reported today – even as sales at brick-and-mortar retailers, led by department stores, have gone into a tailspin.
Millennials are on the forefront of this shift to online for everything. Casper knew this at the outset. Hence its online-only sales model. But now, it seems to have run out of Millennials to sell to, or something.
It relied on the fat margins resulting from not having middlemen that can eat more than half of the retail price. Target is going to exact its pound of flesh, and Casper's margins are likely to get crushed.
Casper isn't the only online retail startup that has discovered that selling to millennials or anyone else online is tough.
The WSJ cites Harry's, which sells discount razors online via subscriptions. Last year, it made a deal with Target. "Within weeks," it "gained a 50% market share at Target for razor handles, according to Nielsen data," the WSJ gushed. After huge and costly launch promotions and hoopla?
Harry's co-founder Jeffrey Raider said the profit margins from online sales ended up being similar to those from stores. "If I had a crystal ball I'm not sure I would have predicted it," he said, adding that the future of retail is a mix of online and in-store sales.
Then there's prescription eyewear retailer Warby Parker, also co-founded by Raider. It designs its own glasses and has them manufactured. It too faces a ton of competition online. Hence brick-and-mortar.
"It opened its own store in 2013, and experienced better sales than it anticipated," the WSJ said. Today, it "has more than 50 stores, with a total of 70 expected by year's end, and co-founder Dave Gilboa said he thought online and physical-retail sales could be even in a few years."
"E-commerce is taking share but it's doing so more slowly than I think we thought when we launched," Mr. Gilboa said. "If we were just to focus on online at this time, we'd only be able to address about 3% of the overall eyewear market."
Some years ago, there was "a gold rush" of online only startups that bought cheap ads through Facebook, Ben Lerer, an early-stage investor in Casper, Warby Parker, and other online retailers told the WSJ. "Now it's gotten harder," he said.
But retail is always hard. Customers are demanding and finicky. Marketing is costly. Advertising can eat you alive. There are few barriers to entry, and competition is fierce. Free product returns can be a killer. Amazon looms everywhere. Too many consumers don't have enough money. And everyone wants to disrupt.
VC-funded startups have an advantage: they can lose a lot of money. They're not expected to be profitable. They can burn cash and then get some more cash to burn. Other retailers that cannot burn investor cash forever, like rue21, end up filing for bankruptcy. And for online retail startups to seek salvation in brick-and-mortar, just as brick-and-mortar is melting down, has a tinge of bitter irony, and perhaps even desperation.
The closure of thousands of retail chain stores and the bankruptcies ricocheting through the industry are having an impact on retail malls. And mall investors – that may include your retirement account – are getting crushed. Even the biggest. Read…  Retail Meltdown Demolishes Mall Investors
Enjoy reading WOLF STREET and want to support it? You can donate. I appreciate it immensely. Click on the beer and iced-tea mug to find out how:

Would you like to be notified via email when WOLF STREET publishes a new article? Sign up here.