The asset class of Beautiful Machines heads south.
Prices of collector cars fell again, according to the April report by Hagerty, which specializes in insuring vintage automobiles. After a tremendous price surge that peaked in 2015, they've been ratcheting their way down ever so slowly. But it adds up after a while.
The "Hagerty Market Rating Index" – which tracks the "heat" of the market – fell 0.33 points to 66.65 in April. The index, which is adjusted for inflation, is now down 7.4% from its all-time high of 71.99 in May 2015. Here are more clues from Hagerty's report:
The number of owners expressing the belief that the values of their vehicles are rising continues to fall. The number is at its lowest since November 2013 for owners of mainstream vehicles and at its lowest since May 2012 for owners of high-end vehicles.

Expert sentiment dropped for the first time since November. Market observers have cited that many cars with prior auction results have been changing hands for less money than in the past.
Then there is the price-based "Hagerty Market Index." It fell 1.44 points to 161.06 in April, down 10.8% year-over-year, and down 13.3% from its all-time high in September 2015 (185.86).
The Hagerty Market Index, which is adjusted for inflation and is based on changes in dollars and volume of the market, fell about 20% during the Great Recession, then surged 75% on an inflation-adjusted basis to its peak in September 2015. Since then, it has been heading back down. It has now fallen nearly 25 points from its peak, exceeding its point decline during the Financial Crisis: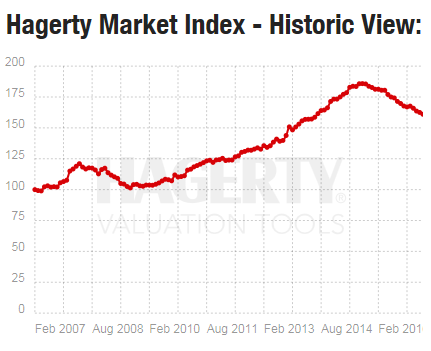 The data includes the results from the collectible automobile auction on Amelia Island off the coast of Florida on March 10-12. The auction had been hyped with the usual fanfare to stir up the animal spirits' desire for beautiful machines.
"In recent years the Amelia Island Auctions have quickly emerged as a significant indicator for the public auctions segment of the classic car market," Jonathan Klinger, the spokesman for Hagerty, told Bloomberg before the auction. "It is no longer just Arizona auctions in January and Monterey in August that matter."
The auction was going to be hot. Bloomberg:
According to Hagerty predictions, the final cull will be $135 million to $140 million among all five auction companies that will sell there this year (RM Sotheby's, Gooding & Co., Bonhams, Hollywood Wheels, and Motostalgia).
The article showcased "the highest-priced individual standout cars among the lot," and I added in bold what then happened to them at the auction:
1957 Jaguar XKSS Roadster, expected to take $16 million with Gooding & Co. (did not sell)
1928 Bentley 4 1/2-Litre Le Mans Roadster, expected to take $6.5 million for RM Sotheby's (did not sell)
1950 Ferrari 166 MM Barchetta Spider, expected to take $8 million, for RM Sotheby's (did not sell)
Yep, the top three most hyped cars didn't sell! Rounding off the top ten cars, there were these seven gorgeous machines, according to the New Atlas (results in bold):
1961 Ferrari 250 GT SWB Berlinetta (did not sell)
1937 Bugatti Type 57S Cabriolet by Vanvooren (sold for $7,700,000)
1998 Porsche 911 GT1 Strassenversion (sold for $5,665,000)
2015 Ferrari La Ferrari (did not sell)
1995 Ferrari F50 (sold for $2,640,000)
2015 McLaren P1 (sold for $2,392,500)
1956 Maserati A6G/54 Coupe Series III by Frua (sold for $2,365,000)
In total, sales didn't hit $140 million. Instead they dropped 13.4% from last year's total to only $121.3 million, even though 14% more cars went through the auction this year. And the average price, according to Hagerty cited by New Atlas, plunged 21% from a year ago to $332,345.
New Atlas blamed the weather and "all the disparate factors that influenced the weekend and the sale" – such as the absence of a Ferrari 250 GT SWB California Spyder that sold last year for $17.2 million or the Jerry Seinfeld Porsche Collection which sold for $22.2 million last year, when the market was still hot – and so the result "doesn't mean much."
Indeed, myriad factors impact auction results, including the mix of cars going through, but also what collectors are willing to buy and what prices they're willing to pay. The fact that some of the highest-priced cars going through the auction failed to sell may have something to do with it.
In the grander scheme of things, and as a red flag, this is another asset class that has enormously benefited from asset price inflation, stirred up by the Fed's well-targeted monetary policies since the Financial Crisis. But prices peaked shortly after QE ended and have ratcheted lower in tiny increments. While stocks got a huge boost since the US election, classic car investors appear to not have gotten the memo – or perhaps they can see the writing on the wall, with sellers becoming more eager and buyers more careful?
The American economy has split in two, but the aggregate numbers of wealth and debt obscure the profound risks. Read… So Who Are the Debt Slaves in this Rich Nation?
Enjoy reading WOLF STREET and want to support it? You can donate. I appreciate it immensely. Click on the beer and iced-tea mug to find out how:

Would you like to be notified via email when WOLF STREET publishes a new article? Sign up here.