Hammered by retail sales and inflation.
The Atlanta Fed's GDPNow model, which forecasts GDP growth in the US, dropped to 0.5% seasonally adjusted annualized GDP growth for the first quarter. This "annualized rate" means if the economy grows like at this pace for four quarters in a row, it would edge up only 0.5% for the year, which would make it by far the worst year since the Great Recession.
By comparison, in 2016, which matched 2011 as the worst year since the Great Recession, GDP growth was 1.6%.
A week ago, the GDPNow forecast had already dropped to 0.6%. At the time, I mused, "I hope the model is wrong." This hope is now even more fervent.
What did it today? Retail sales and inflation.
The ugly retail sales report this morning in combination with the Consumer Price Index, also reported this morning – more on that in a moment – pushed down the GDPNow forecast for growth of "real" consumer spending (adjusted for inflation) from 0.6% before today to a miserable 0.3% today. Real consumer spending is a dominant factor in GDP. It captures not just retail spending, but also spending on rents, healthcare, tuition, insurance, etc.
The GDPNow model gets more accurate in predicting GDP growth as reported by the Bureau of Economic Analysis in its first estimate for that quarter. So now, as the March data is coming in for the first quarter, the GDPNow forecast is heading south toward zero. I added the red arrow. Note how the forecast has plunged since April 4, when it was still 1.2%, and from the end of February when it was sill 2.5%: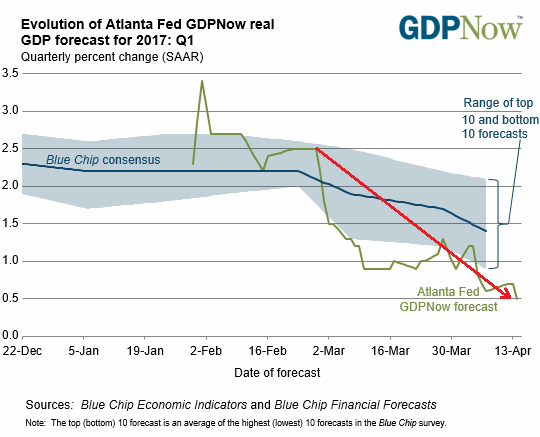 Today's stumble of the GDPNow forecast was largely driven by an ugly retail sales report that emanated this morning from the Commerce Department. This "advance" estimate (the full report will be released on April 26) indicated that retail sales in March fell 0.2% from February, to $470.8 billion. In addition, February's decline was revised from -0.1% as originally reported, to -0.3%. This made for the worst two-month stretch since January-February 2015 when polar vortices were sweeping over much of the country.
These retail sales estimates are adjusted for seasonal, holiday, and trading-day variations, but not for price changes. More on those price changes in a moment.
The largest contributors to the decline were motor vehicle and parts sales, which accounted for about 21% of total retail sales in March. The auto industry is coming off its peak and is struggling mightily to prevent worse. Auto sales have been pulling down overall retail sales all year.
In March, sales at new and used auto dealers fell 1.5% from February. The broader category of sales at motor vehicle & parts dealers fell 1.2%, represented by the long grey bars heading south in the chart: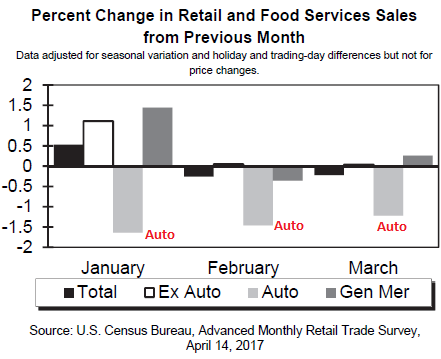 Gasoline sales (7.5% of total retail sales) also helped the decline, falling 1% on a monthly basis, mostly due to lower gasoline prices (down 6.2% from February). Retail sales minus autos were flat in March. Retail sales minus autos and minus gasoline inched up 0.1%.
Sales at building materials and garden equipment supplies dealers fell 1.5%. The March snow storms did it. So yes, if you exclude all the big bad stuff, the remaining retail sales are actually up.
But it's not a fiasco on an annual basis. Total retail sales rose 5.2% from March 2016, propped up by:
Inflation. Prices as measured by the Consumer Price Index, also reported today, rose 2.4% year-over-year. The CPI measures all consumer expenditures, including services. But I mention some of the subcategories here to provide some perspective.
Gasoline sales surged 14.3% over the 12-month period due to gasoline prices that surged 20%.
Sales at nonstore retailers (mostly ecommerce), which accounted for 11% of total retail sales, jumped 11.9%, continuing the rapid structural shift from brick-and-mortar retail to online sales.
Sales at auto and parts dealers rose 5.6% over the 12-month period. New vehicle prices inched up 0.2% year-over-year in March, but used vehicle prices fell 4.7%.
Auto sales are always confusing in this report because it often seems to contradict separate reports issued two weeks earlier by automakers. But they measured different things.
The report by the Census Bureau today is an estimate based on surveys of new and used vehicle sales, expressed in dollars. Automakers report actual new-vehicle sales by dealers to their customers, and by automakers directly to large fleets and to their own employees, all of them expressed in units, not dollars. But they don't report used vehicle sales.
Automakers have reported that new vehicle sales in terms of units delivered to retail and fleet customers are down 1.5% for the first three months of the year, and down 1.6% in March, compared to a year ago. A shift to more expensive vehicles (from cars to SUVs and trucks) would produce higher dollars sales. But then, automakers have paid out record incentives this year to push unit sales, and those incentives come off the top line expressed in dollars, which automakers report on a quarterly basis.
But the industry's reporting on used vehicle retail has not seen this weakness. A flood of used vehicles coming off leases and out of rental car inventories are going through auction and are pushing down wholesale prices. Lower prices and lots of supply have been a boon for used vehicle retail sales. The Census Bureau report estimates new and used vehicle sales combined, which explains part of the difference.
This thermometer for discretionary spending is the first to react when consumers hit their limits. Read… Restaurants in Worst Tailspin since 2009/2010
Enjoy reading WOLF STREET and want to support it? You can donate. I appreciate it immensely. Click on the beer and iced-tea mug to find out how:

Would you like to be notified via email when WOLF STREET publishes a new article? Sign up here.