Current rally is founded on untrue assumptions.
By Alex M., Founder of Macro Ops:
Charts of a number of European ETFs and indices look constructive. The bullish narrative here is very simple. Relative to the US, European stocks are cheap.
The US stock market is trading at a CAPE ratio of 29x (the second highest reading in history). This "Cyclically Adjusted Price Earnings" ratio is based on average inflation-adjusted earnings from the previous 10 years. Europe is trading at 18x. European valuations aren't not cheap on their own, but they're lower compared to the US.
There is also the case of diverging monetary policy. The Fed is tightening rates with two more hikes planned this year. There's serious talk of reducing the balance sheet following the third hike as well. This is in stark contrast with Europe, where the deposit rate is -0.4% and the ECB is still conducting large scale quantitative easing. They're buying €60B worth of bonds every month…
In fact, the ECB is so concerned about the market interpreting its actions as anything but dovish, that it leaked a note the other week (which happened to be on the same day the UK triggered Article 50) that stated markets had grossly misinterpreted its last meeting as too hawkish.
The ECB wanted to "reassure investors that their easy-money policy is far from ending" and that the slight hawkish tone of their last meeting was "way overinterpreted."
There's also the assumption that the large earning-per-share gap between US and European stocks will mean revert, with Europe doing most of the heavy lifting to move its EPS higher.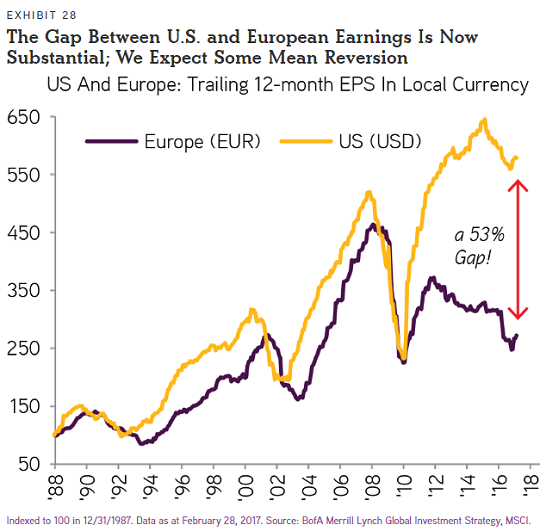 There are already signs that this is starting to occur. European earnings momentum, as shown by our chart below, recently trended positive for the first time since 2015. How long this trend lasts remains to be seen, but it's at least a positive for European stocks over the next few months.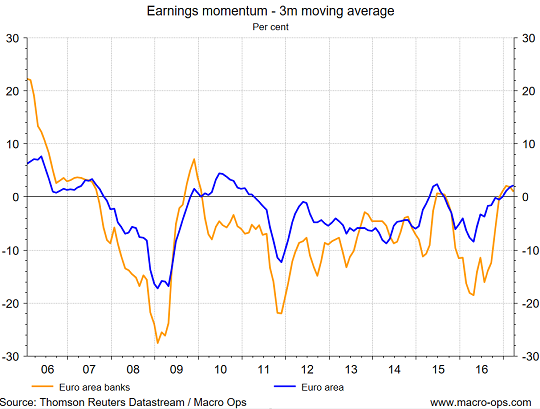 These factors form the basis of the European bull case: relative valuations, diverging monetary policy, and mean reversion in EPS sets the stage for a run in European stocks. This is why fund managers have been jumping into the trade since the end of last year.

A catalyst that would ignite this positive trend further would be the defeat (or the perception of the inevitable defeat) of presidential candidate Marine Le Pen in the upcoming French elections. Le Pen is the populist leader of the right-wing National Front. The National Front is an anti-euro, anti-immigration party. A Le Pen win would send shockwaves across Europe… possibly signaling the demise of the Eurozone as we know it.
She's currently not projected to win. But we all know how well the polls have performed in the last two major political events.
Though just like short-term debt cycles oscillate around long-term debt cycles, populist movements oscillate around secular trend lines as well. While the long-term populism trend is up (blue line on the chart below), we're of the mind that we're near the peak of the current short-term uncertainty cycle (yellow line). We expect political events to swing back towards more predictable outcomes for a while. Le Pen will likely lose.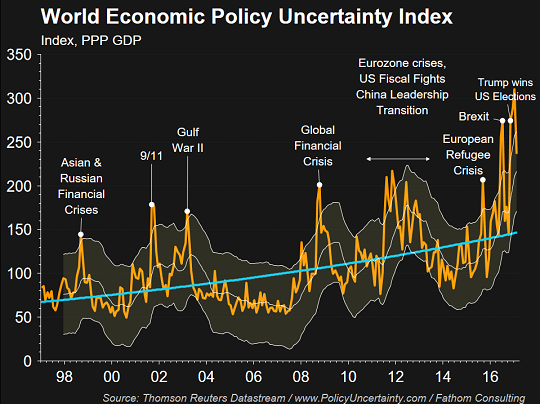 This thought is bolstered by the outcome in the Dutch elections where firebrand Geert Wilders was handily defeated. Le Pen losing would be a positive (however short-lived) for European stocks, because after France comes Germany with a big election in September.
It could be a boon to markets if Europe can blanket the flames of populism for the rest of the year. This is also why the ECB is so keen to play it loose. They are an offspring of the EU experiment after all.
Based on all this data, it looks like the coast is clear for Europe and we should pile in on the trend, right?
Well… not exactly.
The current rally is founded on untrue assumptions and will eventually reverse… hard.
None of the original reasons to be bearish on Europe have been settled. None of them.
Europe still has structural problems that include inflexible and uncompetitive labor markets, dwindling demographics, a misguided currency union, and an increasingly troubling immigration problem that's pulling at the seams of their already fragile political union.
Europe's recent "recovery" isn't so much a recovery as it is another dead cat bounce on its long road of decline. But Soros-style false trends can be powerful moves. And if the French election plays out how we think it will, with Le Pen losing, the false trend will likely continue. By Alex M., Macro Ops.
But if history is the guide, you're on your own. Read…  Buy, Sell, or Crash? Fed Warns on Stocks and Look what Happens.
Enjoy reading WOLF STREET and want to support it? You can donate. I appreciate it immensely. Click on the beer and iced-tea mug to find out how:

Would you like to be notified via email when WOLF STREET publishes a new article? Sign up here.