Venture Capital gets prudent – with consequences.
Few areas in the US are as dependent economically on the startup ecosystem as Silicon Valley and San Francisco. And the crazy boom that peaked in 2014 and 2015 lifted all boats, but then the tide went out.
It's a larger US phenomenon, but San Francisco and Silicon Valley feel it particularly. Venture capital investments in the US "downshifted again" in the first quarter, according to the current report by the National Venture Capital Association and PitchBook Data. It was the sixth quarter in a row of declines, and the number of deals dropped to the lowest level since Q3 2010,
The startup funding industry "is likely reverting to 2012-2013 levels of investment after peaking during the past few years," the report says. It represents a "more disciplined approach with a much more critical eye on investment opportunities." With first financings declining and with VC-backed companies, such as Uber and Airbnb, staying private longer and thus not allowing their investors to exit, "venture investors are focusing more of their efforts on supporting existing portfolio companies," rather than funding new ones.
Including San Francisco darling Airbnb's $1 billion deal, startups raised a total of $16.5 billion in the first quarter, down 12% year-over-year. The number of companies being funded plunged 24% to about 1,800 – the sixth quarter in a row of declines, and the lowest count since Q3 2010.
Extrapolating from Q1, the full year 2017 is on track to hit the lowest level in terms of dollars since 2012, and in terms of deals since 2011. This chart (via PitchBook Data and National Venture Capital Association) shows the number of deals in the US, a bubble and its deflation: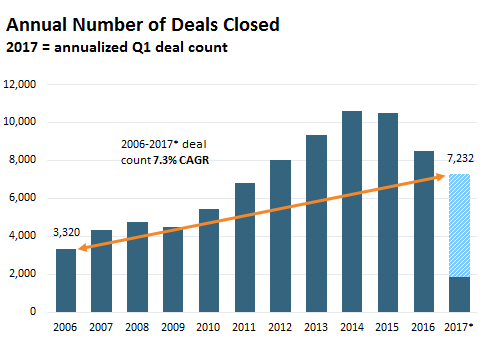 "The pace at which total fundings are declining shouldn't be overlooked," the report said.
But it's not for a lack of money. In 2016, VC funds raised $41 billion, the best year in a decade. In Q1 2017, they raised another $7.9 billion. The VC industry now "sits on record amounts of dry powder, plenty of which will be earmarked for follow-on deals at the late stage."
And IPOs of VC-backed companies continue to lag: only seven were completed in Q1, raising $4 billion, including the now infamous Snap IPO with its non-voting shares whose price has plunged following the post-IPO spike.
This pullback by VCs is hitting Silicon Valley and San Francisco – with larger ramifications.
The San Francisco-Oakland-Fremont area saw 279 deals for a total of $5.12 billion in Q1. Silicon Valley saw 107 deals for $1.63 billion. Combined, 386 deals. That was down 7% from the already weak Q1 2016, down 31% from Q1 2015, down 46% from the peak Q2 2015, and the lowest since 2010: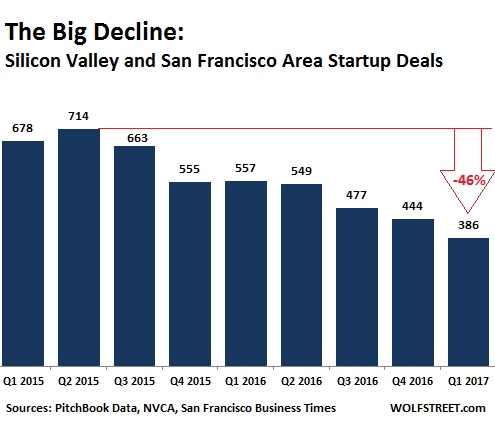 The industry is sanguine about it. It's their money, they need to make it work, and there are good reasons for the drop-off. The report:
For many reasons, a reversion in deal activity back to the mean is good. During 2014 and 2015, when activity at the stage was high, non-VC investors flocked to the industry to pour extra money into the stage, which caused valuations to soar. The slow exit environment and threat of prolonged illiquidity, among other factors, has pushed those investors back out, allowing VCs to get back to more sustainable late-stage investing.
In other words, the industry is relieved for now that some of the craziness is being leached out of it.
But for the local economy – for employment, commercial real estate, residential real estate, and a million other factors, this new focus is a mixed blessing. It ads to the other mixed blessings that are already out there.
Commercial real estate firm JLL, in its recent Silicon Valley Snapshot expressed these concerns. In the missive – titled, "Tightening belts: Valley Companies trim workforce, shedding space" – Research Manager Christan Basconcillo was doing some basic math:
Over the past 9 months, a total of 6,777 Silicon Valley employees have been put out of a job by way of company cutbacks or closures. Assuming 175 s.f. per person, this is equivalent to 1.2 MSF of space.

Though M&A and consolidation have played a part in the rise of sublease space, many publicly traded tech firms are also adding space to market despite solid performance in the stock market, potentially preparing for a slowdown due to economic uncertainty (emphasis added).
So office space availability is suddenly piling up after years when the term "shortage" was the guiding theme behind all real estate decisions, and everyone went out to grab whatever was available, whether they needed it or not. But companies are cutting back and putting unused space on the market:
As much as 1.3 MSF of direct space and potentially 300,000 square feet of sublease space could hit the market by the end of 2017 as several large publicly-traded tech companies shed excess space. The result could be the pivot point toward a market correction, adding additional uncertainty to a market dealing with a rise in large block availability.
That sort of combined pull-back by the tech sector and by the startup ecosystem is a sea change for a region whose excesses, craziness, and prices have long befuddled rational observers.
The people in the Bay Area can already see the signs of a "signficant downturn." And nearly half the millennials say they're "likely" to leave. Read…  Bay Area Economic Outlook Buckles under Strains
Enjoy reading WOLF STREET and want to support it? You can donate. I appreciate it immensely. Click on the beer and iced-tea mug to find out how:

Would you like to be notified via email when WOLF STREET publishes a new article? Sign up here.