New York Fed President William Dudley is on board.
Today it was New York Fed President William Dudley's job to hammer home the message. He's one of the most influential members on the policy-setting Federal Open Market Committee. His New York Fed deals with the securities that are on the Fed's balance sheet as a result of QE. And he said the Fed might start reversing QE this year.
With this call to shrink the Fed's balance sheet, he is following in the footsteps of other Fed heads, including Cleveland Fed President Loretta Mester, San Francisco Fed President John Williams, and most notably Boston Fed President Eric Rosengren – a former "dove" who has been publicly fretting about bubbles in commercial real estate and housing and the risks they pose to "financial stability."
So this theme unraveling QE, not in the foggy future but this year, is picking up momentum.
There is a lot to unravel: the Fed's $4.5-trillion balance sheet holds $1.8 trillion in mortgage-backed securities and $2.4 trillion in Treasuries. As they mature, the Fed replaces them by buying more.
Dudley was talking to Bloomberg TV today. Everything was couched in the caveat that it "really depends on the data." But it included a hue of frustration with the credit markets:
"We've been trying to communicate to people: if the economy stays on that trend we're going to gradually remove monetary accommodation."
However slow economic growth may be – it was a miserable 1.6% in 2016 – if it "stays on that trend," the Fed will not only continue raising rates but also start reversing QE. And the markets don't get it, that's what he seemed to say.
So "a couple more hikes this year seems reasonable," he said. But if the economy is stronger, "we could do a little bit more."
The FOMC has raised its target for the federal funds rate twice over the past three meetings, to a range between 0.75% and 1.0%. This pushed the effective federal funds rate to 0.91%. The median expectation is for two more hikes this year. But Dudley and others have put a third hike on the table. Rosengren said an increase at every other meeting this year "could and should be the committee's default."
There's "no huge rush to tighten policy," Dudley said. So rate hikes of 50 basis points each are off the table for now. Whew!
But inflation is on the radar, Dudley pointed out. The Fed's favorite inflation gauge, the PCE core index reached 1.75%, and the headline PCE index 2.12%, according to the Commerce Department today. The CPI is already at 2.8%.
This chart by Doug Short of Advisor Perspectives shows the sharp rise of the PCE index (red line) since mid-2016 and the gradual uptick of the core PCE index (blue line). The PCE index has pierced for the first time in five years the Fed's target (green line):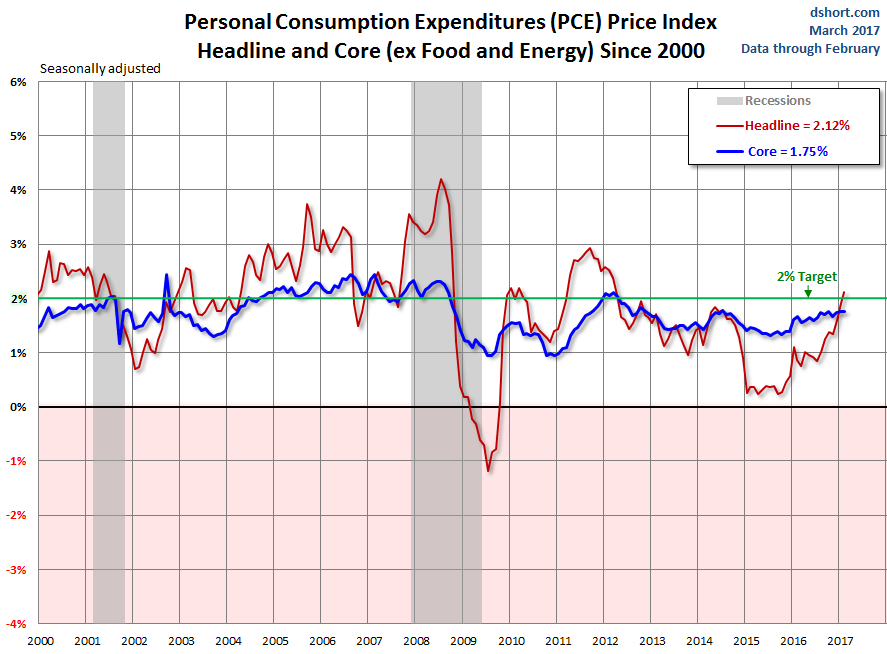 The economy "is clearly not over-heating," Dudley said, and the PCE core index is "still under 2%." Yet, "at the same time, policy is still accommodative and we're pretty close to full employment, so it makes sense to very gradually take back accommodation to get monetary policy closer to neutral as we go through 2017."
And where is neutral? The "consensus among many people is that neutral federal funds rate, adjusted for inflation, is somewhere between 0 and 1 percent," he said. "With 2% inflation target, you're talking somewhere in the 2 to 3 percent range."
With the effective fed funds rate at 0.91%, "we have maybe 100 to 150 basis points of tightening ahead." Four to six more rate hikes. If the economy (or inflation) is stronger, "we have a little more to do."
But the Fed's target range only impacted short term yields so far. Long-term yields, though they have risen since last summer, fell recently. And the yield curve has flattened in March.
The 1-month yield rose from 0.46% on March 1 to 0.75% on March 30. But the 30-year yield edged down from 3.06% on March 1 to 3.03% on March 30, thus brushing off the Fed's rate hike and its jawboning about QE: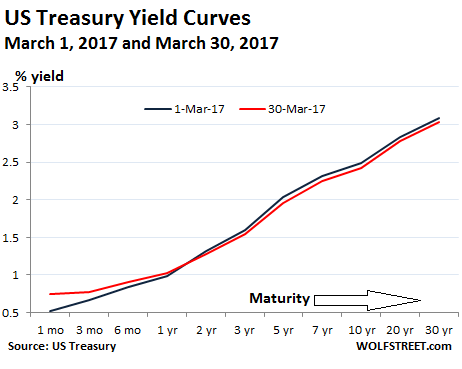 Hence the warnings about unwinding QE: to nudge up long-term rates. Dudley explains timing and method:
"It wouldn't surprise me if sometime later this year or sometime in 2018, should the economy perform in line with our expectations, that we'll start to gradually let securities mature rather than reinvesting them."

"If we start to normalize the balance sheet, that's a substitute for short-term rate hikes because it would also work in the direction of tightening financial conditions."

"If and when we decide to begin to normalize the balance sheet we might actually decide at the same time to take a little pause in terms of raising short-term interest rates."
And he is "not that worried that the markets are going to react to the changes in our balance sheet in a violent way because it's already factored in."
Dudley's statement was the clearest sign yet that the Fed is planning on letting maturing securities roll off the balance sheet without replacement, thus mopping up some of the liquidity in the markets, beginning "later this year." This contradicts what many market participants are still betting on – that the Fed will in essence never be able to do so.
QE, boosted by ultra-low central bank policy rates, is an amazing thing. Liquidity lifts all boats. Asset prices have soared across the spectrum. That was the intent. But there are effects on the real economy, such as housing becoming a financial strain for many consumers who then cannot spend money on other things. How far can you go before this artificially inflated system collapses under its own weight? No one knows. And no one wants to find out. It would be a mess.
So with one eye on that potential mess, the Fed is getting serious about trying to back out. And if the markets brush off these efforts, the Fed will likely push ahead further and faster.
Wall Street claims surge in stocks is based on rising corporate earnings. Ha! Read…  Last Two Times After Our Dear Government Reported Data Like This, Stocks Crashed
Enjoy reading WOLF STREET and want to support it? You can donate. I appreciate it immensely. Click on the beer and iced-tea mug to find out how:

Would you like to be notified via email when WOLF STREET publishes a new article? Sign up here.