Debt binge hits its limit, with big impact on overall economy.
Sector booms and busts have historically been driven by speculation and over-borrowing, often triggering regional or even national recessions. Textbook examples include the 2014 Energy and 2008 Financial sector collapse. In both of these instances, fallacies such as perpetual $100+ oil and ever rising home prices drove rampant speculation, overinvestment, and unsustainable debt buildup.
So warns John Burns Real Estate Consulting, in a new paper, "Industries at Risk and Implications for Housing."
This time, three sectors stand out where "a similar pattern of unsustainable growth has driven rapid expansion" since the end of the Great Recession: technology, automotive (whose current travails I keep dissecting), and health care.
But health care poses the biggest "systemic recession risk" to the US economy, according to the report. After employment in the sector has soared 113% since 1990, it accounts for 16% of private sector jobs, up from 10% in 1990.
[T]thus a correction to the industry will likely cause a slowdown for the national economy. Several large housing markets have an even bigger concentration of jobs tied to the Health Care industry and will be disproportionately hit by a Health Care slowdown, including: Philadelphia, Boston, New York, and Nashville.
As so many times, it has to do with debt. Health-care sector debt has soared 308% since 2009, the depth of the Great Recession which elegantly bypassed the sector. Over the same period, GDP has grown 30%, and overall jobs have grown only 18%. Thus health-care sector debt has grown 10 times faster than GDP and 17 times faster than private-sector jobs, "exceeding multiples of prior finance and energy sector boom-and-bust cycles."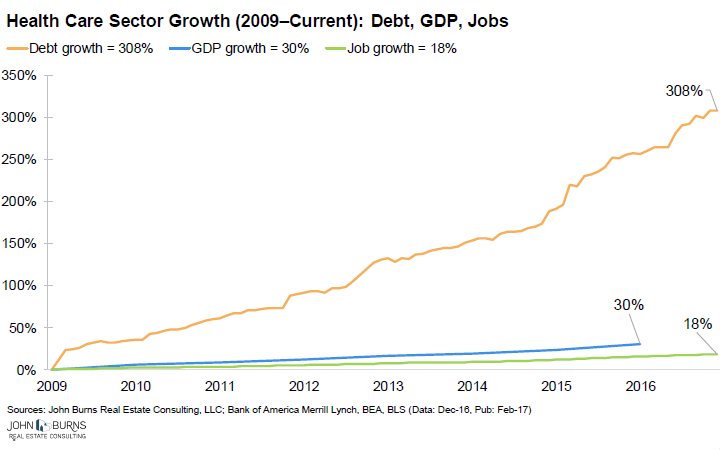 Hospitals and other health-care facilities, funded by this "debt binge," have sprouted like mushrooms. Due to their "large multiplier effect on local economies" as doctors, nurses, and other employees live and spend money in the area, "municipalities have been eager to invest in health care facilities because of the assumed jobs/tax dollars." This overenthusiasm and over-investment has "accelerated the industry's growth."
It occurred during a period of industry consolidation via, you guessed it, a debt-fueled wave of Mergers & Acquisitions. This chart shows the annual number of announced deals (green) and the number of hospitals (blue) involved: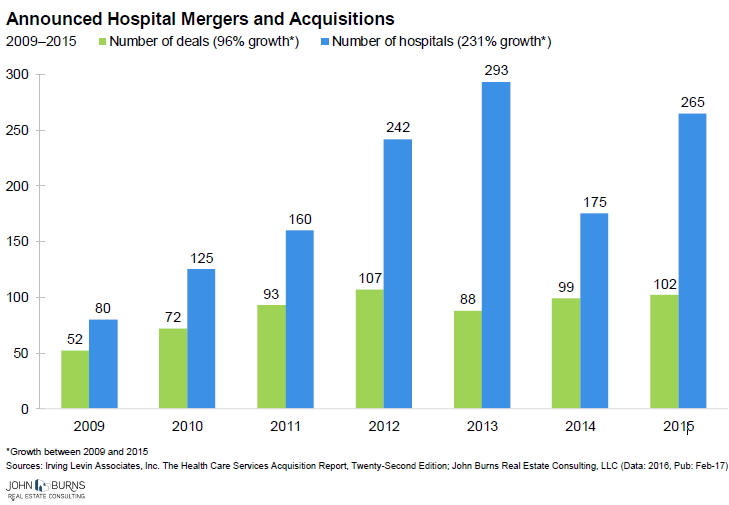 M&A activity has also consolidated the pharmaceutical sector, health insurers, and the like, which further lowered competition and helped contribute to surging prices that have become "unsustainable" for consumers.
Medical costs for a family of four in an employer-sponsored PPO plan soared 190% since 2002, from $9,000 to $26,000, according to the Milliman Medical Index, which includes health care costs and employee and employer contributions but not plan administrative expenses or profit: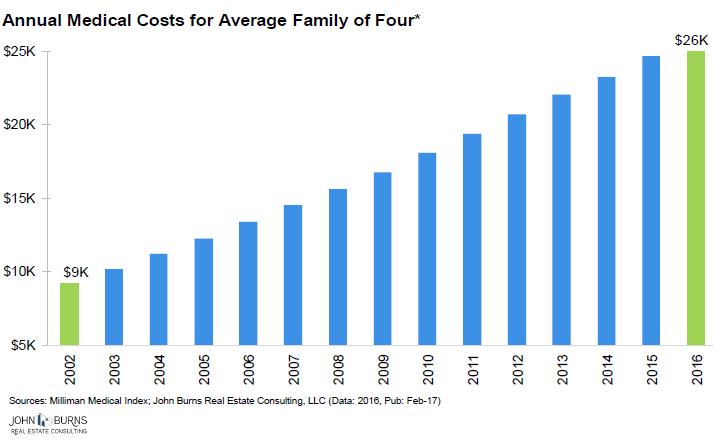 The medical needs of the aging boomers support growth, "but not at the breakneck pace seen in recent years," the report explains. The population aged 65+ has grown 41% since 2000 and will likely grow another 29% through 2025. Medical spending increases with age, and folks aged 65+ account for about 40% of total personal health spending.
But these "demographic tailwinds do not justify skyrocketing debt growth," the report points out. The health care sector's debt per 65+ person has soared from less than $1,000 in 2000 to over $13,000 in 2016, a stunning rise of 1,376%: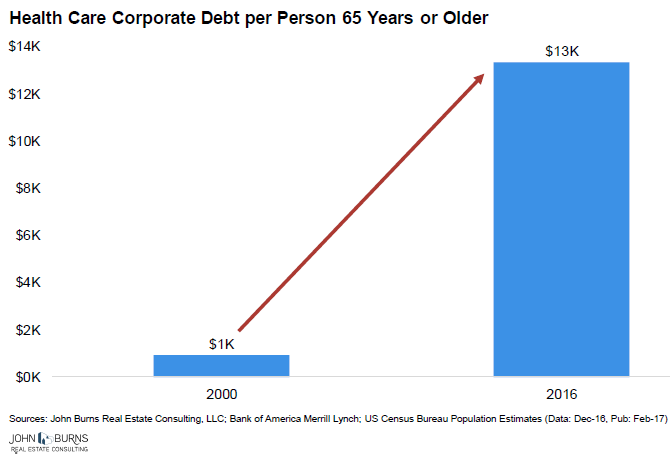 The unsustainability of this debt binge is showing up in the higher yield that investors are demanding in order to hold health-care junk-rated bonds – a sign investors see higher industry risks. Hence, borrowing costs are rising.
The chart below shows the difference in yield between junk-rated health care bonds and all junk-rated bonds (between the Effective Yield of the BofA Merrill Lynch High Yield Health Care Sector Index and the BofA High Yield Index).
A negative spread, which dominated for much of the period of the chart, means that investors saw the sector as less risky than the overall junk-bond market. But that changed in 2015, and John Burns Real Estate Consulting anticipates that the sector's corporate borrowing costs will continue to "trend higher":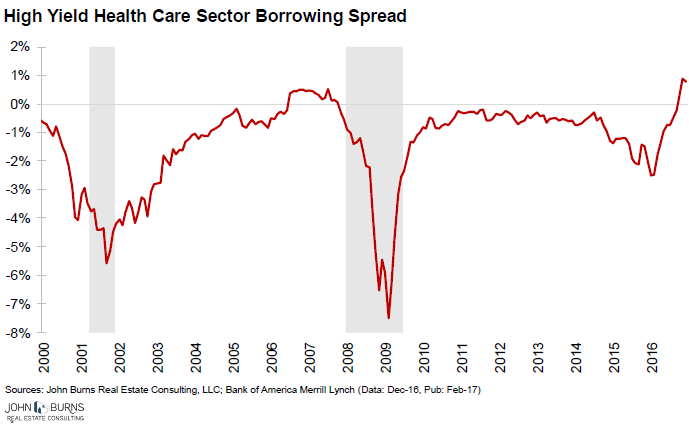 And now there are "early signs" the industry is cutting back, "after years of rapid expansion and renewed political pressure." The report cites some examples, including these:
"Community Health Systems Retrenches. Hospital operator forced to sell some hospitals after long buying spree" – Wall Street Journal, October 2016. "After years of acquiring hospitals and increasing debt [current debt to equity of 10x], one of the largest hospital operators announced it would be selling several of its 158 hospitals in order to pay down debt."

"High price tags for medicines are about to come under renewed pressure" – The Economist, December 2016. "The president-elect, the pharma industry's preferred candidate, has promised to bring prices down."

"MD Anderson cutting staff by 1,000 workers via layoff, retirement," Houston Chronicle, January 2017. "MD Anderson Cancer Center, Houston's second-largest employer, is eliminating about 1,000 jobs as the elite medical institution continues to wrestle with losses that exceeded $100 million last quarter."
So the report: "Speculative investing – often fueled by debt – has preceded 11 of the last 12 recessions; we believe debt will spark the next downturn." And the number one candidate for that spark is the phenomenally over-indebted health care sector.
Under onslaught of new competition, monopoly status collapses. Read…  After Years of Price Gouging, Mylan's EpiPen Gets Crushed
Enjoy reading WOLF STREET and want to support it? You can donate. I appreciate it immensely. Click on the beer and iced-tea mug to find out how:

Would you like to be notified via email when WOLF STREET publishes a new article? Sign up here.