Bondholders, savers, consumers to be put through inflation wringer.
Inflation will rise above target, and that's OK, the Fed heads who've been talking since last week's meeting said. The Fed will hike rates, maybe faster than expected, but they won't catch up with inflation, keeping the Fed purposefully behind the curve, and inflation will overshoot, and real interest rates will be deeply negative, whether you like it or not. That's the Fed's message emerging since the last meeting.
Today, Philadelphia Fed President Patrick Harker and Chicago Fed President Charles Evans echoed Fed Chair Janet Yellen who'd suggested on Wednesday that the Fed could try to push inflation above the 2% "target."
But the Fed's measure of inflation is the Personal Consumption Expenditure index (PCE index), which is significantly below the Consumer Price Index (CPI) which already jumped 2.74% in February, year-over-year.
Harker, a voting member this year on the policy-setting committee (FOMC), told CNBC today that three interest rate hikes for 2017 make sense, and getting one of them "out of the way" in March allows the Fed to spread them out during the year.
"We don't want to get behind the curve," he said. But the Fed is already woefully behind the curve: The FOMC last week raised the target for the federal funds rate a quarter point to a range of 0.75% to 1.0%. The effective federal funds rate is at only 0.91%. That's a real (after inflation) effective federal funds rate of negative -1.83%.
The Fed prefers the PCE inflation index, over CPI, because it understates actual increases in the costs of living even more than CPI. Headline PCE inflation index rose 1.9% year-over-year, as Harker pointed out, and core PCE rose 1.7%. Versus the 2.7% increase in CPI.
These differences are cumulative and get large over time. The two charts below, via Doug Short of Advisor Perspectives, show the differences. The first chart shows the gap between the core measures (without food and energy) of PCE and CPI every month going back to 1960. The green bars indicate by how much CPI exceeded PCE in percentage points. The occasional red bars indicate when CPI was smaller than PCE inflation: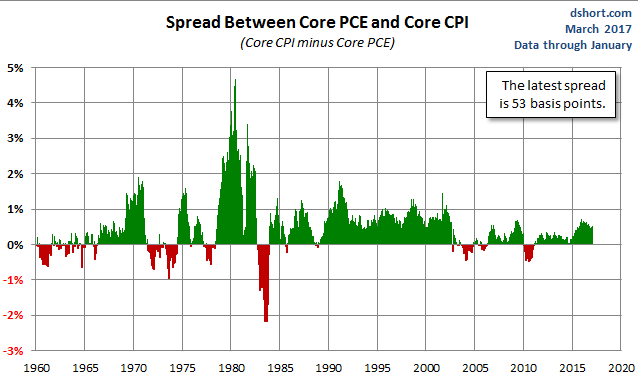 And the chart below shows the cumulative effects of this understatement of inflation by PCE (red line) versus CPI (blue line). Click to enlarge: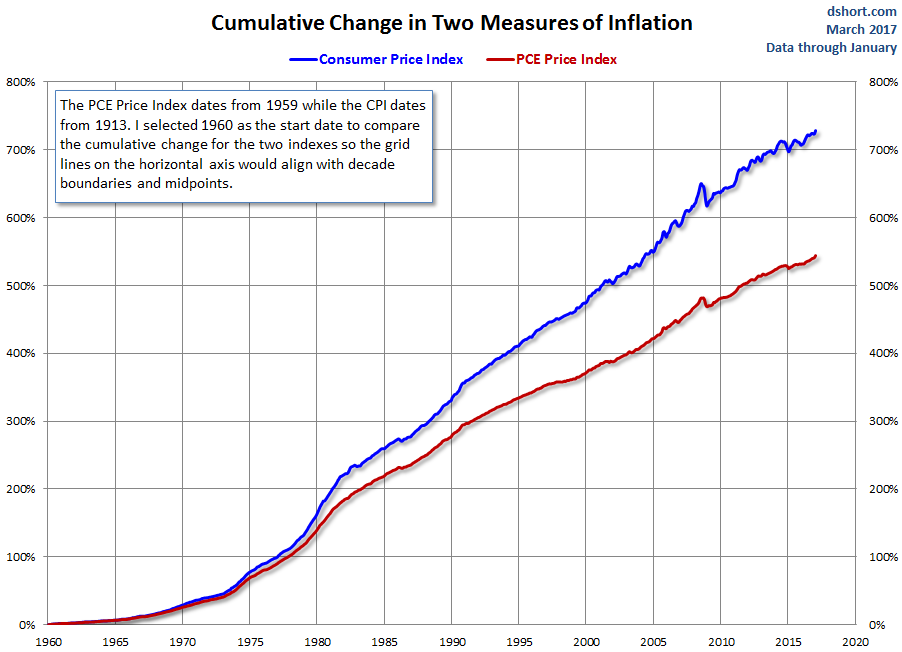 So inflation as measured by PCE, is "within shooting distance of our target," which is 2%, Harker pointed out. Hitting that PCE target would likely cause CPI to move closer to 3%. But it's still not going to be enough for the Fed:
"I think we're there, and we're moving in the right direction," Harker said. "There will be a little bit of an overshoot, and that's OK, it's appropriate." The target of 2% is "not a ceiling" but "just a target."
"You need to be concerned about is not so much the number itself but the momentum," he said. "To me it's more like what it feels like. Is it accelerating? Is it decelerating? We want to stay around 2%. I think we're pretty close to that, and the momentum is in the right direction."
Evens, also a voting member this year on the FOMC, chimed in today on Fox Business Network TV: Three rate hikes in 2017 are "entirely possible," he said. "As I gain more confidence in the outlook I could support three total this year. If inflation began to pick up, that would certainly solidify. It could be three. It could be two. It could be four if things really pick up."
"There's room to get inflation up to 2%, and in fact going beyond 2% a little bit to make sure we get there, and that it's a symmetric inflation objective, so that's OK," he said.
What "beyond 2%" PCE inflation will translate into might be something beyond 3% CPI.
If there are two more rate hikes this year, the effective federal funds rate will move to about 1.4%. Short-term government bond yields will be near that. After inflation, these bondholders will experience a loss of about 1.6% on an annual basis. Even 10-year Treasury notes, which currently trade at a yield of 2.48%, do not compensate holders for the loss in purchasing power due to inflation.
Prices would have to fall enough to where the yield rises to 3% or higher over the next few months just to keep up with inflation. Either way – either through falling bond prices or through below-inflation yields – government bondholders, which include already beleaguered pension funds of all kinds, are going to get screwed in this environment.
Not to speak of savers, whose lovely banks are holding $11.6 trillion in deposits but are raising deposit rates at a glacial pace, if at all. The average national deposit rate for jumbo 60-month CDs ($100,000 or over) is 0.81% as of last week, effectively unchanged since 2013, despite three rate hikes. So savers and other deposit holders are looking at losing about $300 billion or more this year to inflation. In other words, bondholders and depositors get to enjoy a long bout of financial repression.
Wage increases aren't anywhere near these kinds of inflation numbers. However, to make consumers feel better, banks have already raised mortgage rates and credit card rates. So consumers too will be put through the inflation wringer.
It seems Wall Street will have to go look for another mirage to hype. Read…  Stocks Soared on Trump's $1-Trillion Infrastructure Boom. But that Just Evaporated. Now What?
Enjoy reading WOLF STREET and want to support it? You can donate. I appreciate it immensely. Click on the beer and iced-tea mug to find out how:

Would you like to be notified via email when WOLF STREET publishes a new article? Sign up here.