Costs went up faster than sales; now its high-flying stock is tanking
Limited, steady inflation is the best thing since sliced bread, so to speak, for over-indebted companies, governments, and for debt-slave consumers – if wages rise faster than inflation, which they haven't done in years. But it's a vicious parasite for companies that cannot fully pass on their inflated input costs to the consumer. Sales rise due to inflation without having to sell a single extra thing, and analysts love that. But costs go up too, and at Costco, they went up faster than sales, and now its high-flying stock is tanking.
Costco, the second largest US retailer after Wal-Mart with 728 stores in nine countries, including 508 in the US and Puerto Rico and 94 in Canada, was considered one of the exceptions to the brick-and-mortar retail fiasco. But now that it released its earnings, it too is stirring up doubts.
Here are some of the salient numbers for the 12 weeks ended February 12:
Sales rose 5.7% to $29.1 billion (in part based on price increases)
Sales at stores that have been open more than a year rose 3% – not much higher than the increase in the Consumer Price Index for the period (2.5%)
Membership fees rose 5.5% to $636 million (same annual fees, more members).
But….
Merchandise costs rose 6.0% to $25.9 billion
Selling, general, and administrative expenses rose 5.1% to $2.98 billion.
So…
Operating income fell 1.4% to $844 million
Operating margins declined to 2.8% from 3.0% a year ago and from 3.2% two years ago
Net income (after net interest expense and income taxes) fell 5.7% to $515 million.
In short, sales rose 5.7% in part due to inflation, but net income fell 5.7% for the same reasons. Inflation works both ways.
Also note how critical the membership fees are. They brought in $636 million. That's more than the entire net profit. In other words, without those membership fees, Costco would operate at a loss. Of course, that's why consumers are willing to pay them.
Given how dependent the company is on these membership fees, and how rising costs are squeezing the profit margins, it decided to, well, raise those fees.
Effective June 1, it will raise the basic membership fee in the US and Canada by 9.1% from $55 a year to $60, and its Executive Membership fees from $110 to $120. For consumers, it will be another bitter data point in their daily struggle with inflation.
The membership fee increases were offered as consolation price to analysts in the hope of minimizing the damage of the disappointing results. It might have worked: Costco shares fell "only" 4.3% in afterhours trading, albeit from a near-all-time high.
This scenario shows how inflation can bite, consumers and companies alike. And inflation is accelerating.
Here are two of the many inflation measures: the core (without food and energy) Consumer Price Index by the Bureau of Labor Statistics and the core Personal Consumption Expenditure (PCE) index by the Bureau of Economic Analysis. The PCE index is usually lower than CPI. So when the Fed targets 2% inflation, it means 2% core PCE. By the time it gets there, headline CPI might approach 3% (chart by Doug Short of Advisor Perspectives):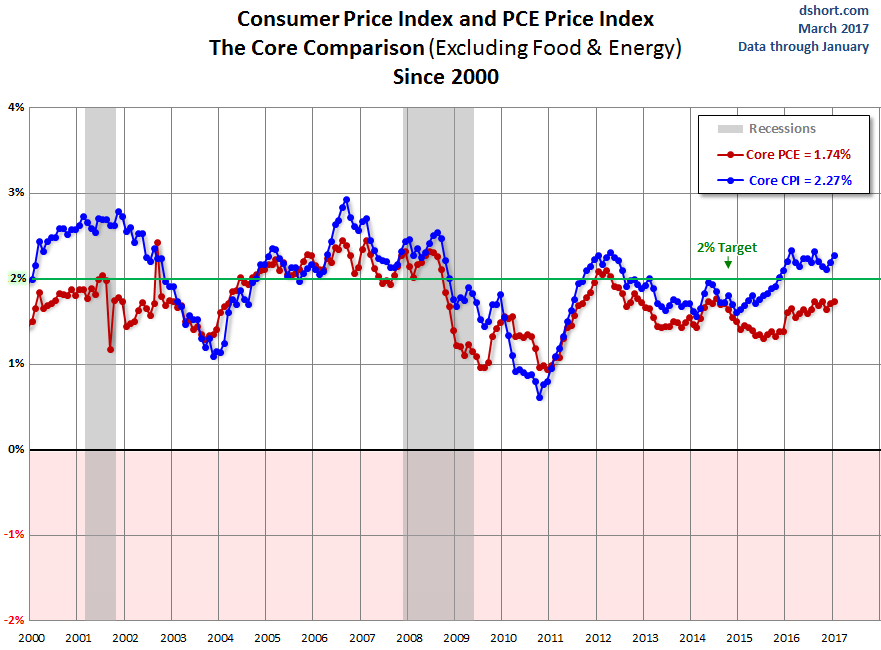 Which poses another challenge for retailers such as Costco – and why they have trouble willy-nilly jacking up prices to beautify their bottom lines: consumers are workers, the lucky ones, and workers' incomes are not keeping up with inflation.
Sentier Research reported today that household incomes rose, but not as fast as inflation: and so real median household income (adjusted for inflation) edged down in January to $58,056 from $58,189 in December and from $58,635 in January 2016. That's a drop of 1% year-over-year.
This is also below where it had been in January 2000 ($58,846). So yes, online retailers are eating the lunch of brick-and-mortar retailers, but everyone has to contend with the pressures of rising inflation, long stagnating or declining real household incomes, and therefore the inability by many consumers to spend more.
Costco, though showing the first signs of trouble, is still one of the exceptions in the painstaking and relentless collapse of brick-and-mortar retail. Read…  So What Are We Going to Do with the Retail Malls?
Enjoy reading WOLF STREET and want to support it? You can donate. I appreciate it immensely. Click on the beer and iced-tea mug to find out how:

Would you like to be notified via email when WOLF STREET publishes a new article? Sign up here.