So where will this go from here?
In February, rents in nine of the 12 most expensive US rental markets dropped – or plunged.
In San Francisco, the most ludicrously expensive rental market in the country, the median asking rent for a one-bedroom apartment dropped 8.9% from a year ago to $3,270 a month, and 10.9% from the crazy peak in October 2015. Two-bedroom rents dropped 7.6% year-over-year to $4,500, and 10% from the peak, according to Zumper's National Rent Report.
The last time rents declined year-over-year in San Francisco was in April 2010 as the housing bust was hitting bottom.
But these asking rents do not include incentives, such as "1 month free" or "2 months free." Incentives are rare in the generally overheated San Francisco market – except during times of stress. Now, with new apartments and condos flooding the market due to a historic construction boom, incentives have become common. With "1 month free," first-year rent of a one-bedroom plunged 18% compared to a year ago!
Zumper tracks asking rents in multifamily apartment buildings. Single-family houses for rent are not included but are ultimately impacted by multifamily dynamics.
In New York City, the second most expensive rental market, rents are plunging even faster. The median asking rent for a one-bedroom dropped 10.7% from a year ago, and 12.3% from the peak in March 2016. Rents for two-bedroom apartments plunged 10% year-over-year and 11.2% from the peak. And there too, landlords are luring buyers with large incentives. With "1 month free," asking rents plunged in the 20% range.
Incentives work like big reductions in asking rents but their purpose is to obscure these reductions and make the market look less stressed than it is, in the hope of keeping rents from plunging further. There is also the hope that tenants will stick around past the first year, at which point they'll pay the rent without incentives.
The dynamics in New York and San Francisco have infected other over-priced markets. The table shows the 12 most expensive rental markets in the US. Nine are experiencing year-over year declines. A lot of red ink where for the past six years there used to be luscious green. The shaded area shows the change in rents from the peak, and when that peak occurred. Note the Bay Area cities of San Francisco, San Jose, and Oakland, all in the red: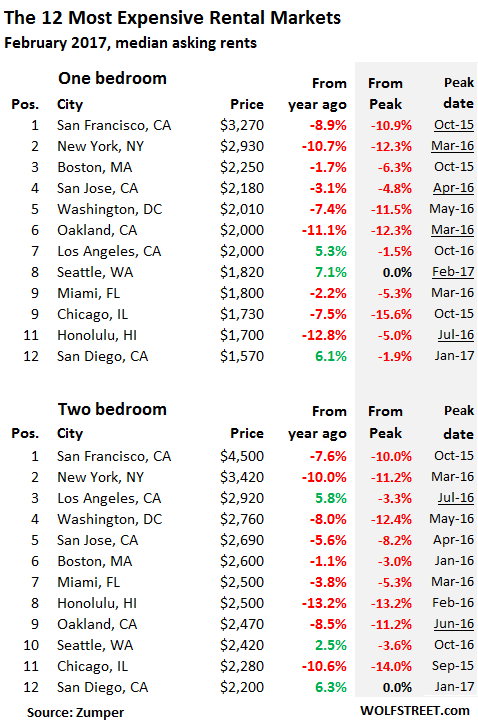 Even in rental la-la lands Seattle, Los Angeles, and San Diego, clouds are beginning to waft over the horizon on a monthly basis:
In Los Angeles rents have been inching down – for one-bedrooms since October; for two-bedrooms since July.
In San Diego, rent growth has flattened out on a monthly basis and one-bedroom rents made the first tentative steps down.
In Seattle, annual rent growth was in the high-single digits through the fall of last year, but is apparently hitting some resistance and has flattened out on a monthly basis. While one-bedroom rents eked out another record in February, two-bedrooms are now down 3.6% from their peak in October.
The multi-year surge in rents in San Francisco and Silicon Valley, which in turn has stimulated phenomenal construction booms, has left these markets in a quandary: the market has become too expensive for the people in it, just when a flood of new units is washing over the market.
"We just don't have enough renters to pay $4,000 and $5,000 a month for Class A units, and that's what's being built," explained Stephen Jackson, senior VP at global commercial real estate services firm JLL, in an interview with Bay Area real estate publication The Registry.
He pointed out that from 2011 through 2015, rents in Silicon Valley soared 64%, though they're now declining, under pressure from affordability issues, especially for middle-class earners. Though Silicon Valley wages are high, they're not nearly high enough for these rents:
"My prediction is that housing costs have peaked or are peaking, so we're going to see rents continuing to level off in most municipalities in the Bay Area or declining from the top of the market — people just can't afford it anymore, and it's the same thing with single family homes."
Affordability is where booming housing markets hit the wall.
But big rent increases, some well into the double digits, are migrating to other large cities. Here is a selection of year-over-year rent increases in "mid-tier" markets (mid-tier in terms of how expensive rents are):
#15 New Orleans, LA (1BR +15.0%)
#16 Long Beach, CA (1BR +15.0%)
#20 Minneapolis (1BR +14.9%)
#21 Dallas (1BR + 13.0%)
#23 Houston (1BR +15.0%)
#24 Nashville (1BR +15.0%)
#26 Madison, WI (1BR +15.0%)
If you live in New Orleans, and your rent jumped 15% from a year ago, your cost of living surged far beyond what the national averages of the Consumer Price Index might suggest.
Real estate is local – as demonstrated by this phenomenon of plunging rents in some markets and soaring rents in others. But the gap between a 15% annual jump in rent for a one-bedroom in New Orleans and the 11% plunge in New York gets averaged away in the national numbers.
On a national level in February, the median asking rent for a one bedroom apartment declined 0.1% from January, but rose 2.1% year-over-year to $1,142, according to Zumper. The median two-bedroom rent declined 0.4% from January but rose 1.4% year-over-year to $1,353. These increases are down from the 3% to 5% range of increases common over the past few years.
So where will this go? In August last year, on my list of the top 12 markets, there were four cities with year-over-year declines in two-bedroom rents. Now there are nine. Given current trends, it is likely that Seattle and Southern California will see year-over-year rent declines later this year. It will turn the whole table red. And it will spread to other cities.
Rental dynamics increasingly impact the broader housing market. Homeownership rates have spiraled lower as potential first-time buyers are renting instead. And America becomes "Landlord Land." Read… So Who's Pumping Up this "New Normal" Housing Market?
Below are the top 100 rental markets in February, in order of the amount of rent for one-bedroom apartments (tables by Zumper, click to enlarge):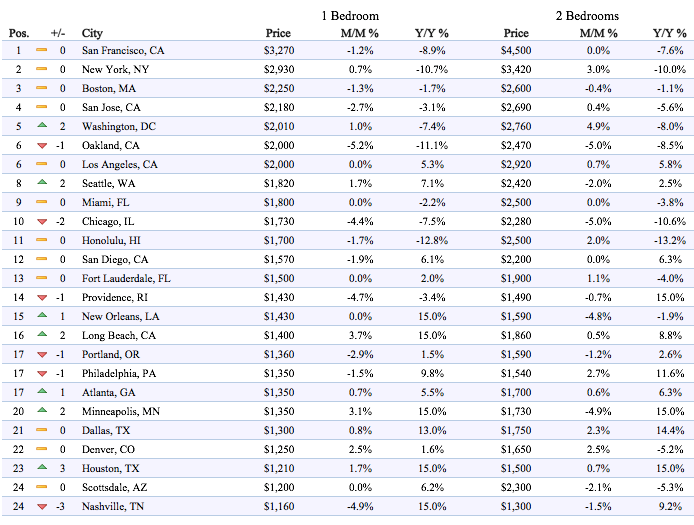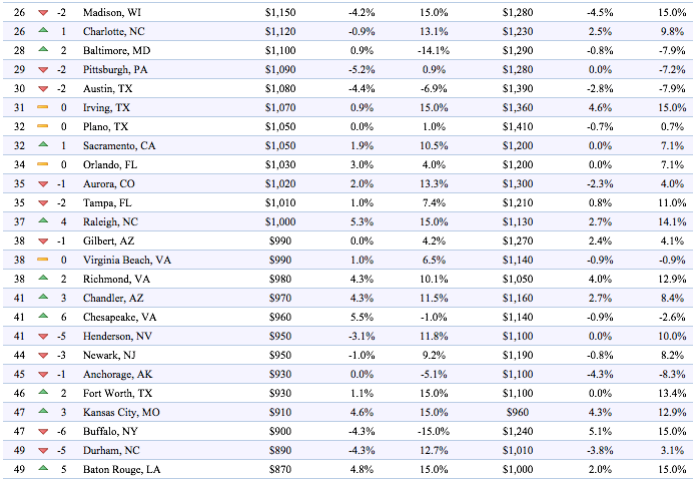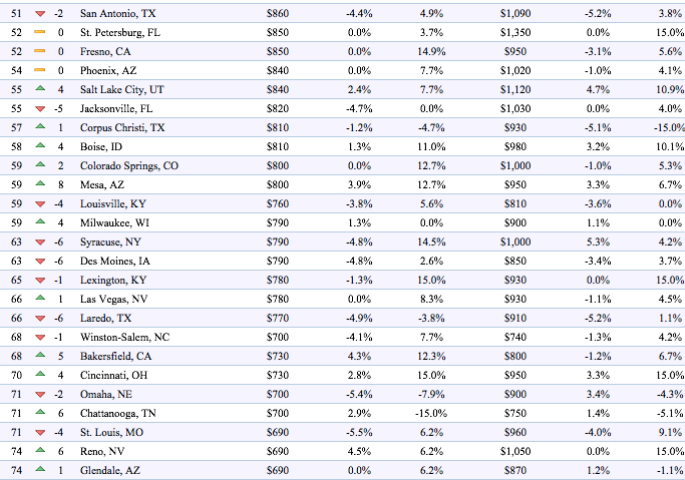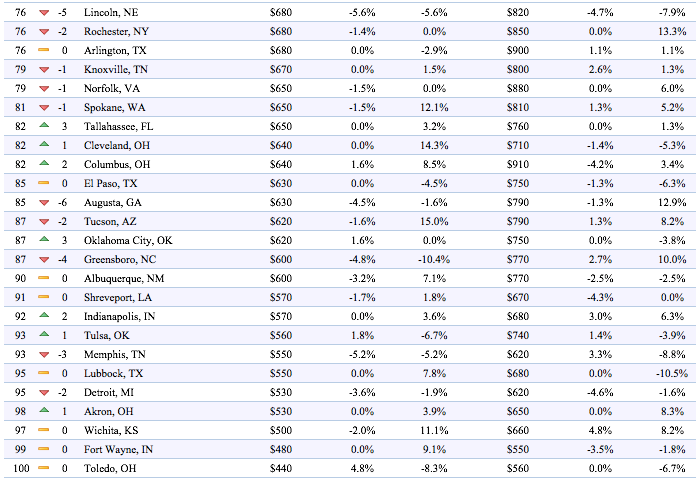 Answers are trickling in. Tough luck for New York, San Francisco, and Miami. Read… How Much Money Laundering is Going On in the Housing Market? A Lot
Enjoy reading WOLF STREET and want to support it? You can donate. I appreciate it immensely. Click on the beer and iced-tea mug to find out how:

Would you like to be notified via email when WOLF STREET publishes a new article? Sign up here.