Retail sales are held up by only two sectors. The rest are sinking.
There are two components of "retail and food services sales" that have been booming over the past few years through the fourth quarter 2016. And then there's all the rest combined – 71% of total retail sales – that has been in decline since the third quarter of 2008. That's the tough reality of retail sales in the US.
First the good news: e-commerce sales
In the fourth quarter, e-commerce sales soared 14.3% from a year earlier, to $123.6 billion, not adjusted for seasonality and price changes, according to the Commerce Department today. E-commerce sales for the entire year 2016 jumped 15.1% year-over-year to $394.9 billion, accounting for 8.1% of total retail and food services sales, up from 7.3% in 2015. You see where this is going.
E-commerce sales include online sales by retailers with brick-and-mortar stores, such as Walmart and Macy's that are all trying to carve out a presence on the internet, with varying success.
This chart uses seasonally adjusted e-commerce sales to eliminate the very large seasonal fluctuations, including the spike every Q4 and plunge every Q1, but it's not adjusted for inflation: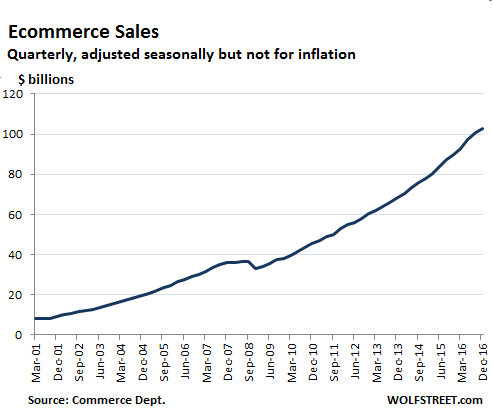 While e-commerce soared 14.3% year-over-year in Q4, total retail and food services sales, including e-commerce, rose only 3.9%. In all of 2016, total retail sales edged up only 2.9% from 2015. So what is left over once e-commerce is removed from the equation?
Retail and food services sales without e-commerce
Total retail and food services sales without e-commerce in Q4 2016 edged up to $364 billion, only 6.8% above the peak before the financial crisis in Q4 2007 ($340 billion):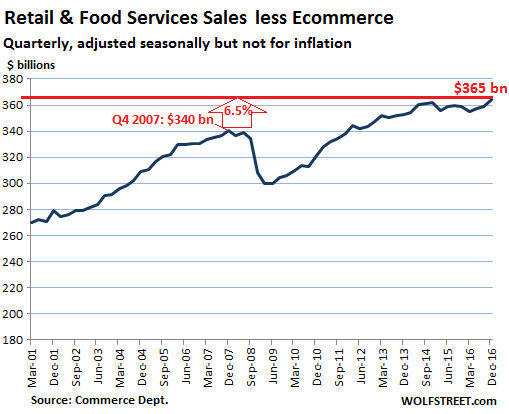 And the second booming sector: auto sales
Auto sales have been booming since the end of the Financial Crisis. The number of new vehicles sold set a new all-time record in 2015 and squeaked past it in 2016 with a record of 17.9 million vehicles. The record prior to 2015 and 2016 had been set at 17.8 million vehicles in the year 2000! So it was a recovery from the Financial Crisis, but in terms of new-vehicle unit sales it's nothing to write home about.
Then this: new vehicles in dollar terms have gotten more expensive, and prices of used vehicles have also risen over the years, so total sales in dollars at auto and parts dealers have seen a red-hot boom – due to price increases!
Back in Q3 2007, sales at auto and parts dealers reached a record of $76.2 billion. By Q4 2016, this had jumped 28% to $97.4 billion. This chart shows the dollar-sales boom by dealers of new vehicles, used vehicles, and auto parts: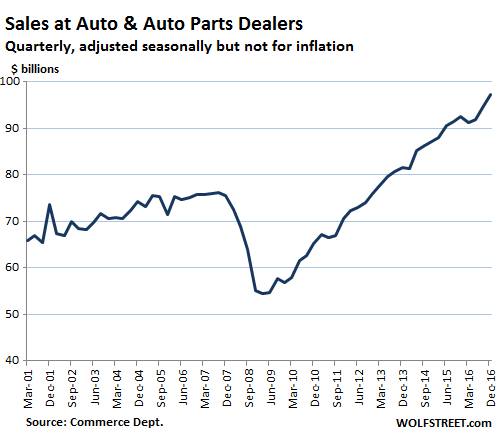 So the increase in dollar sales since 2000 is a function of price increases, not of volume increases, which anyone who bought vehicles at regular intervals can attest to. The same type car is nicer and might have a 9-speed automatic transmission instead of the 5-speed automatic of yore, and might have more safety features, cup-holders, gadgets, and internet-connected devices. But it's still the same brand, and same size car. You just have to pay a lot more to get it. Your reaction as you grapple with that reality is called "sticker shock."
Sales by auto and parts dealers account for about 21% of total retail and food services sales. So what happens when booming e-commerce and booming auto sales are removed? Combined they account for about 29% of total retail sales. What happens to the remaining 71%, the sales at millions of shops and big-box chain stores and grocery stores and jewelry stores, and at all the department stores, taco trucks, farmers' markets, discount stores, fast-food joints, high-end eateries… all combined?
This is what happens in the brick-and-mortar world
Retail and food services sales less e-commerce sales and less auto sales in Q4 2016 were $267 billion, about flat with Q4 2015 ($266 billion), down 2.6% from Q4 2014 ($275 billion), down 1.5% from Q4 2013…. In fact, they're down 1.5% from Q3 2008 ($271 billion), and about flat with Q4 2007! That was a long time ago. And note the steep ascent during the prior years: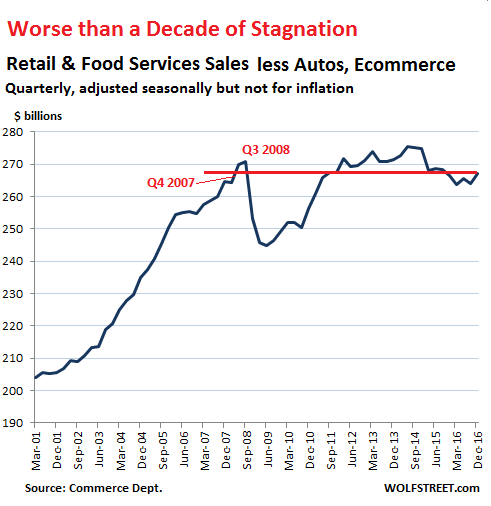 Adjusted for inflation over the years (the Consumer Price Index has risen 16% since 2007, including  2.7% in 2016 alone), these sales figures in Q4 2016 would look even sadder compared to Q4 2007! So for those 71% of US retail sales, it has been worse than a decade of stagnation.
And that's why companies love consumer price inflation: enough of it can hide a very tough reality.
So what happens next?
E-commerce sales will continue to boom by taking share away from brick-and-mortar retailers. This process is far from over.
But can auto sales continue to boom? These auto sales were funded by debt, and this debt has ballooned to over $1.1 trillion. The risks lenders have been taking have surged. Bank regulators have been warning for months, and now it's happening. Read…  "Seriously Delinquent" Auto Loans Surge
Enjoy reading WOLF STREET and want to support it? You can donate. I appreciate it immensely. Click on the beer and iced-tea mug to find out how:

Would you like to be notified via email when WOLF STREET publishes a new article? Sign up here.