The "supply shock" in Egypt
On November 3, the Egyptian Central Bank removed all exchange-rate restrictions and raised its benchmark rate by three percentage points. This was done to obtain that all-important $12-billion bailout loan the IMF had provisionally agreed to provide in August, though by November 3, the IMF's executive committee still hadn't ratified it.
In the unofficial market, the pound had already collapsed against the dollar. With the peg gone, the official exchange rate instantly plunged from 9 pounds to the dollar to over 15 pounds to the dollar, and four days later it was at 18 pounds.
On November 11, the IMF stopped dragging its feet and ratified the $12-billion loan.
At today's rate of 17 pounds to the dollar, the currency has lost 48% of its value since November 3. This chart, showing the value of each pound in US cents, depicts that plunge in its horrific brutality: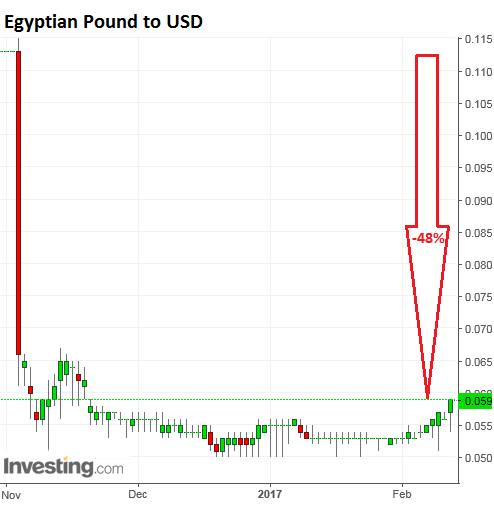 But Egypt imports about $60 billion per year in fuel, raw materials, and finished goods. And for Egyptians who have to pay for them in pounds, there are some bitter consequences.
The latest announcement of those bitter consequences was the inflation rate for January: Overall consumer price inflation soared by 28% year-over-year and core inflation soared by 31%. This chart (via Trading Economics) of core inflation shows that everything from rents to computers was a big driver in a horrendous increase in the cost of living:
This soaring inflation was due to "supply shocks," Egyptian Finance Minister Amr El-Garhy told Bloomberg TV. It was not demand driven. It was "expected," he said, given the devaluation. And it's going to get worse: "We knew that this is still peaking when it comes to inflation, we expect this to happen."
Eventually, the impact of that supply shock may fade from the year-over-year statistics, and inflation might settle down, under ideal conditions, but the currency got crushed, and will remain crushed.
But El-Garhy said the rise in Egyptian stocks was an "encouraging sign, and a strong vote of confidence in the economic reform program." He also credited the $12-billion bailout loan from the IMF that Egyptians have to service with their devalued currency.
With inflation changing so rapidly, no one knows what inflation amounts to on a daily basis. Everything denominated in pounds is losing value at a rapid rate that no one knows exactly. Inflation reporting happens after the fact, and may be unreliable. But the value that the pound loses today is what matters in order the gauge stock and bond prices today. And everyone is in the dark. The stock market denominated in Egyptian pounds has gained about 50% since the devaluation. That looks good on paper. And El-Garhy touted that. In reality, it just reflects the destruction of the currency.
And foreign investors that are chasing yield wherever they can find it jumped on Egyptian debt. Last Thursday, they bought 98.5% of the 6.6 billion pounds ($372 million) in six-month Egyptian Treasury bills that the government issued and 97.5% of 6.6 billion in one-year bills, according to the Finance Ministry, cited by Bloomberg. And these foreign yield chasers are doing what they're doing everywhere: driving down the yield.
But these bonds are denominated in Egyptian pounds, and no one knows what inflation will do to the currency over the next 12 months.
Being long oil is a very "crowded trade," but who's on the other side of that trade, and what do they know that speculators don't? Read…  Why a NYMEX Veteran is Getting Nervous about Oil
Enjoy reading WOLF STREET and want to support it? You can donate. I appreciate it immensely. Click on the beer and iced-tea mug to find out how:

Would you like to be notified via email when WOLF STREET publishes a new article? Sign up here.