A few "success stories" overshadow "very anemic activity."
Companies needing to lease office space in New York City get this piece of advice by global real-estate service provider Savills Studley in its Q4 report:
"Companies need to drown out the noise and ignore real estate's own version of fake news – the threat that demand is as strong as ever and rent will always rise."
Turns out, despite the hype of the industry, the vaunted and ludicrously expensive office space market in New York City peaked somewhere between the end of 2014 and mid-2016, both in terms of sales and leasing.
The number of sales of office buildings in 2016 valued at over $5 million plunged 16% from a year earlier to just 128 buildings, the lowest since 2013, according to a report by CommercialCafé, a sister company of Property Shark (transactions recorded up until Jan. 25, 2017):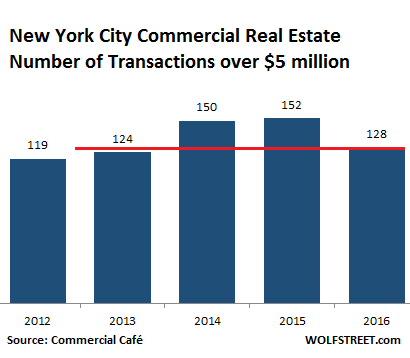 In dollar terms, transactions of office buildings dropped 7% year-over-year to $21.1 billion. In terms of square feet, transactions dropped 3% to 22.2 million square feet, just barely above 2013 (22.1 msf):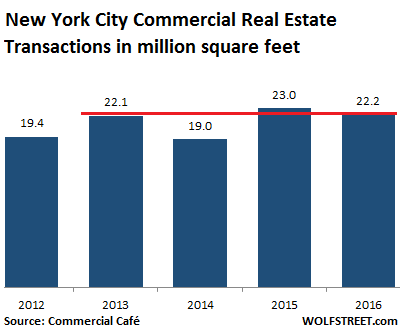 Even as volume declined, the average price per square foot rose 7% from a year ago to $1,347 per square foot – up 40% from 2012. Could that be the reason for the decline in sales volume? That it's getting too expensive and demand is drying up at these prices as leasing activity, which makes all this possible, is stalling (more on that in a moment)?
But wait – real estate is local…
In Midtown Manhattan, where 54 office buildings changed hands in 2016, the average price soared 28% year-over-year to $1,531 per square foot.
In Downtown Manhattan, the average price plunged 32% to $935 per square foot (from $1,376 in 2015).
In Queens, the average price of the 13 buildings that sold during the year soared 28% to $762 per square foot and was up 116% since 2012.
In Brooklyn, where the number of transactions plunged 38% to just 13, the average price dropped 16% to $690 per square foot.
Getting dizzy? It's mixed, as they say.
Who was buying? Over half of the 20 largest office sales in 2016, according to CommercialCafé, were "driven partially or exclusively by foreign capital."
Sales activity is sooner or later influenced by leasing activity. And here, Savills Studley's Q4 report on the New York City office sector sheds some light:
Tenants leased 29.5 million square feet (msf) in 2016. While up some from 2015, it's down 16% from 2014! The report: "Success stories, such as Hudson Yards and WeWork, overshadow the very anemic level of activity since year-end 2014."
Overall availability in Manhattan rose to 11.1% in Q4, from 10.4% a year ago. Class A availability jumped a full percentage point to 12.8% (12.5% in Midtown; 15.2% in Downtown).
Time on the market: The time Class A direct office space spends on the market before it is leased is approaching 11 months on average.
More supply will flood the market: 4.8 million square feet (msf) due to "known future moveouts," and another 6.4 msf of unleased space in buildings to be completed.
Total sublet supply – when companies are trying to sublease unneeded office space to another company – jumped 24% over a period of six months 10.4 msf in December.
This is pouring cold water on rents. Overall, asking rents fell by 2.6% to $72.96 per square foot. In Midtown, Class A asking rents fell by 4.4% to $84.92 – its lowest mark since early 2015. But those are asking rents. To make deals, and hide the weakness in rents, landlords are pushing concessions "even higher into record territory."
This is a "gradual tilt" in favor of tenants that Savills Studley expects to continue this year.
This shift was tough to discern in 2015, but became more apparent in 2016, and will be crystal clear in 2017.

Demand has been contracting for years, but it has been more of a slow leak than the rapid deflation that occurred in 2008 and 2009. The core of the market – 20,000 and 30,000-sf users – has been shedding space in bits and pieces.
The report finds "some convergence" between the dynamics in the office, retail, and residential markets: "all are reporting decelerating leasing and sales velocity."
While most companies want to remain in Manhattan, they're reducing their footprint, and "landlords are competing with one another for a shrinking tenant base":
Office employment has increased by over 150,000 in New York City since 2009, but the amount of space occupied in the same period has actually decreased by approximately 10 msf.
So this is not a collapse, but a gradual systematic decline with different factors at work:
Manhattan's vibrant tech and creative sector provided a counterbalance to some of the contraction among banks and law firms, but tech companies have been tightening their belts in 2016 as well. Hospitals, schools, and coworking facilities filled some of the gap in demand among traditional space occupiers. Some of the space was repurposed as retail but there is a limit to how many curated food courts the market can digest.
And so, Joe Genovesi, Executive Managing Director at Savills Studley in New York, concludes: "Sooner or later the market turns. The shift to tenant's favor is becoming more apparent heading into 2017."
And San Francisco's office leasing market has worst year since 2009. Read…   "Rightsizing Has Once Again Come to the Tech Sector"
Enjoy reading WOLF STREET and want to support it? You can donate. I appreciate it immensely. Click on the beer and iced-tea mug to find out how:

Would you like to be notified via email when WOLF STREET publishes a new article? Sign up here.