Something is afoot.
The overall figures of relatively sanguine year-over-year rent increases in the US hide the drama playing out city by city, with rents plunging in the most expensive markets while they're soaring in less expensive markets.
If you're looking to rent an apartment today in San Francisco, the most ludicrously expensive market in the US, you will run into something that rarely occurred in the past: incentives. Big incentives, not just a gift card.
A search on Craigslist for apartments in San Francisco offering incentives brought up this:
"1 month free" produced 503 results. They include some flukes, like "1/2 month free." But mostly, the offers of one month free rent sound tantalizing: from "amazing one bedroom in Nob Hill" (one of the more expensive neighborhoods) to "beautiful Hayes Valley" (one of the cooler neighborhoods), and "great walkability" (one of the most important features in a city with nerve-wracking traffic).
"6 weeks free" produced 96 deals, from the "Sweetheart special" to "ideal floorplan" and, desperately, "lease today get six weeks free."
"8 weeks free" produced 31 results from "gorgeous 2 bedroom" to "love your space" and even more desperately, "don't miss out!" Then there's "2 months free" which produced 345 results but included a lot search flukes.
This is like so un-San Francisco. Landlords are actually trying to market apartments and rope in potential tenants. They're offering deals instead of fighting off throngs of bidders that are jostling for position to submit a whole dossier of how great they are, along with a signed application, without having even looked at the place.
And it shows. In January, the median asking rent for a one-bedroom – not including any of the above incentives – dropped 5.4% from a year ago to $3,310, according to Zumper's National Rent Report. And median asking rent for a two-bedroom dropped 4.9% to $4,500, which is down 10% from the crazy peak in October 2015.
The last time rents declined year-over-year was in April 2010 as the housing bust was bottoming out.
Zumper tracks asking rents in multi-unit apartment buildings. Single-family houses for rent are not included. And incentives are not included either, nor are actual rents that might have been negotiated down from asking rents.
So add the incentives: If you get "1 month free," that median two-bedroom rent of $54,000 a year will drop 8.3% to $49,500. On that basis, the rent has plunged 17.5% from its peak in October 2015. Now, if a potential tenant with patience and a willingness to do so in this climate can negotiate two months free….
And there are a lot of units on the market, with a flood of new supply on the way, the result of a historic and still ongoing construction boom of both apartments and condos. Many of these condos have been bought by investors who will either try to sell them at a profit (good luck these days) or rent them out while waiting for better days to help reduce the pain of the stiff carrying costs.
Craigslist has shown its maxed-out number of 2,500 apartments for rent for months. San Francisco is small, a rough square of about 7 by 7 miles. Apartments.com currently lists 2,245 apartments for rent.
"There are signs of hope for Bay Are renters," says Zumper in the report.
Similar scenarios are playing out in other top rental markets. In New York City, the median asking rent for a one-bedroom, not including incentives, has plunged 9.6% year-over-year and for a two-bedroom 10.5%. The number of apartments listed for rent in Manhattan alone on Apartments.com has doubled since November, when I last wrote about it, from 12,486 then to 25,419 at the moment.
The tables below of the 12 most expensive large rental markets in the US show a lot of red ink where there used to be thick verdant green for the past six years. Note the rental la-la lands of Seattle and Southern California (LA and San Diego).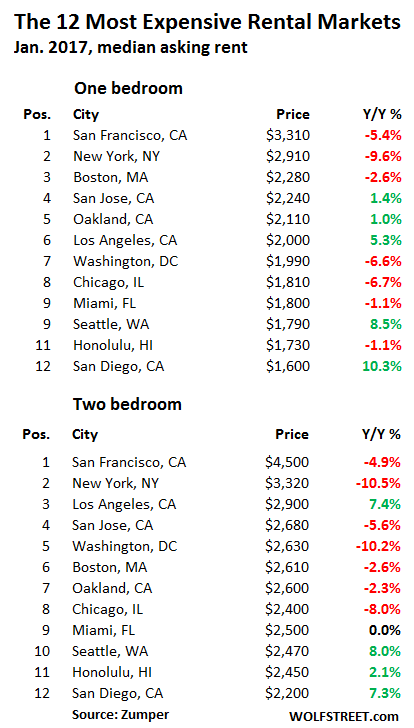 But in many large mid-tier cities – "mid-tier" in terms of the magnitude of rents – rents are surging well into the double digits. Here is a selection year-over-year rent increases based on Zumper's top 100 most expensive markets:
#15 New Orleans (1BR +14.4%)
#17 Philadelphia (1BR + 14.2%)
#18 Long Beach (again Southern Cali – 1BR +14.4%)
#20 Minneapolis (1BR +14.9%)
#21 Dallas (1BR + 14.2%)
#22 Nashville (1BR +14.3%)
#26 Houston (1BR +14.4%)
We're talking a lot about the rising costs of living these days. So if you live in Dallas, and your rent jumped 14% from a year ago, your cost of living surged far beyond what the national averages might suggest.
These plunging rents in some markets and soaring rents in many other markets – the real drama playing out on the ground – are averaged away in the national numbers. According to Zumper, on a national level in January, the median asking rent for a one bedroom apartment rose a practically boring 2.4% year-over-year to $1,143, and the median two-bedroom rent rose 2.3% to $1,358.
Construction booms impact markets with a delay. In Miami, one of the cities with a huge construction boom of apartments and condos, rents have begun to decline just a wee bit on a year-over-year basis. But the condo market is in turmoil [read…  Condo Speculation Collapses in Miami-Dade's Condo Glut].
So below are the top 100 rental markets in January, in order of the amount of rent for one-bedroom apartments. Note how in some of the most expensive cities rents are coming down hard year-over-year (Y/Y%), while in many somewhat less expensive cities, rents are surging. Find your city (tables by Zumper, click to enlarge):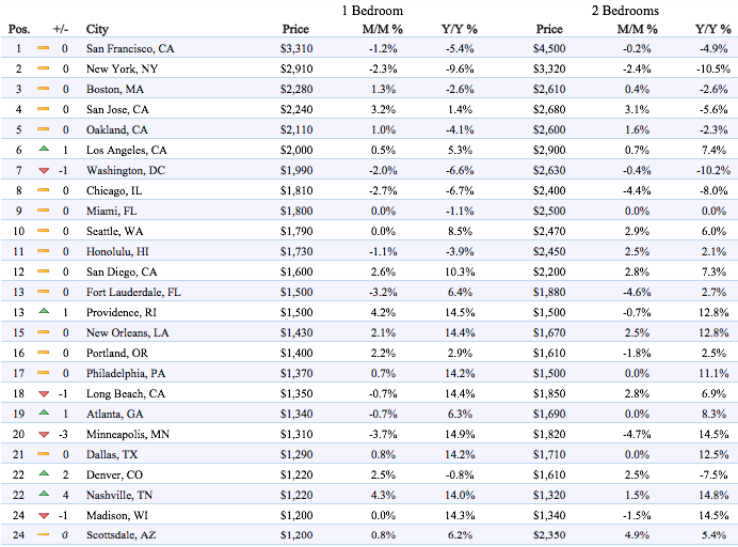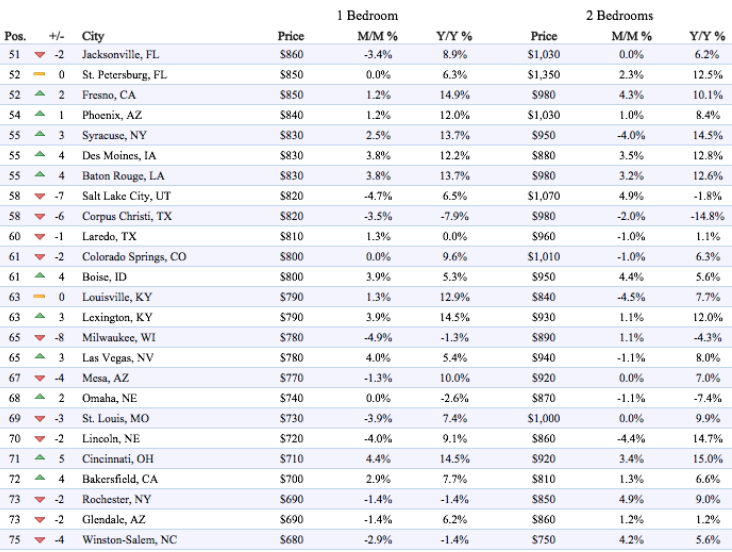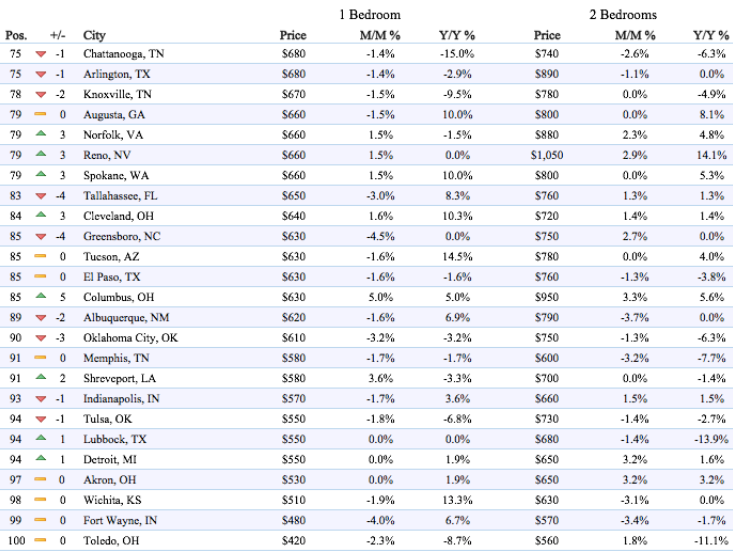 And here's a microcosm of the condo boom-and-bust cycle. Read…  The Granular Detail of Miami's Preconstruction Condo Flipping Bloodbath
Enjoy reading WOLF STREET and want to support it? You can donate. I appreciate it immensely. Click on the beer and iced-tea mug to find out how:

Would you like to be notified via email when WOLF STREET publishes a new article? Sign up here.