Microcosm of the condo boom-and-bust cycle.
The Icon Bay, a 299-unit condominium tower in the Edgewater area of Miami, was completed in July 2015 near the peak of Miami's most recent condo boom. It was a big play for preconstruction condo flippers. The first sellers made some money. But in early 2016, the market curdled. And since May, preconstruction condo flippers at the tower – and there are many of them – have been getting mauled.
A couple of days ago, I reported about the dismal condo market that these folks are now facing in Miami-Dade: ballooning but understated inventories, sagging sales, plunging dollar volume of sales, and developers that are unable to sell recently completed units in their projects and are just sitting on them, even as a flood of new big projects is coming on the market. And so preconstruction condo flipping has turned from easy profit-maker into a bloodbath.
Preconstruction condo flippers buy the condo directly from a developer during the planning or construction phases, hoping for quick and big returns. The initial deposit is small. Additional payments need to be made as construction progresses, but lenders are eager to lend as long as condo prices soar. So no problem.
Until condo prices begin to sag.
To what extent this bet is now collapsing can be seen in granular detail at the Icon Bay, a microcosm of what has afflicted the Miami condo market. By now, the developer has sold all 299 units and is off the hook. But a number of units were bought by preconstruction condo flippers who are now trying to unload them.
According to an analysis by Andrew Stearns, CEO of StatFunding, so far 18 resale transactions at the Icon Bay have closed, and another 68 units are listed for sale – in a 299-unit building!
Initially, it all worked according to plan, and the first nine condo flippers out the gate made money. But by May 2016, it was over. And from that point forward the losses ranged from 8% to 28%.
"The wheels fell off in May 2016 – really, the wheels were already wobbling in early 2016, but real estate transactions usually take a few months to close," said Stearns, in explaining the table below that lists the details of the resale transactions by original purchasers after purchase from the developer (click to enlarge):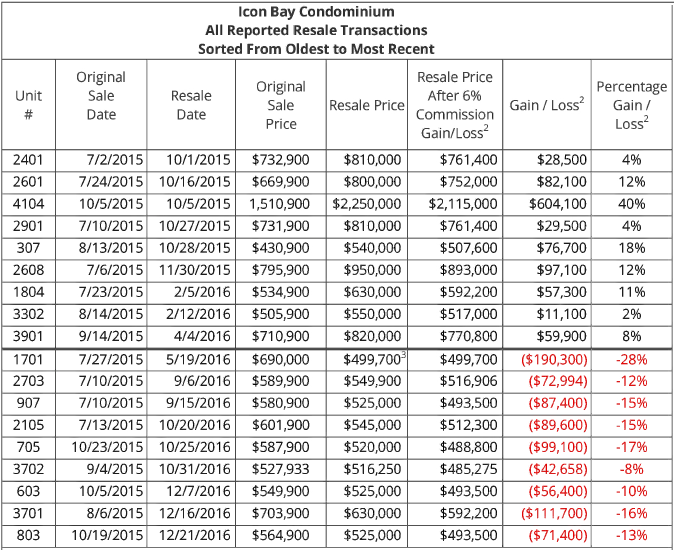 Gains and losses (superscript 2) include 6% sales commission but do not include developer fees and other costs paid by preconstruction condo buyers. The unit that sold on May 19, 2016 (superscript 3) was an off MLS transaction.
The inflection point
Stearns puts it this way:
In early 2016 some condo flippers in Icon Bay began lowering asking prices to loss-making levels. The resale data indicates that the inflection point in the pricing of the Icon Bay project was in May 2016. Since May 19, 2016, every resale transaction in Icon Bay has resulted in a loss for the seller.
Going forward, it doesn't look any better. There are another 68 units listed for sale. Of them 17 units are listed with an asking price after sales commission (but not including developer fees and other costs paid by preconstruction buyers) that is below the preconstruction price that these sellers paid the developer. These losses embedded in the asking prices average $41,000, ranging from minimal to $119,500. And these are just the asking prices. Potential buyers have plenty of incentives to negotiate.
Preconstruction flips tend to be highly leveraged. If a company is behind them, they might be leveraged at the institutional level. Flippers may own multiple units, and these losses can put a serious squeeze on them.
5.5 Years' of Supply
But only 12 units at Icon Bay sold in 2016. With 68 units currently listed for sale, at this sales pace, there is, as Stearns notes, 5.5 years' of supply.
With so many units in the condo tower having already sold at a loss, "comparable sales" prices are trending down. This is a key measure that the industry uses to support asking prices. It's designed to push up prices, as the higher prices of closed sales are used to rationalize even higher asking prices of "comparable" homes coming on the market in the area. But it also works in reverse when prices are heading south. And it starts a cycle where lower selling prices are putting downward pressure on asking prices.
This is the granular detail of bets made during a boom that has now popped. Boom-and-bust cycles have defined condo markets around the country, precisely because condo flippers who have no intention of becoming the end user drive up prices during the boom with artificial demand, and this artificial demand itself creates hype and speculation, and the whole thing feeds on itself. But when the boom turns into bust, which it inevitably does, condo flippers drive down prices as they're desperately trying to get out, or as their stiffed lenders force them to out.
It's going to get worse in Miami-Dade. A flood of new condos will be completed in 2017 and 2018, all subject to the same dynamics, at a time when even the developers are getting stuck with unsold units. Read…  Condo Speculation Collapses in Miami-Dade's Condo Glut
Enjoy reading WOLF STREET and want to support it? You can donate. I appreciate it immensely. Click on the beer and iced-tea mug to find out how:

Would you like to be notified via email when WOLF STREET publishes a new article? Sign up here.