It blames the Fed & Bernanke; the dark side of "healing" the housing market.
The housing collapse during the Financial Crisis keeps on giving. On Friday, Invitation Homes, a creature of private-equity firm Blackstone, and largest landlord of single-family rental homes in the US, filed with the SEC to raise up to $1.5 billion in an IPO. Deutsche Bank, JP Morgan, BofA Merrill Lynch, Goldman Sachs, Wells Fargo, Credit Suisse, Morgan Stanley, and RBC Capital Markets are the joint bookrunners and get to cash in on the fees.
Invitation Homes, founded in 2012, now owns 48,431 single-family homes, according to the filing. It bought them out of foreclosure and turned them into rental properties, concentrated in 12 urban areas. Revenues for the nine months through September 30 rose 11.4% to $655 million, producing a net loss of $52 million. It lists $9.7 billion in single-family properties and $7.7 billion in debt.
Blackstone was a pioneer in the post-Financial Crisis buy-to-rent scheme, including issuing the first rent-backed structured securities in November 2013. The collateral for the $479-million deal was rental income from 3,207 homes. Blackstone paid rating agencies Moody's, Kroll, and Morningstar to rate the bonds; so nearly 60% of the debt was rated AAA. Other tranches carried lower ratings. The overall cost of capital to Blackstone from the securitization of these rents was about 2.01%. Cheap money! Thank you hallelujah QE and ZIRP.
Rent-backed securities have since become a common funding mechanism.
Other players in the buy-to-rent scheme have already gone public. American Homes 4 Rent, which owns about 48,000 rental houses in 22 states, went public in August 2013. It has produced a net loss every year since, sports negative EPS of -25 cents and a negative PE ratio of -84.
Starwood Waypoint Residential Trust was spun off from Starwood Property Trust Inc. and started trading in February 2014. In 2016, it merged with Thomas Barrack's Colony Capital and changed its name to Colony Starwood Homes. Colony is now the third-largest single-family landlord. It too has lost money every year since going public, has negative EPS of -47 cents and a negative PE ratio of -62. Colony founder Barrack is now chairman of Trump's inauguration committee.
But there's a drawback: 32% of Colony's properties in Atlanta and adjacent suburbs have eviction filings, by far the highest rate among the Wall Street landlords, according to a study by the Atlanta Fed on the impact of Wall Street landlords on surging "housing instability."
The report doesn't name names, but Ben Miller, co-author of the report, filled in the blanks for Bloomberg. Next in line in eviction rates: American Homes 4 Rent, HavenBrook, owned by Pimco, and Invitations Homes. The percentage of properties with eviction filings in Atlanta by the largest Wall-Street landlords: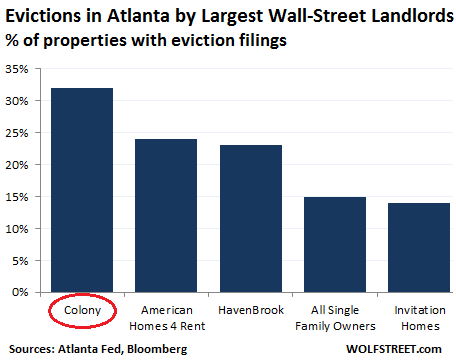 The report indicated that eviction rates in some other cities are lower. But this being the Atlanta Fed, it focused on Atlanta, one of the hotbeds of the buy-to-rent scheme. And it focused on single-family rentals because Wall Street's muscling into this space is new and perhaps a generational shift in the US housing market.
So how did this Wall Street landlord nirvana – and the ensuing "housing instability" – come about after the housing bust? The report blames the Fed, and Fed Chairman Ben Bernanke:
In unwinding their bank-owned properties, the GSEs [Fannie Mae, Freddy Mac, etc.], U.S. Treasury, and Federal Reserve innovated new structured transactions for disposing of hundreds of thousands of bank-owned homes, also known as real estate owned (REO). The Federal Reserve was the first to suggest that private equity firms were the one group with cash on hand to invest in foreclosed homes (Bernanke, 2012).

In 2012, the Federal Housing Finance Agency (FHFA), conservator of the GSEs, issued a pilot to develop structured transactions that could be used to sell its REO homes in bulk. The private market followed by developing and standardizing financial instruments to allow broader market investment in converting foreclosed homes into single-family rentals. Rental housing, traditionally the purview of mom-and-pop landlords, caught the attention of large financial firms.

Nationwide, an estimated 350,000 homes were purchased by institutional investors from 2011 to 2013, and these were spatially concentrated in cities like Atlanta with high numbers of bank-owned homes and the prospect of future home price appreciation. Today there is high concentration in the single-family rental business, with an estimated 170,000 single-family rental homes owned by the seven largest firms.
"My hope was that these private equity firms would provide a new kind of rental housing for people who couldn't – or didn't want to – buy during the housing recovery," Elora Raymond, the report's lead author, told Bloomberg. "Instead, it seems like they're contributing to housing instability in Atlanta, and possibly other places."
Evictions are cheap in Atlanta: about $85 in court fees and another $20 to have the tenant ejected, report co-author Michael Lucas told Bloomberg, which added: "With few of the tenant protections of places like New York, a family can find itself homeless in less than a month."
The report points at the broader implications beyond poor neighborhoods: While "evictions are highly correlated with neighborhood characteristics such as education levels, change in the employment-population rate, and racial composition," Wall Street landlords still filed for evictions at higher rates than smaller landlords after accounting for "property and neighborhood characteristics." Why? The report:
One possible reason large corporate landlords backed by institutional investors may have higher eviction filing notices is that they may routinely use eviction notices as a rent collection strategy.
Bloomberg adds:
In interviews and court filings, renters and housing advocates said that some investment firms are impersonal and unresponsive, slow to make necessary repairs and quick to evict tenants who withhold rent because of complaints about maintenance.
"They want to get them out quickly if they can't pay," explained Aaron Kuney, a former executive of HavenBrook and now CEO of PE landlord Piedmont Asset Management in Atlanta. "Finding people these days to rent your homes is not a problem."
Then there's the expense of housing, which has soared, thanks to the Fed's efforts to "heal" the housing market. According to the report, 53.4% of renters were "cost burdened in Atlanta" in 2014. More generally, homeownership has declined to a 51-year low, and "demand for rentals has caused urban rents to increase sharply":
During the 2010 to 2014 period, low-cost rentals in Atlanta declined by more than 15%. Gentrification, or the influx of wealthier residents accompanied by rising property prices and the displacement of existing, lower-income residents, can be a factor in evictions.
The effect of evictions is "housing instability or insecurity":
Families with insecure or unstable housing may move frequently, suffer eviction, or otherwise be at increased risk of homelessness.

Evictions can result in personal loss of property, trigger job loss, and lead to underperforming schools and poor student outcomes. Even an eviction filing that is resolved can mar a tenant's credit record and bar that person from renting elsewhere or accessing public assistance.

At the neighborhood level, high eviction rates are associated with poor housing conditions, high rates of school turnover, and neighborhood and community instability.
But it's not just Atlanta, according to the Atlanta Fed: "There is increasing documentation of an ensuing high rate of evictions in U.S. cities, partly due to tenants' inability to afford higher rents."
So is the Fed having second thoughts about its efforts to encourage Wall Street to muscle into the single-family home market in big urban areas, drive up housing costs around the country, and turn rents in to a finanzialized product? I doubt it. Bernanke, the engineer of all this, has moved on; and the Fed, credited with "healing" the housing market, never has second thoughts about its actions.
But the Fed is worried about "real wage" increases. It's about cheap labor. Read… The Thing in the Jobs Report that Gives the Fed the Willies
Enjoy reading WOLF STREET and want to support it? You can donate. I appreciate it immensely. Click on the beer and iced-tea mug to find out how:

Would you like to be notified via email when WOLF STREET publishes a new article? Sign up here.