The Fed reacts much more quickly to wage inflation than consumer price inflation. But it never reacts to asset price inflation.
In the jobs report today, there's one figure that the Fed has riveted its collective eyes on. Sure 156,000 jobs were created, below average for 2016, and way below average for the prior two years. And the unemployment rate ticked up to 4.7%. And there were other ups and downs in the data which covered the volatile holiday period, and therefore was subject to notoriously big seasonal adjustments, and that's all cute as far as the Fed is concerned, and they're going to glance at it, but there's one number they fret about: wage increases.
And not in the sense that Fed Chair Yellen occasionally inserts into her comments, but in the opposite sense.
Average hourly earnings jumped 0.4% to $26 per hour. They're now 2.9% higher than a year ago and 5.7% higher than two years ago. However, don't credit the minimum wage increases that became effective six days ago in cities and states around the country; they're not yet included. Note how the trend in rising average hourly wages started two years ago: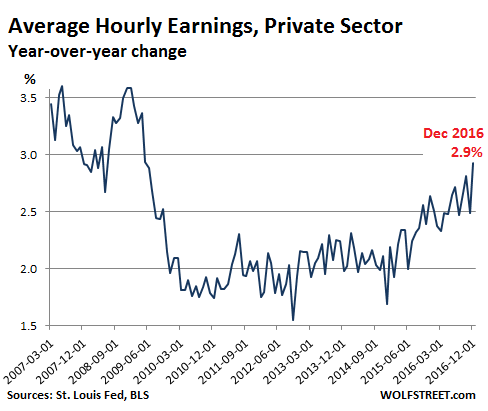 Workers love wage increases – especially when they exceed consumer price inflation. And that props up consumer spending. But it doesn't matter for the Fed.
One of the Fed's jobs, in addition to inflating asset prices and keeping the biggest banks from imploding, is to make sure US employers have access to cheap labor so that they can maximize their profits and at the same time remain competitive with cheap-labor countries.
The way to do that is to make sure that over the long run, consumer price inflation exceeds wage inflation, and that therefore "real wages" (adjusted for inflation) trend lower.
Over the past decades, the Fed has been successful at it. But there have been some hiccups, and when they occur, the Fed raises rates, and sometimes sharply, to bring the system back in line. And now there's a hiccup, and it's getting bigger.
Consumer price inflation is based on prices that companies can charge their customers, and that customers are willing and able to pay. If they're not able to pay those prices from their wages, they can always go into debt to pay those prices. These higher prices mean higher sales and higher profits without having to sell one extra iota. Looks great on earnings reports.
These higher prices also help debtors that borrow at fixed rates to service their debts. This includes bond issuers such as large corporations, and by extension governments that get their cut from profits and sales. Consumer price inflation has big beneficiaries.
But wage inflation raises the costs for companies, and thus puts pressure on profits, and in theory might cause share prices to take a hit, which makes the Fed, which rules with one eye on the stock market, antsy. But when wage inflation exceeds consumer price inflation, the Fed gets more than antsy. And that's happening now.
Average hourly wages in the current report rose 2.9% from a year ago. The Consumer Price Index in November (last data point available) rose only 1.7%. Over the past two years, hourly wages rose 5.7%, but CPI "only" 2.5%.
Since late 2014, year-over-year average hourly wage increases have been significantly higher than year-over-year consumer price inflation. December 2015, the Fed raised rates for the first time in this cycle. Last December, it raised rates for a second time. And it penciled three rate increases into the 2017 calendar, which the Fed calls "gradual" – small increases spaced well apart.
But the minutes for that Fed meeting in December, released yesterday, suddenly raise a different scenario, documenting just how antsy meeting participants are getting:
They pointed to a number of risks that, if realized, might call for a different path of policy than they currently expected.
That "currently expected" path is one of "gradual" rate increases, so three hikes next year. But that "number of risks," particularly of wage inflation taking off, would accelerate those rate increases. Because wage inflation that exceeds consumer price inflation is anathema to the Fed.
The faster wages increase, the faster the Fed is going to raise rates. Even the idea of reversing QE and shrinking the Fed's balance sheet is now cropping up among Fed doves. If you want to know when the Fed gets serious about tightening, watch wage inflation.
But it never tries to tamp down on asset price inflation, not even at the mega-bubble stage. Rather, it encourages asset price inflation, no matter what.
The bitter irony for our hapless consumers and workers? Consumer price inflation does not help consumers and workers service their debts. On the contrary, it makes it harder: more of their wages go to covering the higher prices, and less is left over to service their debts. What consumers need to help with their debts is wage inflation.
But even if workers get some wage inflation, it will only help with their fixed-rate debts, such as fixed-rate mortgages. Variable-rate debts, such as credit cards or adjustable-rate mortgages jack up their rates as inflation and interest rates rise. And thus, our hapless consumer debt slaves are going to remain hapless – unless they get that wage inflation that the Fed hates so much.
Rising interest rates impact bonds, in a bad way. Other factors are lined up too. So how bad will it get? Worse than the 1994 "Bond Massacre," with "sustained double-digit losses on bonds, subpar growth in developed markets, and balance sheet risks for banking systems." Read… How Bad Will the "Bond Massacre" Get?
Enjoy reading WOLF STREET and want to support it? You can donate. I appreciate it immensely. Click on the beer and iced-tea mug to find out how:

Would you like to be notified via email when WOLF STREET publishes a new article? Sign up here.