Whacked by slow demand, Ford cancels plant in Mexico, shifts car production to existing plant in Mexico.
President-Elect Trump has been hounding individual businesses with his drive-by tweets, to knock them around some, get their shares to sink, and cut some "deals." Last year, he singled out Ford, Carrier, Boeing, Lockheed Martin, Amazon, and others. Now companies have set up damage-control teams to prepare for and counter a hit of this type.
Today he singled out GM. It was automaker day. It started with a Trump drive-by tweet about threatening GM with a "big border tax" for importing its Chevy Cruze from Mexico:
General Motors is sending Mexican made model of Chevy Cruze to U.S. car dealers-tax free across border. Make in U.S.A. or pay big border tax!
But he got the facts wrong, and GM's damage-control team instantly retorted:
General Motors manufactures the Chevrolet Cruze sedan in Lordstown, Ohio. All Chevrolet Cruze sedans sold in the U.S. are built in GM's assembly plant in Lordstown, Ohio. GM builds the Chevrolet Cruze hatchback for global markets in Mexico, with a small number sold in the U.S.
Reality is this: Demand for GM cars has been swooning, and inventories on dealer lots have been ballooning. For example, at the end of November, dealers sat on 127 days' supply of Cruze models, more than double a healthy level, after sales had plunged 18%. In November, GM had announced the first wave of layoffs. In December, it followed up by announcing 10,000 layoffs and five plant closings [read…  "Car Recession" Bites GM: Inventory Glut, Layoffs, Plant Shutdowns].
And it was Ford's turn today to counter. It had been targeted by Trump last year for its plans to shift production of the Focus from Michigan to Mexico. Ford, which employs 85,000 workers in the US and 8,800 in Mexico, announced today that it cancelled building a $1.6-billion plant in Mexico and won't create the 2,800 jobs that would have come with it.
Ford, like GM, is also reeling from declining car sales and ballooning inventories on dealer lots. It had announced in October that it would temporarily shut down production at several plants, including at its two plants in Mexico, and would also lay off about 9,000 in the US and 4,000 in Mexico (nearly half its workforce there).
In today's announcement, Ford said a number of things, unrelated to each other, but put into the same announcement as to create the appearance of a relationship when there was none.
So Ford cancelled that plant in Mexico that was going to build the Focus. But Ford isn't bringing jobs back to the US; it's giving up on a production facility in Mexico it no longer needs and will shift Focus production from Michigan to an existing plant in Mexico that is now operating below capacity and is faced with shutdowns and layoffs.
And separately, it's investing $700 million in Michigan, but not to build the Focus, for crying out loud – it's already drowning in them – but "to create a factory capable of producing high-tech electrified and autonomous vehicles…."
Ford has been hyping its efforts in electrical and autonomous vehicles for years. It sees them as crucial to its future. They're part of its "mobility solutions." And the $700 million investment was just another step.
Before Ford's propitious announcement this morning, Ford Chairman Bill Ford talked with Trump, and Ford CEO Mark Fields talked with Vice President-Elect Mike Pence. Then Fields was interviewed on CNN. And the story went all over the global media. That's the kind of hoopla the Ford damage-control team is now prepared to generate in order to deal with the Tweeter-in-Chief, who is pushing crony capitalism to the next level.
With these sorts of twisted announcements, Ford is trying to gain leverage in a "deal" on corporate taxes, fuel economy standards, and other regulations, while pursuing its business, dealing with capacity issues, and slashing costs where needed.
Even Fields admitted that much in his interview with CNN. It all comes down to demand and production capacity: There's not enough demand for cars and too much capacity. So CNN asked him if Trump, in their conversations this morning, had made promises "to cut some kind of deal?"
Yes they did speak, but "this business decision was done independently," Fields claimed. It has to be "right for our business."
Since it costs 40% less to build these cars in Mexico, CNN asked, what will the new administration "do to make it right for your business?" Did "he say he's going to stop with the tweets and the attacks against Ford?"
"No, I don't think we got into that level," Fields said. "He was just very appreciative for the announcements that we're making…." Then he explained reality – and to heck with the Trump-deal hoopla:
Well first off, we have to understand the reason we're cancelling the plant in Mexico, the main reason, is because we're seeing a decline in demand for small vehicles here in North America. So as a company, we're always looking at our capacity and asking ourselves where can we fully utilize it? So therefore we're going to be producing the Focus in an existing plant in Mexico. So we don't have to build that new one and create those 2,800 jobs…
This is what this new and higher form of crony capitalism boils down to: Trump threatens a company with a tweet; the company responds in some twisted way that might include kowtowing to Trump, while driving up its stock price. In return, it expects some real favors from the administration.
And this is what this form of crony capitalism has accomplished in the markets today:
The Mexican peso plunged 1.9% in the few hours since Ford's announcement, to a new all-time low of 21.1 pesos to the dollar: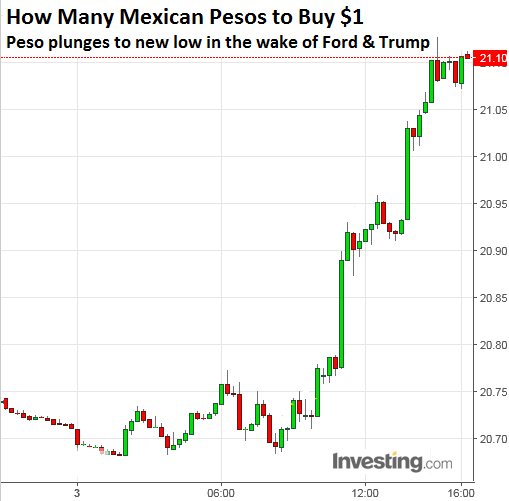 GM shares, after jumping 1% following its terse rebuttal of Trump's drive-by tweet, closed at $35.15, up 0.8%, but remain down about 17% from their post-bankruptcy "New GM" peak of $42 in January 2014.
Ford shares soared 3.8% to $12.59, but are still down 12% from their 52-week high, and down about 30% from their recent high in July 2014.
Kansas City Southern shares plunged 4.8%, as the cancelled Ford plant would have been built along one of its rail lines in Mexico, which would have created a lot of business for the railroad. Not anymore.
Thus, the stock market has entered a new era where the game is to front-run Trump's next tweet. The trick is to guess what the company's twists and turns will be, whether it will deflate or inflate the share price and the affected currencies. But behind the daily media show of these tweets, the real issues remain in the driver's seat, so to speak. For automakers, as Ford has shown, they're slack demand, overcapacity, and the cost of production.
A myth gets destroyed by facts. Read…  The Bitter Reality of the Stock Market "January Effect"
Enjoy reading WOLF STREET and want to support it? You can donate. I appreciate it immensely. Click on the beer and iced-tea mug to find out how:

Would you like to be notified via email when WOLF STREET publishes a new article? Sign up here.