And where the heck is Dow 20,000?
Over the last ten days, the markets have been jinxed, and nearly everything changed direction. Stocks fell. Treasury yields backed off as beaten-down Treasury prices recovered a little bit. The much maligned dollar, after surging to a decade high, couldn't quite get to parity with the euro, and then fell against the euro and yen. Banks got bruised. Even oil was down except over the last few hours Friday afternoon. And everyone has been feverishly waiting all month for the Dow to finally hit 20,000 any moment now. And everyone is still waiting….
The Dow peaked on December 20 at 19,975, a ridiculously small 25 points away from party-hat time. Everyone knew it would happen. In fact, it would have to happen because it was just a few decent trading moments away. But since then, Dow 20,000 slipped through the fingers like dry sand. It closed the year at 19,719, so 281 points below, after having been for a big part of the month within a hair of nailing it.
The S&P 500, after falling 0.5% on Friday, is now down 1.5% from its high on December 13. The rip-roaring Trump Trade since the Election has started to unwind (chart by Doug Short at Advisor Perspectives):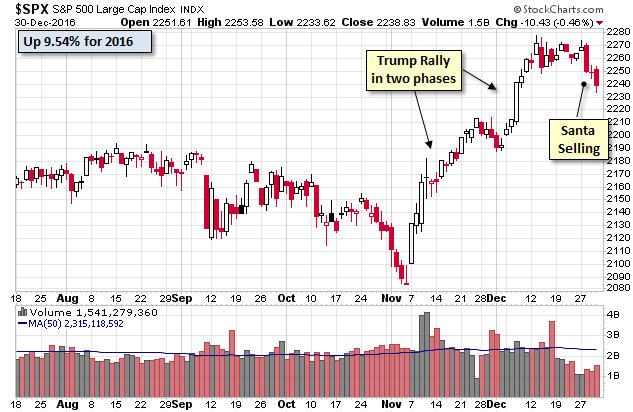 Did the master-communicator himself give the signal in his contrarian manner when he tweeted on December 26?
The world was gloomy before I won – there was no hope. Now the market is up nearly 10% and Christmas spending is over a trillion dollars!
Did the contrarian in him mean to signal to the rest of the world that the Trump Trade was over, even before the inauguration – the date at which a lot of pundits figured the Trump Trade would begin to unwind?
But what a year it was!
The S&P 500, after having ended 2015 down 0.7%, ended 2016 up 9.5%, including a big swoon early in the year. From February 11, when it bottomed out at 1,810, it has surged 23.6%.
And bonds went on a wild ride. The 10-year Treasury yield ended 2016 at 2.445% up from 2.273% at end of 2015. It hit 2.57% at peak Trump Trade, up over a full percentage point from the summer. Over the fourth quarter, the yield jumped 84 basis points, the largest quarterly jump since 1994. And prices, which move inverse to yields, clobbered bondholders. But note the decline in yield since December 20: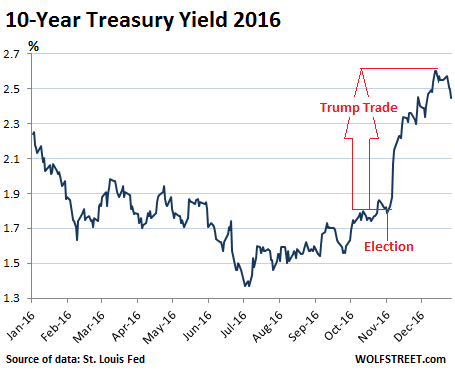 And stocks partied. Since the election, financials surged, bringing the gain for the year to 29.1%, the best-performing sector in the S&P 500. Goldman Sachs, whose ex-executives are now heavily represented in the Trump administration, shot up 36% since the election and 51% since the beginning of October when Trump's victory became more than just a possibility. GS was one of the best Trump Trades out there.
Alas, it too has started to peter out. GS is now down 2.5% from peak Trump-Trade, and other banks have followed. Insiders at the banks were preparing for it, it seems, because on December 9, just before bank stocks started losing ground, we found… If Everything is so Bullish, Why Are Bank Insiders Dumping Their Shares at Record Pace?
Mortgage rates have soared from around 3.4% for much of the summer to 4.32%, according to Freddie Mac. This is now reverberating through the housing market in multiple ways, with some people rushing to buy to lock in the rates before they go even higher, and others waiting for rates to come down and not buying, and still others being completely priced out by mortgage rates that are nearly a percentage point higher than they'd been a few months ago, and the first red flags on home sales are now cropping up: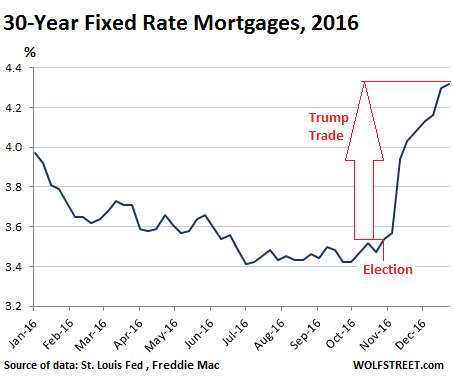 The oil & gas sector had a crazy year. West Texas Intermediate settled at $53.72 (New York Mercantile Exchange), up 45% from the end of 2015, and up 105% from the low in February, but it is still about half of where it had been before the oil bust.
Alas, the glut – despite breathless jabbering about production cuts by OPEC and non-OPEC oil producers – isn't going away anytime soon as US shale drillers, however teetering they may have been, are now once again getting doused with new money, and they've started up their rigs again, and production is once again rising, and crude oil in storage keeps setting records for this time of the year.
Energy stocks surged as if the price of WTI had returned to la-la land, with the S&P 500 energy sector up 23.7% for the year, the second-best performer of all sectors, with many of the individual stocks surging more than 40%, including Continental Resources which soared 124%. You'd think oil is back at $90 a barrel.
The US Natural gas spot price (Henry Hub) surged 93% over the year, from $1.93 per million BTU at the end of 2015 to $3.74 today. Exports via pipeline to Mexico, exports as LNG to the rest of the world, and consumption within the US have been rising even as the 8-year collapse in price has finally sapped production. This has whittled down the magnificent glut. But in the winter, natural gas is a bet on the weather, and it has gotten, as pundits would say, "unexpectedly" cold in much of the country.
All this happened as the US government and Congress (which has the power of the purse) provided a giant stimulus package, without calling it that, by spending a lot more in 2016 than it took in. As a consequence, the US gross national debt ballooned by nearly $1 trillion ($957 billion) over the course of 2016, to nearly $20 trillion (to $19.879 trillion, to be precise). And this process may yet accelerate under Trump's plan.
As things are up in the air for 2017, and as pundits are trying to figure out how it will all turn out, one thing appears to become clearer. Read…  Is the 2nd Half of 2017 when Sears Finally Kicks the Bucket?
Enjoy reading WOLF STREET and want to support it? You can donate. I appreciate it immensely. Click on the beer and iced-tea mug to find out how:

Would you like to be notified via email when WOLF STREET publishes a new article? Sign up here.