After surging 206% since February!
Toshiba, which has been embroiled in all kinds of intricate and massive financial and accounting scandals, that investors deluded themselves into thinking were now behind it, is once again melting down.
Shares plunged 20% to ¥233 in early trading on Thursday in Tokyo, hitting the stock exchange's downward limit of 20%, before bouncing off a little, after having plunged 20% on Wednesday, stopped only by the downward limit, and after having plunged 12% the day before. Shares are down 48% from their 52-week high of ¥475 two weeks ago.
This daily chart shows the wild ride since August: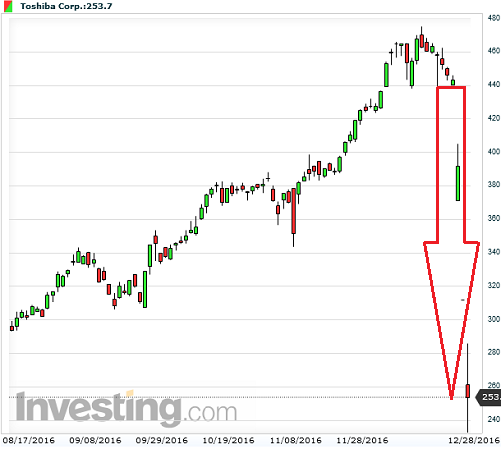 The most recent fiasco became public late Tuesday, when Toshiba announced that cost overruns at CB&I Stone & Webster – a nuclear company it had bought from Chicago Bridge & Iron last year – could trigger "several billion dollars" in charges. It would likely take till February to get the exact magnitude of the write-down, it said.
But this is just the latest morsel of an ongoing smorgasbord of nuclear, financial, and accounting fiascoes. Toshiba was going to profit profusely from a nuclear-power renaissance back in 2006 when it paid $5.4 billion after a bidding war to acquire Westinghouse Electric, regarded as the nuclear industry's heavyweight with next-generation reactor projects in the US and China. This has turned massively sour ever since. More on that in a moment.
Standard & Poor's downgraded Toshiba another notch deeper into junk, to B- with a "negative" outlook. S&P expects shareholder equity to "drastically shrink" due to the write-down, which would further weaken the conglomerate.
But it still can borrow money on the cheap in NIRP Japan: According to Thomson Reuters data, the yield on its bonds due 2020 rose 17 basis points to a still minuscule 1.76%, for a junk-rated company that has been embroiled in financial and accounting scandals, and a huge and still not fully disclosed problem in its nuclear operations. The Bank of Japan has clearly killed off any remaining market discipline.
In 2015, the Nikkei uncovered the latest scandal related to Toshiba's nuclear operations, which caused Toshiba's shares to re-crater, after they'd barely recovered from its prior accounting scandal. So the current disclosure and crash is just a continuation of this saga. From the Nikkei at the time:
Westinghouse, the U.S. nuclear power company acquired by Toshiba in 2006, booked write-downs totaling over $1.3 billion in fiscal 2012 and 2013. The write-downs were first discovered by Nikkei Business in Toshiba internal e-mails and documents, and Toshiba did not disclose them until questioned by Nikkei Business reporters. In response to the newly revealed accounting issues, the Tokyo Stock Exchange is launching a probe.

Toshiba has been consistently upbeat regarding its nuclear power business until now. But it has become clear that there is a gap between the company's public statements and its actual state of affairs.

An official at the Tokyo Stock Exchange suspects "a systematic cover-up," pointing out that "a huge write-down at the Westinghouse unit completely contradicts what they have said up until now."

Toshiba is already ensnared in a separate accounting scandal, and the TSE on Sept. 15 put the company "on alert," stating it had serious problems with its internal controls.

Toshiba first disclosed accounting irregularities in April, and since then has conducted investigations by two committees, an internal one and an independent one composed of lawyers and other outside experts. The company admitted it had inflated profits by 224.8 billion yen over seven years, and revised past figures accordingly. The scandal caused the resignations of the company's past three CEOs, who were president, vice chairman, and adviser, respectively, at the time of their resignations.

Toshiba hoped to convince investors that it had put its problems behind. But a TSE official says that given its continued cover-up of write-downs at an important subsidiary, "it hasn't fulfilled its accountability obligations as a publicly traded company."
And the Nikkei homes in on the nuclear business, all of it still in 2015:
Toshiba's nuclear business has struggled in the wake of the 2011 disaster at the Fukushima Daiichi nuclear power plant. When Toshiba invested 540 billion yen in Westinghouse in 2006 (later increased to 660 billion yen), then-CEO Atsutoshi Nishida and then-vice president Norio Sasaki said the company planned to secure contracts to build over 30 new reactors and increase revenue from its nuclear division to one trillion yen by 2015. But the 2011 disaster made those goals all but impossible. As of 2015, Toshiba has won only 10 contracts for new nuclear plants.

Nonetheless, at the end of September Toshiba still had on its books 515.6 billion yen in assets and goodwill related to its nuclear business, including Westinghouse. But it has not disclosed Westinghouse's revenue, profits, or current assets.

Toshiba has continued to state that Westinghouse is doing brisk business. At Toshiba's April-September earnings briefing on Nov. 7, CFO Masayoshi Hirata said, "The services and fuel businesses are holding steady, and since the Fukushima Daiichi nuclear disaster, we have seen growth in the plant safety business." But he did not offer any figures, such as recent earnings, to back those claims.

Internal documents reveal the gap between Toshiba's claims and the actual state of affairs at Westinghouse. As the nuclear unit fell into a prolonged slump, Toshiba's management tried a number of methods to prevent it from affecting the parent's bottom line. An internal document clearly states that if Toshiba had had to write down its goodwill related to Westinghouse, there might have been "insufficient funds for cash dividends." Executives appear to have been concerned about this and other possibilities.
All this transpired over a year ago. And it has simply re-exploded.
So the Wall Street Journal reported just now that Toshiba's Westinghouse wager "threatens to sink the venerable Japanese conglomerate":
It isn't clear if Toshiba's financial difficulties will have an impact on the eight reactors it is trying to complete in the U.S. and China, but its disclosure suggests the situation is worse than previously understood.
"It's an unexpected development at a time when concerns had been receding," said Yoshinori Ogawa, strategist at Okasan Securities, cited by the Journal.
But apparently, the Journal, Yoshinori, and hedge funds in the US and around the world had quickly forgotten the scandals, cover-ups, and write-offs as exposed in 2015 and as described by the Nikkei above. Instead, they bid up the shares from the scandal-inspired crash-low in February 2016 of ¥155 to its 52-week high two weeks ago of ¥475. That's a 206% jump in 10 months!
The surge was fired up by hope that the nuclear fiasco was over, and that the accounting, financial, and cover-up issues had been brushed successfully under the rug. And it was fueled by hype about Toshiba's semiconductor business and, as the Journal put it, "expectations for solid net profit in the current fiscal year ending March 2017."
Now they're surprised that the hype hasn't panned out and that they've instead been hit, as Yoshinori Ogawa put it, by this "unexpected development?"
And suddenly they have a new worry – that this financial sinkhole on the balance sheet could in fact threaten crucial investments in its crucial semiconductor business. But memories are short, and shares, even as I'm finishing this, are already getting bid up again, and now they're down just 16% for the day and 45% from two weeks ago.
Threatened Trade War meets the Great Stagnation. Read…  World Trade Falls to 2014 Level, just in Time for a "Trade War"
Enjoy reading WOLF STREET and want to support it? You can donate. I appreciate it immensely. Click on the beer and iced-tea mug to find out how:

Would you like to be notified via email when WOLF STREET publishes a new article? Sign up here.