7th week of US Government debt "carnage" continues unabated.
Stocks sold off, starting at 2:04 PM, as the Fed's slightly more hawkish stance was sinking in. The S&P 500 ended the day down 0.8%. Not even a tempest in a teapot. Gold sold off, now down 17.6% since July. Oil plunged over 4%, but unrelated to the Fed: the market is figuring out that nothing beyond wild jabbering by oil potentates is happening to contain the oil glut. But natural gas jumped nearly 3%, based not on the Fed, but on the weather. And bonds? Another opportunity to use the word "rout" or "carnage."
The Fed increased its target rate for the second time in nearly a decade, after having done so a year ago for the first time. It raised it from next to nothing by nearly nothing to a little above nothing: a range of 0.5% to 0.75%. But according to its dot plot, whose reliability has become a joke, it will raise rates three times next year, up from the prior dot plot which indicated only two hikes.
At the press conference, Fed Chair Yellen explained the rate hike that everyone had taken for granted: "My colleagues and I are recognizing the considerable progress the economy has made toward our dual objectives of maximum employment and price stability…."
Whereby "price stability" is defined as 2% inflation as measured by Core PCE (without food and energy). The Personal Consumption Expenditures price index most often shows an inflation rate that is lower than CPI. So in terms of CPI, the Fed's idea of "price stability" would be something closer to 2.3%. Then there's the issue of excluding food and energy. If the oil sector sees its fervent wishes fulfilled, and the price of oil jumps, this will drive up energy costs, but it won't be reflected in Core PCE. So in terms of CPI, including food and energy, the Fed's target of "price stability" could be higher still.
Not to speak of the inherent inaccuracy of the CPI measure.
Then there's this: 2% inflation as measured by Core PCE is the "target." It's not a ceiling. And the Fed will allow inflation to exceed that rate by a good margin, before cracking down.
At the same time, the Fed has not bought into the Trump campaign's economic growth projections. Instead, in its own projections, it sees the same miserably slow growth that the economy has been mired in for the past few years:
2016: 1.9%
2017: 2.1%
2018: 2.0%
2019: 1.9%
And the bond market is beginning to smell a rat. If you bought 10-year Treasurys some time ago with at a yield of 1.8%, and inflation is heading to 3% or higher, you're experiencing the joys of "inflation without compensation" – for years to come. Bond buyers hate that. They become reluctant, even as sellers become more eager.
So the 10-year Treasury yield jumped today, settling at 2.54% and then rising further in late trading, to currently 2.58%, up from 1.38% during the heyday in July (via StockChart.com):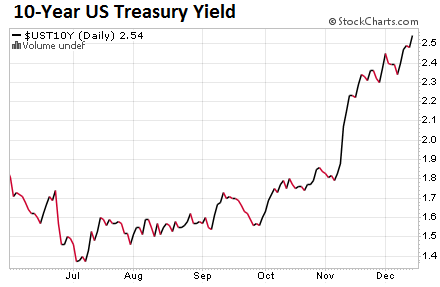 The 2-year yield jumped to 1.26%, and then continued to rise to 1.29%, the highest since August 2009, and well over double the yield of 0.5% in July (via StockChart.com):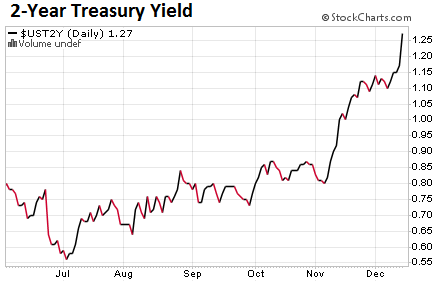 And mortgages followed, with the average 30-year fixed-rate mortgage sporting a rate of 4.27%. Mortgage News Daily provides some color:
Nearly every lender raised rates this afternoon – some of them multiple times. At first that took the form of mere increases in upfront costs (i.e. the contract rate itself wasn't moving higher), but subsequent reprices added up to an eighth of a point in rate for several lenders. From a range of 4.125-4.25%, top tier conventional 30-year fixed quotes moved up to a range of 4.25-4.375% – well into the highest levels in more than 2 years.
So what is spooking bond markets and mortgage lenders? It wasn't the rate increase. That was a given. It had been taken for granted by all market participants.
And it wasn't inflation that caused this surge in yields. The upward trend of inflation has been established and confirmed. And people are starting to believe in it: The market's inflation expectations as measured by the 10-year break-even inflation rate – based on the yield spread between Treasury notes and Treasury inflation-protected securities – has reached 2% for the first time since September 2014, up from 1.4% this summer, and up from 1.2% earlier this year.
Instead, what might be spooking bond markets and mortgage lenders is a Fed that, while slightly more hawkish than it had been, is not nearly hawkish enough to confront the inflation trajectory in time.
There's something else that's tripping up the US Treasury market: the largest foreign buyers of Treasurys – China and Japan – aren't buying anymore. In fact, China's foreign exchange reserves are dwindling, and it has been dumping Treasurys, not because of the Fed but because of its own struggles with capital flight and its impact on the yuan.
And the Japanese aren't buying anymore. Net purchases of overseas bonds plunged 94% in November from October, to a mere $728 million, according to the Ministry of Finance. With typically 60% to 70% of these purchases in US Treasurys, it marks a sudden and huge shift from the buying binge earlier in the year, when Japanese NIRP refugees chased after better returns overseas. So far this year, Japanese investors bought $194 billion in foreign bonds, the most in the current data series going back to 2005. But that binge stopped in November.
Why did Japanese investors get spooked? They too see the rout in Treasurys and the potential losses lining up in the future. And it comes at a bad time for them: with their watered-down yen against a surging dollar, they have to pay a lot for these bonds, and they have to pay fees to exchange their yen for dollars. It all adds up in what is still a low-yield environment, studded with a lot of unpalatable risks.
Despite the rout in Treasurys, junk bonds have soared for months, as the Hot Money returned to bet on Oil Nirvana. Read…  Treasuries Melt Down, Junk Bonds Boom, Yield Spreads Collapse
Enjoy reading WOLF STREET and want to support it? You can donate. I appreciate it immensely. Click on the beer and iced-tea mug to find out how:

Would you like to be notified via email when WOLF STREET publishes a new article? Sign up here.