Oops, they're already jumping.
In the few days since the election, we got a flavor of what might happen when the bond market sees hues of inflation, expects the Fed to respond, and suddenly (after years of closing its eyes to it) dreads a tsunami of government deficit spending, on top of the flood of deficit spending already washing over the land.
The US government borrowed on average $850 billion per year over the last two fiscal years, in total $1.71 trillion. Very soon, the gross national debt will hit $20 trillion. And with a little help from the next administration's plans, the annual new debt to be issued by the US government could balloon far beyond $1 trillion a year.
These bonds will have to be sold to someone, but the Fed is no mood of buying; instead, it has been flip-flopping about raising rates.
And the biggest foreign holders of US Treasuries are now net-sellers, according to the Treasury Department's International Capital Data for September, released today. China dumped another $28.1 billion in Treasuries, bringing its stash down to $1.16 trillion, the lowest since September 2012. Japan, the second largest holder, shed $7.6 brillion, cutting its pile to $1.14 trillion. Saudi Arabia has been selling hand over fist for eight months in a row. Its holdings are now down to $89.4 billion. In total, foreign holders dumped $76.6 billion of Treasuries in September.
When the election moved Trump's campaign promises of fiscal stimulus spending a step forward, with buyers scarce and sellers plentiful, Treasury prices, which had been declining since July, fell hard and yields soared. This is the "Trump spike" of the 10-year Treasury yield, including today's much needed breather – the little hook adorning the spike (chart via StockCharts.com):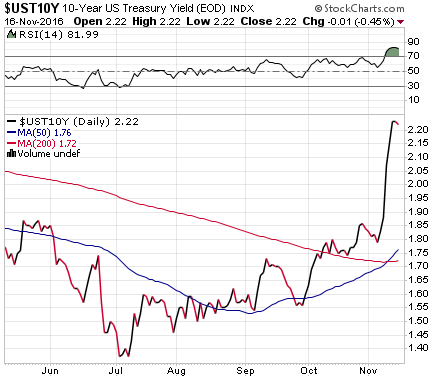 Since July, the 10-year yield went from 1.35% to 2.25%, with about half of that journey in the days since the election. And mortgage rates follow Treasury yields.
The Mortgage Bankers Association (MBA) reported today that the average 30-year fixed rate mortgage with conforming loan balances ($417,000 or less) jumped from 3.77% last week to 3.95% this week.
According to Mortgage News Daily, the average 30-year mortgage rate had hit 4.02% on Tuesday, up 0.40 percentage point in three trading days (Friday the bond market was closed). It was the biggest three-day spike in mortgage rates since the Taper Tantrum in the summer of 2013.
And this spike in rates immediately hit demand for mortgages during the week. According to the MBA, mortgage applications dropped 9.2% seasonally adjusted and 10% not seasonally adjusted from the prior week, with refinance activity dropping 11% and purchase activity dropping 6%. The report explained the phenomenon this way:
Following the election, mortgage rates saw their biggest week over week increase since the taper tantrum in June 2013, and reached their highest level since January of this year. Investor expectations of faster growth and higher inflation are driving the jump up in rates….
But it wasn't just this week. According to the report, rates have increased in four of the past five weeks.
At the same time, government entities are are playing an ever greater role, with the FHA's share of mortgage applications rising to 12.2% of the total during the week, the VA's share rising to 12.6%, and the USDA's share edging down to 0.6%. Combined, their share now exceeds 25% of all mortgage applications. This end of the a market is dominated not by regular banks but by "shadow banks."
A rate of 4% on a 30-year fixed-rate mortgage two months ago would have seemed unthinkably – nay, ludicrously – high, and those predicting that rate would have been ridiculed. In reality, 4% is still very low. And this is just the beginning, an uptick from historic lows.
But home prices have soared for the past six years, and in many cities have jumped far beyond the crazy peak of the house price bubble that started to implode with such fanfare in 2006. The fuel for these soaring prices was provided by historically low mortgage rates. Home buyers have been able to stretch toward these prices via cheap loans. But suddenly they're overstretched.
If rates rise one percentage point, for example from 3.5% to 4.5%, the monthly payment for many cash-strapped households moves out of reach. With a $220,000 mortgage, the monthly payment jumps by $127 from $988 to $1,115. This makes life $1,524 per year more expensive. Households that have trouble making ends meet suddenly can't get there.
In many cities, $220,000 will buy nothing. In San Francisco, it would barely cover the 20% down payment on a median condo, which sets you back over $1.1 million. That 1 percentage point increase in rates would jack up the payment on a $1-million mortgage (median condo, 10% down) by $577 a month, or nearly $7,000 a year!
And 4.5% is still every low!
When mortgage rates fell, home prices soared to fill the gap in payments. But now that rates suddenly are heading sharply north, the housing market, which is already teetering in many cities, is in for a very big rethink.
There's another side to this equation: Those homebuyers willing and able to stretch to make those higher payments cannot spend this money on other things. And then the entire math is going out of kilt. Falling mortgage rates have been a huge boon to home prices and the entire economy. And that process is going to get reversed.
All kinds of problems are now emerging in the property sector. Read… Whiff of Panic in Miami's Condo Market
Enjoy reading WOLF STREET and want to support it? You can donate. I appreciate it immensely. Click on the beer and iced-tea mug to find out how:

Would you like to be notified via email when WOLF STREET publishes a new article? Sign up here.