It's the banks they're worried about.
Warnings about the loans, bonds, and commercial-mortgage-backed securities (CMBS) tied to the vast $11-trillion commercial property sector in the US have been hailing down for months. Moody's Investor Services just warned about the rising delinquency rate of some $360 billion in CMBS it rates. Delinquencies of 60+ days jumped from 4.6% last year to 5.6% in September.
Fitch Ratings has been fretting about valuations in the sector, and CMBS, for months. "Valuation and lending trends are not sustainable in the medium term," it said most recently in its November report. It pinpointed debt backed by apartment buildings as a particular trouble spot. But now it's also fretting about construction loans, which "experienced the highest loss severity in the last crisis, and we expect a similar trend in the next downturn," it said.
It's worried about the banks, whose commercial real estate (CRE) lending has reached "record levels":
All of the most concentrated banks – those with more than 300% of risk-based capital in CRE – have less than $50 billion in assets and most have assets below $10 billion. These smaller banks also have varying degrees of sophistication in their risk management practices.
Fitch laments that the "timing and severity of this softening is uncertain and depends on factors including interest rates and overall economic conditions."
Alas, since the report was released on Election Day, interest rates have alread jumped. This comes at the worst possible moment, at the peak of the most gigantic CRE price bubble the US has ever seen.
The Green Street Commercial Property Price Index has soared 107% from the trough in May 2009 and now exceeds the peak of the totally crazy bubble in 2007 by 26%: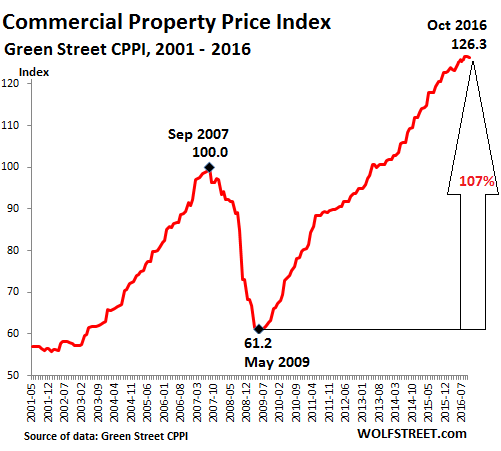 But it may have run out of steam. The index edged down in October, has been uncharacteristically flat for the past three months, and is up only 4.7% for the year – after annual increases that were often in the double digits.
Of the index components, on average across the major markets, lodging has plunged 12% year-over-year, and the prices of health care buildings are down 1% year-over-year. Apartment building prices are down 1% for the past three months, but are still up 5% year-over-year. Self-storage was flat last month, but is still up 14% year-over-year. It's up 80% from the peak of the prior bubble in 2007! Industrial, mall, office, and strip retail properties were all flat last month but year-over-year still rose between 3% and 7%.
In some of the top rental markets, rents have come under severe pressure, including San Francisco, New York, and Boston. Building prices are trailing behind.
As buyers have suddenly lost their enthusiasm, commercial property sales volume dropped 8.6% in the first nine months this year to $345.4 billion, according to Real Capital Analytics, cited by the Wall Street Journal.
"I can paint a picture that it could be disastrous, with runaway inflation and high interest rates," said Charlie Bendit, co-chief executive of Taconic Investment Partners, at a New York industry luncheon last week, according to the Journal.
Part of the problem in the current cycle are CMBS that were originated before the Financial Crisis in 2006 and 2007 and that are backed by ten-year loans that are now coming due. Fitch calls it "the wall of maturing loans." $205 billion of these maturing CMBS are rated by Fitch. Now the loans need to be refinanced. And that may be tough.
The Wall Street Journal:
In all, Morningstar Credit Ratings LLC predicts borrowers won't be able to pay off roughly 40% of the commercial mortgage-backed securities loans coming due next year. Suburban office properties and shopping centers are being hit particularly hard, said Edward Dittmer, a Morningstar vice president.

"We're seeing a lot of stress," Mr. Dittmer said.

Consider the Skyline office complex in Fairfax, Va. Vornado Realty Trust financed the property in 2007 with a $678 million mortgage that was converted into bonds [CMBS].

Vornado was forced to restructure the loan in 2012 after the portfolio ran into trouble. Earlier this year, Vornado for a second time notified the loan servicer that "cash flow will be insufficient to service the debt," according to a regulatory filing. A Vornado spokesman declined to comment.
The problem is being muddled up further by a Dodd-Frank rule that will take effect on December 24. It requires issuers of mortgage-backed securities to retain at least 5% of the securities they create – their skin in the game, to discourage the type of risk-taking and abuses common before the Financial Crisis.
This "risk retention rule" will make it more difficult to refinance these loans and repackage them into CMBS. Fitch expects that banks, insurance companies, and "other market participants" (hedge funds, PE firms, and the like) will refinance "many of these loans." If banks refinance them, it will further increase their exposure to CRE, which would likely be a "credit negative," Fitch said.
But if only "many of these loans" get refinanced, what happens to the remainder?
"You couldn't have planned worse timing," explained Tad Philipp, director of commercial real-estate research at Moody's, about the refinancing debacle, after the bubble has peaked, with new rules in place, at a time of possibly sharply rising interest rates. To top it off, vacancy rates are now rising, and in many places rents are heading south, making for another perfect storm in post-bubble commercial real estate.
All kinds of problems are now emerging in the property sector. Read… Whiff of Panic in Miami's Condo Market
Enjoy reading WOLF STREET and want to support it? You can donate. I appreciate it immensely. Click on the beer and iced-tea mug to find out how:

Would you like to be notified via email when WOLF STREET publishes a new article? Sign up here.