The flood of new money began re-surging.
Despite prolific jabbering about output cuts by various OPEC oil potentates, and despite promises by Saudi Arabia that Russia would cut in conjunction with OPEC, OPEC's production in October rose to 33.64 million barrels per day, the highest in many years, up 1.05 million barrels per day from May, on surging production in Iran and Iraq and near record production in Saudi Arabia. Russia set a post-Soviet record in October, with 11.2 mmbpd.
Global demand for crude oil has crept up to 97.3 mmbpd in the third quarter, but production has risen to 98.3 mmbpd. In other words, in the quarter, the world produced 1 million barrels per day on average that went into storage, from where it will exert pressure on prices in the future.
On Sunday, Iran's Oil Ministry cited President Hassan Rouhani at a ceremony to formally open the project west of the Karoun River, near the border with Iraq. Production there had jumped from 65,000 barrels per day in 2013 to 250,000 barrels per day now, Rouhani said. And it "must reach one million barrels per day."
There will be more OPEC meetings, more jabbering, and more promises, but none of this is likely to make significant headway in cutting production.
And in the US, new money has begun to surge back into the sector. In select locations, production is soaring. The US matters because it has become the global "swing producer" – the oil producer with the most excess capacity that can be unleashed on short notice.
While production has begun to decline in May 2015, it has recently started to perk up again. The EIA, in its most recent Short-Term Energy Outlook, forecasts that production will continue to increase through the second quarter of 2017.
According to law firm Haynes and Boone, there have been 105 oil and gas bankruptcies in the US and Canada since the beginning of 2015, involving $67.9 billion in debt – so small fry. The US companies in bankruptcy account for only about 5% of US oil-and-gas production. None of the bigger whales have washed up on the beach.
These companies and the many companies that have held a gun to their bondholders' heads and have "restructured" their debts outside of bankruptcy court have gotten fresh money, and they continue to exist. They're drilling and producing, some in a zombie state, others with more vigor.
The flood of new money began re-surging months ago. In the US, oil production isn't governed by one monolithic oil company, such as in Saudi Arabia, but by money flow and by numerous producers fighting against each other and the world.
But money flow and production growth has shifted to the Permian Basin (which ranges over parts of West Texas and into southeastern New Mexico), at the expense of other major oil fields in the US. The number of active drilling rigs in the Permian has soared 65% since the low point in April, to 218, compared to 234 rigs in the rest of the US combined!
This chart by the EIA shows the surge of production in the Permian, against the decline in other major regions: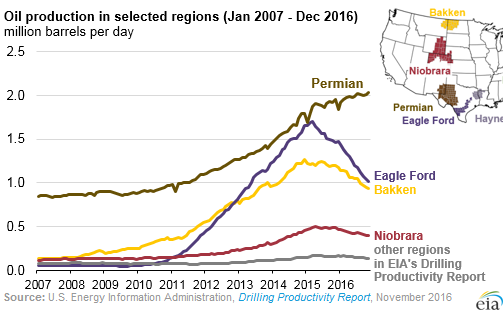 And mergers and acquisition activity among exploration and production companies is picking up momentum, after passing the low point in 2015. The EIA attributes this to two factors:
A price range of $40 to $55 a barrel of WTI (up from below $30 early this year). At this price range, oil has revived as a money-magnet;
And "improved credit conditions."
Which is an understatement. Energy junk bonds have staged a miraculous recovery since February, despite the bankruptcies, as hedge funds and private equity firms have plowed into them. The spreads between Treasury debt and energy junk bonds have collapsed as yields have plunged, and this has increased the appetite by banks and the bond market for more energy debt.
M&A activity – which includes the sale of assets from one entity to another – has surged along with the "improved credit conditions." And the Permian has become to new El Dorado:
The 93 M&A announcements in the third quarter of 2016 totaled $16.6 billion, for an average of $179 million per deal, the largest per deal average since the third quarter of 2014. Although only 11 of the 49 deals so far in the fourth quarter of 2016 are in the Permian Basin, they accounted for more than half of total deal value.
The second half of 2016 through November 10, "already has more M&A spending than the first half of 2016, but on fewer deals," according to the EIA. With energy credit conditions loosening and new money flowing into the sector, production is likely to continue to rise.
To top this off, US producers in just four oil-rich regions – Permian, Bakken, Eagle Ford, and Niobrara – currently sit on over 4,100 drilled but uncompleted (DUC) wells. It takes a lot less money and time to complete these wells and start producing. This is a production overhang that can come on line on short notice. All it would take is an oil price increase.
But crude oil inventories in the US are at record levels for this time of the year and are about 40% above the normal multi-decade range. This chart by the EIA shows just how much of an outlier this storage situation has become: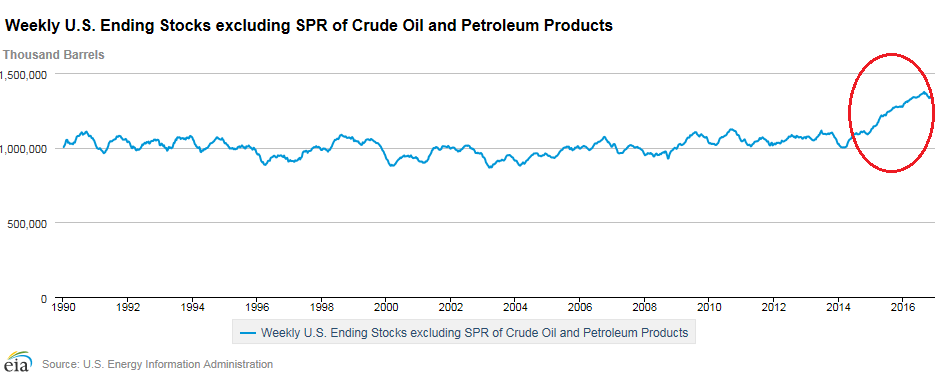 Oil storage facilities around the world are brimming with oil stocks, and in June, the International Energy Agency reported that another 95 million barrels were stored on tankers waiting for better days.
The oil bust has accomplished a lot of things globally, from propping up consumer spending on other items to driving Venezuela to the brink. But the one thing it hasn't accomplished is a cut in global production. And unless the money dries up, the price of oil will continue to vacillate within a range that inflicts maximum pain for the longest possible amount of time.
Somewhat further in the future, the oil industry has an even more complex problem to deal with: demand will dry up. Read…  EVs May Send Big Oil into "Investor Death Spiral": Fitch
Enjoy reading WOLF STREET and want to support it? You can donate. I appreciate it immensely. Click on the beer and iced-tea mug to find out how:

Would you like to be notified via email when WOLF STREET publishes a new article? Sign up here.