New vehicle sales down 53% since 2012.
We don't hear much from the global automakers and their analysts about the multi-year sales fiasco in Russia, in part because they don't like to bring up crummy data unless they have to. And they don't have to. For them, Russia is just a tiny market, compared to China and the US: through October this year, new light vehicle sales in Russia amounted to about 8% of sales in the US.
Since 2010, auto sales in China, the US, and many other countries have boomed. And they grew in Russia too, but only until late 2012, when the market began to stall. They declined in 2013. Then, when the sanctions hit in 2014, the market sagged. When the oil bust hit in 2015, the market crashed. And to this day, it continues to head south. The numbers are stunning.
In October, new vehicle sales – measured by registrations and reported by the Association of European Businesses – fell 2.6% year-over-year to 126,568. Year-to-date sales fell 13% to 1,147,670 vehicles.
Compared to 2012, the last good year, October sales plunged 50%! And year-to-date sales plunged 53%.
When the Association of European Businesses, an industry lobby group, released the October figures, it begged the government to continue the subsidies:
This is not a bad result, confirming our earlier voiced expectation that the new car registration trend should improve towards year end. Seasonality is a factor, of course, but the main driver here are the government programs offering purchase incentives to end customers. These programs are running out, in any case in the well-established form as we know them. What awaits us in 2017 remains to be seen. But it is clear already that, without meaningful support from the government, any trend stabilization would be very short-lived.
The government seems to have gotten the message. The sales decline in 2016 could have been a lot worse if it hadn't been for government subsidies, President Vladimir Putin told plant workers in Yaroslavl (central Russia), according to Reuters, which cited an Interfax report published today.
Auto sales would have crashed by another 30% to 40% this year without government subsidies, he said. The government spent about 65 billion rubles in 2016 to support the industry, Putin told the workers, and this support would continue next year.
Hit hard by the oil price crash, the economy has been shrinking for six quarters in a row, longer than during the Global Financial Crisis. The ruble has lost about half its value against the dollar since 2013, making imports of all kinds, including auto components and fully assembled cars, much more expensive for Russian consumers, already struggling with a big bout of inflation on day-to-day items.
Here are the year-over-year percentage changes for October sales, going back five years. Note the collapse in 2015:
October 2016  -2.6%
October 2015  -38.5%
October 2014  -9.9%
October 2013  -8.0%
October 2012  5.0%
In October 2012, sales were still up from prior year. But by then already, long before the sanctions and the oil bust were even on the horizon, the industry was feeling a slowdown, enough so that the Association of European Businesses felt it necessary to warn:
For a while now, the market has been feeling a cool down in consumer appetite. By contrast, retail registrations are still performing above prior year level, supported by robust order banks generated in the first half of the year and a visible increase in market incentives in recent weeks. Current new order intake however is generally slower compared to the same period one year ago, and will impact sales performance in the coming months.
This kicked off the depression in the Russian auto market. Here are the top 20 survivors and their sales through October this year, compared to the same periods in 2015 and in 2012: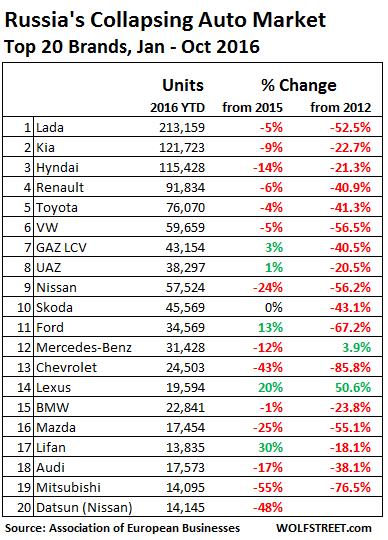 The car business is tough even in growing markets. It's competitive and globalized. But Russia's market has collapsed over the past four years, and even hanging on is tough. Since 2012, a number of brands have thrown in the towel and pulled out, including Opel (GM) which pulled out in 2015, and Volvo and Fiat-Chrysler which pulled out in 2016.
Russia's top brand, Lada, owned by Russian automaker AvtoVAZ, has been able to nudge up its market share to 18.6% in 2016 from 18.4% in 2012. But its sales have suffered 52.5% since 2012. The Korean brands are muscling in on it, filling the void left behind by Chevrolet.
Chevrolet was Russia's second largest brand in 2012, now reduced to number 13. It has lost 85% of its sales. Ford, number 8 in 2012, has dropped to number 11, after having lost 67% of its sales. The sanctions do bite.
This four-year collapse of the auto market, and auto manufacturing in Russia along with it, shows just how tough the economy has become for Russian consumers, particularly since 2015, when the effects of the oil bust started spreading across the economy.
But even in the US, where auto sales set a new record in 2015, the auto boom is running out of fuel. Read…  The Chilling Thing Hertz Just Said about the US Auto Boom




Enjoy reading WOLF STREET and want to support it? You can donate. I appreciate it immensely. Click on the beer and iced-tea mug to find out how:

Would you like to be notified via email when WOLF STREET publishes a new article? Sign up here.