The red flag: "slump" in imports despite the Strong Dollar
The dollar has strengthened against other currencies since mid-2014 as the Fed was tapering QE Infinity out of existence, and as it began flip-flopping about rate increases. Dollar strength should have done two things in terms of international trade:
Weaken exports as US goods would become less competitive for buyers using other currencies;
Strengthen imports as imported goods would be cheaper compared to US-made goods.
The first has happened. But the second has not happened: Imports have been in a down-trend since mid-2015. This is something that should not happen when the dollar is strong, and it has flummoxed the folks at the New York Fed's Liberty Street Economics:
The growth in US imports of goods has been stubbornly low since the second quarter of 2015, with an average annual growth rate of 0.7%. Growth has been even weaker for non-oil imports, which have increased at an average annual rate of only 0.1%.
So oil imports cannot be blamed.
This is in sharp contrast to the pattern in the five quarters preceding the second quarter of 2015, when real [inflation adjusted] non-oil imports were growing at an annualized rate of 8% per quarter.

The timing of the weakness in import growth is particularly puzzling in light of the strong US dollar, which appreciated 12% in 2015, lowering the price of imported goods relative to domestically produced goods.
The "recent slump" in imports of non-oil goods becomes clear in this chart that shows imports as a ratio of GDP, adjusted for inflation. The ratio of non-oil imports = red line; the ratio of total goods imports (including oil) = blue line: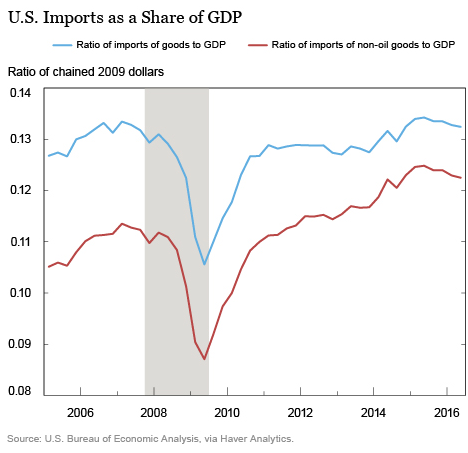 The analysis looked at imports by its major components and found that imports of capital goods – equipment that businesses buy and invest in to expand or improve their operations – were "quite soft" from Q2 2015 through Q1 2015. Here's why:
Early in 2015, this weakness in capital goods was due in part to declines in drilling-related equipment imports, while in the first quarter of 2016, it was due to other subcategories, such as telecommunications and aircraft.
Where are the American consumers?
Another striking feature is the negative contribution from consumer goods in the period from the fourth quarter of 2015 through the second quarter of 2016: despite the strong dollar, US consumers and retailers were not switching to imported goods.
That's not supposed to happen, according to economic modeling. The chart below shows the contribution to import growth of capital goods (blue), auto (yellow), consumer goods (light gray), and other (dark grey). The black dots inside the columns denote total imports of non-oil goods – a drag on imports in three of the last four quarters.
I circled the consumer "contribution" to imports over the last three quarters: that "contribution" has been a big drag. Note that the contributions from "auto" also turned into a drag in Q2, which is when growth in the US auto sector began to wane:
And business investment in equipment is weak.
Imports of capital goods are "very highly correlated" with investment by businesses in equipment. Alas:
Equipment investment has been unusually weak, with its four-quarter percentage change falling into negative territory, which is unusual outside a recession period.

These data suggest that the slowdown in import growth likely stems from whatever is behind the weakness in equipment, rather than from trade-specific factors such as trade policies or higher trade costs.
This chart shows the deterioration of imports of capital goods and equipment, adjusted for inflation. Note how the declines in the prior two cycles were followed by recessions:
"Standard economic models" predict that a stronger dollar should push up imports by making them cheaper for US consumers and businesses, thus increasing demand for them, the analysis points out. But that's not happening. Demand isn't there – demand from consumers and from businesses.
There has been much speculation in the media and by economists and free-trade gurus how the now obvious deterioration of global trade, which we have documented in numerous articles, is a function of recent anti-free-trade movements and policy changes, as supposedly nervous nations are starting to build up hurdles to trade. But for the US trade picture at least, this just isn't the case, the New York Fed analysis says.
Instead, "the recent slump in import growth is primarily a reflection of weakness in other parts of the US economy."
Businesses have been loath to invest in business equipment and expansion. They have used the record proceeds from their borrowing binge to buy back their own shares and buy out each other, rather than invest.
And consumers are dedicating a big part of their spending to health care and housing costs, which have been soaring, and college expenses fall into this category as well. These costs mostly don't impact imports. But by the time consumers get through paying for them, many of them don't have that much money left to buy enough other goods to move the needle.
While waning imports help lower the trade deficit and thus help nudge up GDP, they signify weak demand from US consumers and weak investment by US businesses, conditions that are usually associated with recessions.
This is how global trade is playing out in the real economy: Orders plunge 87% for Korean shipbuilders from an already terrible 2015. Read… Done in by Overcapacity, Stagnant World Trade, and China, Korean Shipbuilders Collapse on Top of Taxpayers




Enjoy reading WOLF STREET and want to support it? You can donate. I appreciate it immensely. Click on the beer and iced-tea mug to find out how:

Would you like to be notified via email when WOLF STREET publishes a new article? Sign up here.