These US Markets Have Cracked, and the Cracks are Spreading
"There's enormous risk in public markets because that's the one that central banks have distorted to the greatest extent," El-Erian, chief economic adviser at Allianz SE, told Bloomberg TV, in reference to stock and bond markets. He confessed to the heresy of holding 30% of his portfolio in cash.
"It's very hard to say I'm going to buy a basket of public equities and go to sleep for the next five to 10 years and feel good about the returns. Similarly with bonds," he said.
These "public markets" are not the only markets that central banks have totally distorted and larded with "enormous risks." Practically everything that is an asset has been inflated, including residential and commercial real estate in much of the country, and assets that are the objects of admiration of the wealthy: collector cars and art.
But these markets have started to crack at the edges, and some of the cracks are spreading.
Collector car prices fell again in October. They've been on a relentless skid since their peak in September 2015, according to data by Hagerty, which specializes in insuring classic cars. Auction activity experienced "another significant drop this month," Hagerty reported. Over the past 12 months, the number of cars sold at North American collector car auctions has dropped 8%. Among the other observations:
Requests for value increases for broad market vehicles fell for the 13th consecutive month.
Requests for value increases for high-end vehicles also decreased, but only by about half as much as did broad market vehicles.
The Hagerty Market Index – which is based on change in dollars and volume of the market, "similar to the DJIA or NASDAQ Composite" – fell 1.7% in October to 167.51. The index, which tracks 66,000 transactions of classic cars, is now down nearly 10% from its peak in September 2015. A gradual but relentless decline: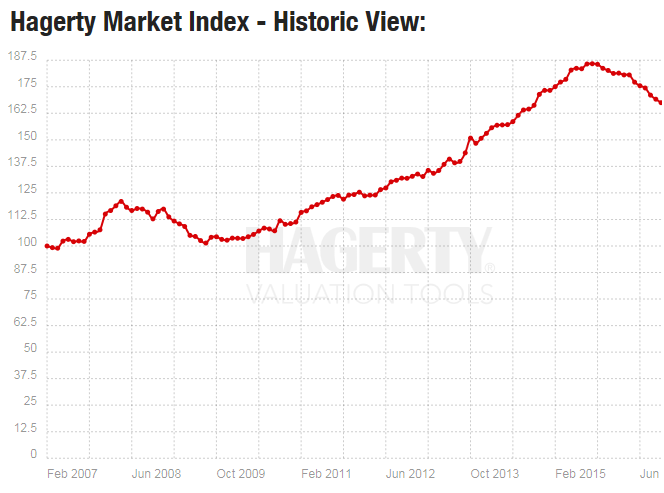 Note that the decline is similar in magnitude to the one during the Financial Crisis, before the Fed QE and ZIRP bailout kicked in. Now, there's no bailout in sight. QE is gone. And the Fed is flip-flopping about raising rates.
The index had soared 86% from the trough of the Financial Crisis to its peak last September. Like other assets, it started its ascent when QE and ZIRP became the law of the land. The people who invest in collector cars – which may sell for millions of dollars, with the record at around $38 million – already own a lot of other assets.




So these folks became instant beneficiaries of the "distributive consequences" of monetary policies, as central bankers call it when QE and ZIRP purposefully and resolutely redistribute wealth from labor to those who hold assets, from prudent savers to Wall-Street speculators, from those who hold the least to those who already hold the most.
Fed economists publicly discuss the "distributional consequences" of monetary policies as if they were a some unavoidable side effect, rather than the primary goal, in line with what Bernanke himself had called the "wealth effect."
Classic cars had soared 490% over the past 10 years, including the dip during the Financial Crisis, followed by the Fed's bailout of investors. But these "distributional consequences," however hard central banks are pushing them, are starting to run out of juice, it appears.
There had already been a wake-up call in February, as stock and bond markets were coming unglued: The Hagerty index experienced its steepest drop since the Financial Crisis.
"Right now, there's a focus on global markets, and you're seeing that filter through to the classic-car market," Brian Rabold, VP of valuation services at Hagerty, told the Wall Street Journal at the time.
Andrew Shirley, editor of the Wealth Report at property broker Knight Frank, told the Journal that wealthy investors are having second thoughts about collectibles. "People who want to collect are still spending bucketloads," he said. "But if you dig below some standout sales, at quite a lot of auctions you find lots that don't get sold or make their reserve," referring to the minimum bid.
The art market too went into convulsions. In March, at the big auctions in New York, sales plunged, sending shivers through the market. The turmoil has since spread.
Speculators, especially "young speculators," are getting hit hard in the current downturn of the art market, Todd Levin, director of Levin Art Group in New York, told me in a phone conversation the other day.
During the Financial Crisis in late 2008, early 2009, the art market, after soaring since 2000, "seized up a little bit"; it was a "manageable depression," he said, with "some panicky shifts." But it was brief.
As soon as QE and ZIRP kicked in, the beneficiaries of these policies plowed money into art. Volumes picked up. Prices recovered at lightning speed. Since then, the art market has been "skewed" by global QE and ZIRP, along with the sharp gains in stocks, bonds, and real estate, to form "a perfect storm" for creating a "bubble," he said. By the first quarter 2015, the art market hit its "most frenzied levels."
Now the market is "reverting to normal, to a healthy market," he said.
For "young speculators" who jumped into the market and bought the works of young artists, "looking to flip the work" after making outsized gains in the shortest amount of time, as only a bubble allows you to do – "now they're finding out that they're the end user."
"Buying your peer group is wonderful," Levin said, in reference to young collectors buying young artists. It offers a lower entry point and a lot of upside potential, though it comes with bigger risks.
In recent years, prices of these works have seen "vertiginous ascents." But speculators who were buying with the intention of flipping can't get out, now that prices for many young artists have plunged amid a "glut of work," as sales volume has dried up. That was never part of the plan.
Speculators have approached the works of young artists with an IPO mentality, Levin said: Get in, make a lot of money, and flip it. Some of the works they bought late in the cycle in 2014 or early 2015 may lose 90% of their value. And some may never recover.
So "reverting to normal" can be a harsh and painful trip for speculators who got the timing wrong. "Depending on what your sense of normal is," Levin said, for some of them, the trip "feels more like a crash."
Has this sort of asset price inflation run its course because in the end, the real economy has languished? "We've been patiently waiting for the consumer." Read… US Freight Volume Drops to Lowest Level since 2009, "Industrial Recession" Hits Full Stride, Overcapacity Crushes Rates




Enjoy reading WOLF STREET and want to support it? You can donate. I appreciate it immensely. Click on the beer and iced-tea mug to find out how:

Would you like to be notified via email when WOLF STREET publishes a new article? Sign up here.