Vancouver in turmoil, Toronto spikes.
Canadian house prices jumped 11.7% in September from a year ago, according to The Teranet–National Bank National Composite House Price Index released today. But the index papers beautifully over the dynamics in each metro.
In six of the 11 metro markets of the index, prices have been languishing or even declining over the past couple of years, as they've hit the wall of reality after often stupendous price gains in the prior decade: Montreal, Calgary, Edmonton, Quebec City, Halifax, and Ottawa-Gatineau.
In the two largest markets – Toronto and Vancouver, which combined account for 54% of the index – prices have blown through the roof. Both markets are among the hottest, most over-priced housing bubbles in the world. UBS recently ranked Vancouver Number 1 globally on that honor roll.
But suddenly the dynamics have changed.
Vancouver's housing market is in turmoil, to use a mild word, as sales have crashed, after the implementation of a real-estate transfer tax this summer by British Columbia, aimed squarely at non-resident investors. In Vancouver, those investors are mostly Chinese. And where do these folks now go to inflate prices? Toronto.
Still, the national house price index (red line, right scale), after the 11.7% jump over the past 12 months (blue columns, left scale), has doubled since 2005!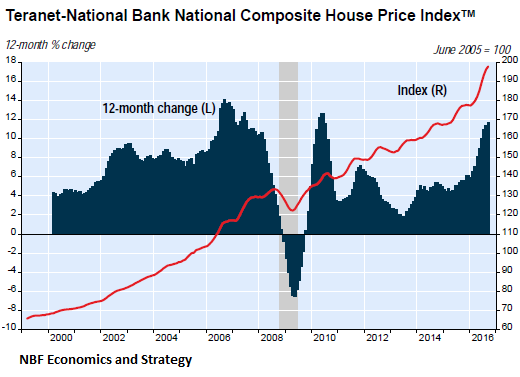 The index, similar to the Case-Shiller Home Price index in the US, is based on repeat sales. It looks at properties that sold at least twice over the years to establish "sales pairs." It then uses a proprietary formula to deduct price changes from these transactions and extrapolate them into an index for each of the 11 markets and nationally. It's not perfect, but it offers an alternative view to median prices or Canada's "benchmark" prices.
Prices in Toronto have been spiking (red line, right scale), with double-digit year-over-year percentage gains (blue columns, left scale) so far this year, including a breath-taking 16% in September.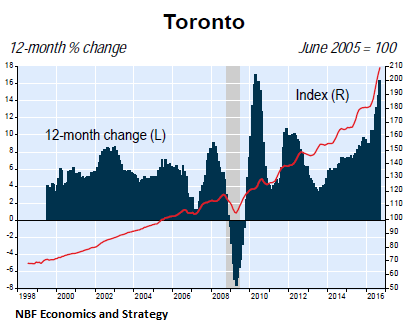 Vancouver makes Toronto look practically tame. Vancouver went completely crazy, with year-year-over price gains reaching 26% in the summer. Now a new reality went into effect. Market activity has collapsed, as no one knows what anything is worth, with buyers and sellers jockeying for position. And on a monthly basis, the index was essentially flat (+0.2%):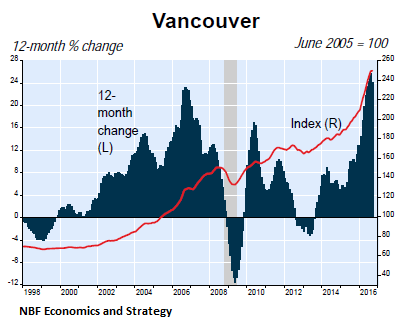 Most Canadians have not seen their incomes rise anywhere near the rate of the house price inflation of the past many years, if their incomes rose at all. Thus, many of them have been priced out of the housing market, or have access to it only via highly risky financing schemes that put both lenders and borrowers at risk, despite historically low interest rates.
Once enough people are priced out of the housing market, demand collapses. This would normally be where housing bubbles deflate in a very painful manner for lenders, homeowners, and everyone getting their cut, including governments and the real estate industry. But there has been a strong influx of mostly Chinese investors that need to get their money, however they obtained it, out of harm's way at home, and they pile into the market, and they don't care what a property costs as long as they think they can sell it for more later.
But British Columbia threw a monkey wrench in to the calculus this summer when it adopted a 15% real estate transfer tax and other measures aimed squarely at non-resident investors. It hit home, so to speak.
Total sales in Vancouver plunged 32.5% in September from a year ago, with sales of detached homes falling off a cliff – down 47% [read… Vancouver Housing Bubble Bursts, Hot Money Flees to Toronto].
Home sales have fallen every month since their all-time crazy peak in February on a seasonally adjusted basis, for a cumulative decline of 44%, according to Marc Pinsonneault, Senior Economist at Economics and Strategy at the National Bank of Canada.
But home prices have not yet fallen, he wrote in the note, "because market conditions have just started to loosen from the tightest conditions on records. We see home price deflation starting soon (10% expected over twelve months)."
His chart shows the plunge in sales (red line, left scale, in thousands of units) even as active listings have started to rise (blue line, right scale):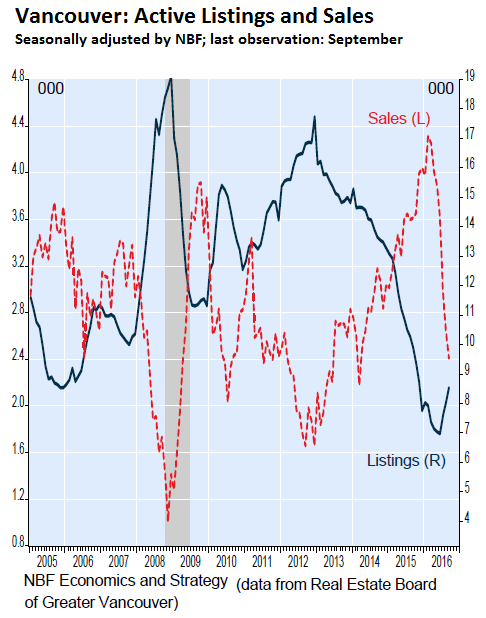 In Toronto, the opposite is happening, with sales spiking on a seasonally adjusted basis way past prior record levels, even as new listings have plunged.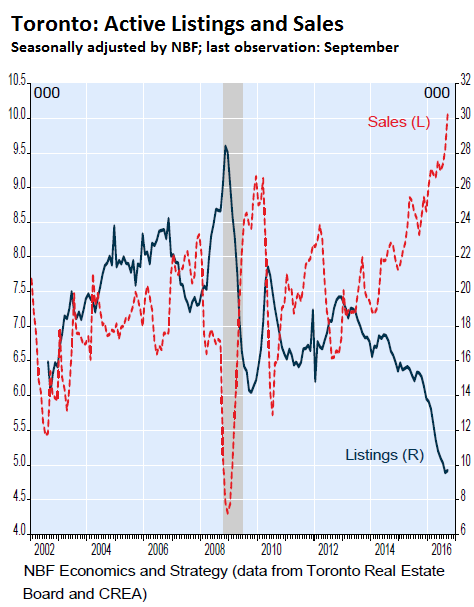 For now, "Toronto is now the red hot market," explains Pinsonneault:
Home sales broke records in each of the last three months. But the historically low supply (in terms of the number of homes listed for sale) is also contributing to market conditions that are the tightest on records.
But the situation can turn on a dime, as Vancouver demonstrated. When a bubble pops, the first thing that stops is transactions. This happens suddenly. Sellers refuse to cut their prices, while buyers refuse to step up to the plate. Things grind to a halt. Once sellers are forced to relent on price, transactions start rolling again, at lower prices, and each lower price, due to the metrics of comparable sales, pressures down future prices of other transactions.
Once Chinese investors figure out that they're likely to lose a ton of money in Canadian real estate, because their compatriots who've piled into the market before them have already lost a ton of money, they're going to lose their appetite. This is the hot money. It evaporates suddenly and without a trace. As Vancouver shows, bubbles don't end in a plateau.
Even the Bank for International Settlement and the OECD have warned about the Canadian housing bubble, and what it can do to the financial system when it deflates. Read…  Canadian Housing Bubble, Debt Stir Financial Crisis Fears




Enjoy reading WOLF STREET and want to support it? You can donate. I appreciate it immensely. Click on the beer and iced-tea mug to find out how:

Would you like to be notified via email when WOLF STREET publishes a new article? Sign up here.