A classic case of channel stuffing?
Worldwide PC shipments fell 3.9% in the third quarter from a year ago, according to IDC, thus continuing the long methodical decline of the entire ecosystem. But beneath the surface: shipments of the boring uncool brands rose worldwide and soared in the US, as shipments of cool Macs plunged.
Grave injustice? Or just sign or our commoditized times and channel stuffing?
Despite predictions of the sector's death, these machines – desktops, workstations, and notebooks of all kinds, but not servers and tablets – are still the workhorses in the office environment, and their death is going to arrive only slowly and in fits and starts.
Lenovo, which in 2004 bought IBM's PC division, is still the market leader, with a 21.3% share. But its global shipments fell 3.2%; it has growth trouble in China, its home market, where it does much of its business. For Lenovo, Q3 was the sixth quarter in a row of year-over-year declines.
But second and third in line, HP and Dell, increased their market share, as their global shipments rose 3.3% and 6.2% respectively. For the fifth in line, Taiwanese-based Asus, shipments jumped 6.9%.
The real losers: Apple Mac shipments plunged 13% and "others" plunged 13.2% year-over-year. Excluding Apple and "Others" (marked in red in the table), shipments by the remaining top four vendors rose 2% to 44.3 million units. The top three now command 58% of the global market: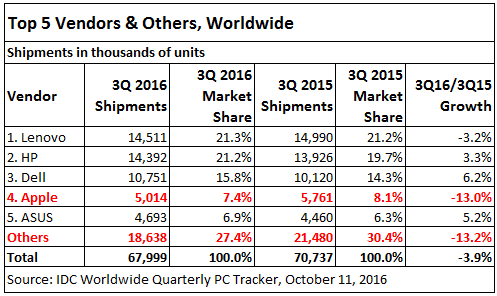 And this is what happened in the US. Apple Mac shipments plunged 13%, and shipments of "Others" plunged 19.8%, while shipments of the top three brands soared a combined 9.5%, with Dell and Lenovo picking up double-digit gains. These top three vendors now command 71% of the US market. Total US shipments rose 1.7% to 17.6 million units: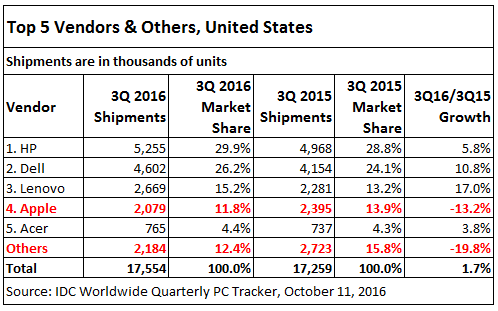 But even for the winners, it's not exactly a rosy scenario. The shipment gains are based on building up inventories, as hopes are now circulating for a huge holiday season particularly in the US. And a buildup of inventories is deemed essential to satisfy this sudden surge in expected demand.
This is a change, after a long struggle to reduce bloated inventories, which caused the steeper shipment declines over the past year or so. But if the holiday season is not huge, and if the hopes that are circulating turn out to be false hopes once again, the period of trying to bring down bloated inventories will recommence, along with even sharper shipment declines. The report:
[W]e believe the strong market performance has less to do with strengthening demand and more to do with increased appetite from the channel for inventory.

We will need a strong holiday season to ensure that we don't enter 2017 in a poor inventory situation.
So classic channel stuffing in the hope that demand will somehow materialize and mop up that ballooning inventory. The fourth quarter will be key. And IDC maintains its "cautious outlook."
By Region:
Europe, Middle East, and Africa (EMEA) PC shipments were stronger than forecast thanks to healthy notebook sales, while desktop sales were very much in line with the forecast. The buildup of expectations towards the year-end business (e.g. mobility adoption) and holiday season promotions like Black Friday, combined with the anticipation of price increases related to some components, pushed the volumes up in the region for notebook.

The Asia/Pacific (excluding Japan) PC market came in slightly above expectations, although it remained constrained with shipments declining year on year. Efforts to reduce channel inventory continued, allowing for stronger than expected sell-in in China, while the upcoming festive season led to a sequentially higher consumer quarter in India. Several corporate projects that were rolled out across the region, coupled with stronger demand from business users in China, helped alleviate the decline in otherwise soft commercial markets.

The Japan PC market returned to positive growth in the third quarter, stabilizing after a substantial drop in 2015. Demand for Windows 7 systems remained a key driver as companies still using the OS purchased systems ahead of price increases.
This leaves Apple Macs as the biggest loser, worldwide and in the US. Apple is going to come out with some updated and even cooler PCs. Everyone is hoping that they will be a big hit. But the PC market has been commoditized years ago, and cool doesn't really matter anymore. What matters is price and functionality. And it's going to be an uphill slog for Macs.
Thank God for the iPhone and for the fiasco that has befallen Samsung with its exploding Note 7 smartphones, which its owners are now told to turn off. Mac sales accounted for only 12% of Apple's total sales of $42.4 billion in the last quarter, and that share will likely fall further, as Apple continues with its transition to a company dominated by just one product.
Blame the Millennials? They certainly get blamed for everything else. Read… These Debt & Rent Slaves Get Blamed for the Lousy Economy




Enjoy reading WOLF STREET and want to support it? You can donate. I appreciate it immensely. Click on the beer and iced-tea mug to find out how:

Would you like to be notified via email when WOLF STREET publishes a new article? Sign up here.