A "structural change": capital flight in yuan.
The Chinese yuan fell to 6.722 to the US dollar currently, the weakest since September 2010. It's down 3.3% so far this year. OK, a squiggle compared to the wholesale drubbing the UK pound has been taking since the Brexit vote, but there's a difference: the yuan gets managed with an iron fist.
Some folks interpret this to mean that the People's Bank of China has been weakening the yuan to gain some trade advantages and revive the export boom and kick economic growth back into gear. But evidence is piling up that the PBOC instead has been trying to slow down the yuan's descent.
And this happened just days after the yuan joined the IMF's special drawing rights (SDR) basket of reserve currencies, a huge milestone for the Chinese government that has been laboring on the internationalization of the yuan for years, mostly in tiny baby steps.
But the yuan is up against the mega-problems in China's debt plagued economy, and it's pressured down by enormous and, it turns out, not officially disclosed capital outflows.
"If that trend persists, expect further yuan weakness versus the greenback," wrote Krishen Rangasamy, Senior Economist Economics and Strategy at the National Bank of Canada.
While a weaker yuan would be positive for exporters, it leaves many Chinese companies in an increasingly precarious situation: they have issued over $1 trillion in dollar-denominated debt, according to the Bank of International Settlements. And that dollar debt becomes increasingly difficult to service with a shrinking yuan.
This chart from NBF Economics and Strategy, shows foreign-exchange reserves (blue line, left scale, in $ trillions) edging down to $3.185 trillion in August, the lowest since 2011. Note how the decline started in mid-2014, and how so far this year, reserves have remained relatively stable, with a slight downward slope.
The chart also shows that net capital outflows (red line, right scale, in $ billions) so far this year, have ranged from $40 billion to $80 billion every month, or about $550 billion in outflows, according to Bloomberg's estimates. But it's not showing up in the foreign-exchange reserves. So something doesn't add up (click on the chart to enlarge):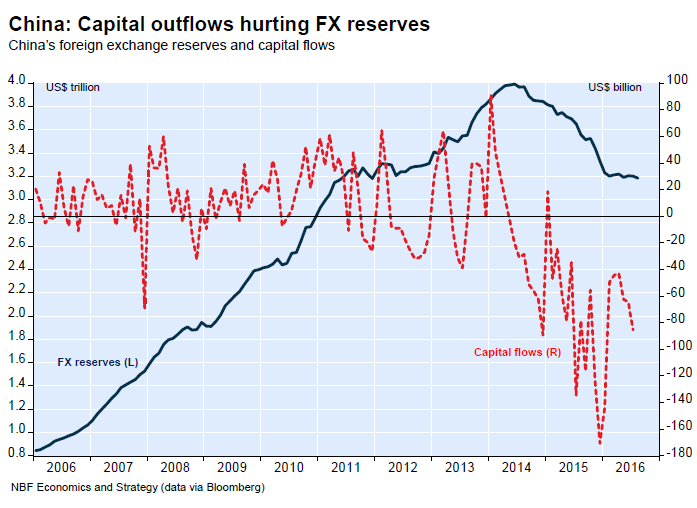 Turns out, another form of capital outflow is taking on increasing importance – and this is putting direct pressure on the currency: outflows in yuan that get converted into dollars offshore.




The People's Bank of China limits how much companies can convert into dollars onshore. So companies move yuan offshore and then convert them into dollars. Thus, this selling of yuan doesn't drag on China's foreign-exchange reserves, but it exerts downward pressure on the currency instead. Bloomberg:
While the nation's foreign-exchange reserves have stabilized and lenders' net foreign-exchange purchases for clients have fallen close to a one-year low, official data show that $27.7 billion in yuan payments left China in August…. Such large cross-border moves can't be explained by market-driven factors and need to be taken into account when measuring currency outflows, according to MK Tang, Hong Kong-based senior China economist at Goldman Sachs.

Goldman Sachs started including yuan funds in its analysis of outflows in July, after noting that cross-border movement of the currency masked actual pressures. The bank estimates that 56% and 87% of outflows took place through the offshore yuan market in July and August, respectively.

"There have been $265 billion in net yuan outflows since last October through August, primarily due to trade settlement in yuan," said Goldman's Tang, citing data from the People's Bank of China and the State Administration of Foreign Exchange.
Raymond Yeung, chief economist at Australia & New Zealand Banking Group in Hong Kong called the outflow this year dominated by yuan "a structural change." Given that currency conversion is no longer taking place onshore, he said, "we are not surprised that the foreign reserves have been preserved."
But this offshore conversion of yuan into dollars is putting pressure on the currency in the offshore markets. Seeing this and expecting further declines in the yuan, companies might ratchet up the outflow of yuan and offshore conversion into dollars. Thus, capital flight takes on this new twist, made much easier by the yuan's growing status as a global currency.
Yet, it would put further pressure on the yuan, turning its expected decline into a self-fulling prophecy – a decline that the PBOC is trying to manage with its iron fist, rather than letting it turn into a rout, such as the UK pound is experiencing. But if the PBOC loses control of the currency and a yuan rout sets in, now that it is a globally traded currency, the global fireworks would be a sight to behold.
Now the governor of the PBOC has chimed in. Read…   "Credit Squeeze" Planned in China to Deflate the Housing Bubble?




Enjoy reading WOLF STREET and want to support it? You can donate. I appreciate it immensely. Click on the beer and iced-tea mug to find out how:

Would you like to be notified via email when WOLF STREET publishes a new article? Sign up here.