The surprising numbers!
The other day, I posted an article encouraging our readers to check out our amazing comment section. It received over 100 comments that included a discussion of an issue I'd triggered, and that we could not resolve. Now I found the answer.
I claimed – based on my vague memory of a Guardian report I'd read a couple of years ago but could no longer find – that only about 10% of the readers actually dared to go south and venture into the unknown territory of comments, where all kinds of surprises and mayhem might lurk.
This triggered a number of responses and sent some helpful commenters and me into a renewed search for this Guardian report – which remained elusive.
But I ran into a related paper from academia, authored by Natalie (Talia) Jomini Stroud, an Associate Professor in the Department of Communication Studies, Assistant Director of Research at the Annette Strauss Institute for Civic Life, and Director of the Engaging News Project at the University of Texas at Austin – which also happens to be where, back in the day, I got my MBA.
So I contacted Talia. She graciously sent me a 21-page paper, News Commenters and News Comment Readers, which she, Emily Van Duyn, and Cynthia Peacock had authored earlier this year. It contains a massive amount of data. I'll drill down into a few highlights that are relevant to us.
The data for the study is based on a representative random sample of Americans, undertaken by the US consumer division (formerly Knowledge Networks) of GfK Group, a global market research firm headquartered in Germany.
Very broadly, across all digital spaces (including news, social media, entertainment, products or services review sites, etc.), according to this study:
77.9% of Americans read some an online comments at some point.
55.0% posted a comment at least once.
53.3% did both, read comments and posted comments.
20.2% did neither.
24.6% read comments but didn't post any.
1.7% posted comments without reading any comments.
Commenting and reading comments is not equally distributed: People read and post comments much more on social media sites than on "news" sites. And these "news" sites weren't exactly like WOLF STREET. The top news sources that respondents cited in this study for posting and reading comments were:
Your local newspaper
Your local TV news sites
Fox news
CNN
Huffington Post
Buzzfeed
New York Times
Of the total population in the study:
35% said they read comments on news sites, but didn't post comments

17% "a few times a month" at the most.
18% at least "weekly," including every day.

14% said they posted comments on news sites

10.5% "a few times a month" at the most.
3.5% at least "weekly," some every day.

50.7% neither read nor posted comments on news sites
But these "news" sites cover all aspects of news, including sports, entertainment, politics, and what not. Business, finance, and economics are for them an afterthought. But that's just about the only thing WOLF STREET gets into.




And so when it comes to business and finance, commenting and reading comments gets a lot thinner still.
In terms of reading comments: Of all the news categories, "business and finance" ranked nearly at the bottom, with only 19.9% of the people reading comments. Only "other" was lower. The top was "US politics or domestic policy."
In terms of posting comments: Of all the news categories, "business and finance" ranked at the very bottom with 11.3% of the readers posting comments.
So we're going to extrapolate from here, even if it takes us out on statistically thin-ish ice.
As mentioned above, 35% of the population in the study read comments on news sites, from rarely to daily. That includes all kinds of news stories. But only 19.9% of those 35% read comments on business and finance stories: so 7% of the total population in the study read comments on business and finance stories!
If this is true for WOLF STREET, only 7% of our readers are venturing into our awesome comments. The rest are missing out.
By the same measure, 14% of the population in the study said that they posted comments on news sites, on all kinds of news articles. Of them, however, only 11.3% posted comments on "business and finance" stories. So only 1.6% of the total population in the study posted comments on business and finance stories!!
So if this is true for WOLF STREET….
Ha, here I can do my own calculus, by looking at a fairly representative example. I posted the article, Why Hanjin's Zombie Collapse Won't Be the Last One, about a week ago. By now it has been viewed 7,296 times (which is fairly typical; our top articles have been viewed over 40,000 times). And it picked up 72 comments (higher than the recent average).
But six prolific commenters posted a total of 36 comments – half of the total! If the remaining commenters posted one comment each, the article would have 42 commenters. In other words, 0.6% of the people who viewed the article posted a comment.
And here's why, according to the study, people take the time to post often detailed and thoughtful comments on news articles (multiple responses permitted):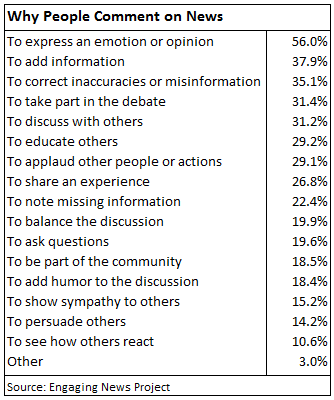 And the corollary: Here's why people avoid reading comments (multiple responses permitted):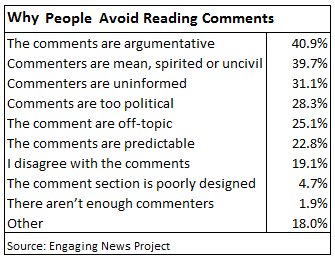 This study confirms just how rare and special commenters are on business and finance sites!
I'll close with a story. Yesterday at my swim club, one of the members, who has been a reader of WOLF STREET for a long time, told me that he had a "blast" reading it that morning. He'd discovered the comments for the first time and could barely wrest himself loose.
So here's my original article that had triggered this whole quest for answers. Read… Dear Reader, Are You Missing Out on Our Comments?




Enjoy reading WOLF STREET and want to support it? Using ad blockers – I totally get why – but want to support the site? You can donate. I appreciate it immensely. Click on the beer and iced-tea mug to find out how:

Would you like to be notified via email when WOLF STREET publishes a new article? Sign up here.

Many experts agree that metal roofs are a great defense against wildfires. Click here or call 1-800-543-8938 for details from our sponsor, the Classic Metal Roofing folks.
Classic Metal Roofing Systems, the leader in fire safe roofing for residential applications, manufactures products that are 1/20 the weight of most tile products and eligible for Class A, B, or C fire ratings as determined by roof preparation.