Their bone-chilling chart.
Everyone is fretting about the Canadian house price bubble and the mountain of debt it generates – from the IMF on down to the regular Canadian. Now even the Bank for International Settlement (BIS) and the Organization for Economic Co-operation and Development (OECD) warn about the risks.
Every city has its own housing market, and some aren't so hot. But in Vancouver and Toronto, all heck has broken loose in recent years.
In Vancouver, for example, even as sales volume plunged 45% in August from a year ago – under the impact of the new 15% transfer tax aimed at Chinese non-resident investors – the "benchmark" price of a detached house soared by 35.8%, of an apartment by 26.9%, and of an attached house by 31.1%. Ludicrous price increases!
In Toronto, a similar scenario has been playing out, but not quite as wildly. In both cities, the median detached house now sells for well over C$1 million. Even the Bank of Canada has warned about them, though it has lowered rates last year to inflate the housing market further – instead of raising rate sharply, which would wring some speculative heat out of the system. But no one wants to deflate a housing bubble.
During the Financial Crisis, when real estate prices in the US collapsed and returned, if only briefly, to something reflecting the old normal, Canadian home prices barely dipped before re-soaring. And this has been going on for years and years and years.
The OECD in its Interim Economic Outlook warned:
Over recent years, real house prices have been growing at a similar or higher pace than prior to the crisis in a number of countries, including Canada, the United Kingdom, and the United States. The rise in real estate prices has pushed up price-to-rent ratios to record highs in several advanced economies.
Canada stands out. Even on an inflation-adjusted basis, Canadian home prices have long ago shot through the roof. The OECD supplied this bone-chilling chart. The top line (orange) represents Canadian house price changes, adjusted for inflation: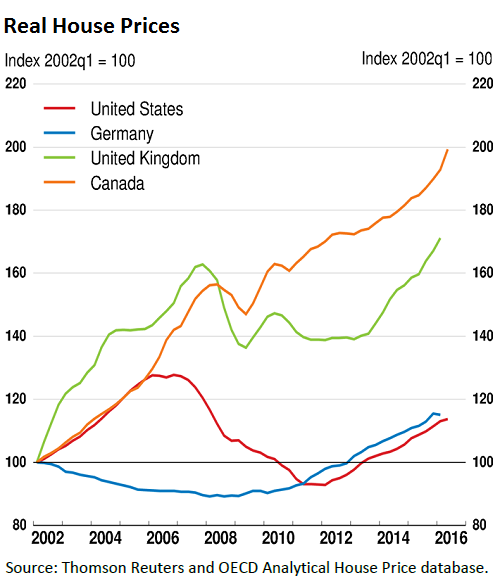 In the US, several national indices have now exceeded the crazy prices of the Housing Bubble that started blowing up in 2006. In some cities, the median price has shot way past the prior bubble highs – in San Francisco, by over 50%! But other cities have lagged behind, and the national averages paper over the local bubbles.
In Canada, real estate is more concentrated. The Canadian market is about one-tenth the size of the US market. But the two largest local markets, Toronto and Vancouver, together make up 54% of the Teranet National Bank House Price Index. So when these two local bubbles begin to deflate – or implode – they will create enormous havoc across Canada.




Real estate is highly leveraged. It's funded with debt. Many folks cite down-payment requirements in rationalizing why the Canadian market cannot implode, and why, if it does implode, it won't pose a problem for the banks. However, an entire industry has sprung up to help homebuyers get around the down-payment requirements.
So household debt has been piling up for years, driven by mortgage debt. Statistics Canada reported two weeks ago that the ratio of household debt to disposable income has jumped to another record in the second quarter, to a breath-taking 167.6%: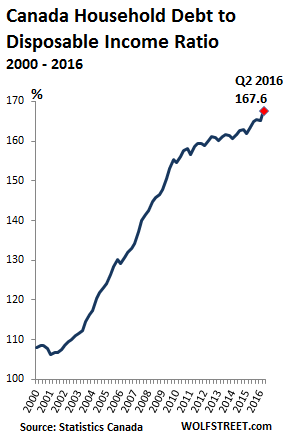 The BIS now too, in its Quarterly Review, jumped on the bandwagon of issuing ineffectual warnings about this pile of debt, fingering particularly China – and in the same breath Canada:
According to the BIS early warning indicators, which are intended to capture financial overheating and potential financial distress over medium-term horizons, credit growth continues to be unusually high relative to GDP in several Asian economies as well as in Canada.

Estimated debt service ratios, which attempt to capture principal and interest payments relative to income, appear to be at manageable levels at current interest rates for most countries, although they point to potential concerns in Brazil, Canada, China, and Turkey.
The BIS developed a metric – the "credit-to-GDP gap" – that compares current credit levels to long-term trends and serves as an early warning indicator for financial crises.
Everyone wants to know when the next financial crisis happens. It will happen, but once again, it will surprise the economic establishment because, in the eloquent words of the BIS, debts always "appear to be at manageable levels" – until suddenly, they're not.
The country with the highest credit-to-GDP gap is China (30.1), and the second highest is Canada (12.1). When it comes to debt creation, it's not a good idea to be mentioned in the same breath with China. Turkey (9.6) is next in line. Then Mexico (8.8). And Brazil (4.6). Oh, and Australia (4.4)! So housing-bubble Canada is in excellent company!
The only saving grace is the permanently near-zero-interest-rate environment. Because that's what it takes to keep this thing from deflating, according to the BIS, and even then there are "concerns." But these countries, particularly Canada, are going to be in trouble when rates rise even a little.
So have central banks painted themselves and their entire bailiwicks into a corner with their ingenious emergency policies that have been dragging on for eight years? You bet. Is there a way out? Nope. Not a good one, at least. It's just a question of when and how – and who gets to pay.
But the Fed is steadfastly blind to bubbles and their consequences. Read…  OECD Warns Fed, BOJ, ECB of Asset Bubbles, "Risks to Financial Stability," Pinpoints US Stocks & Real Estate




Enjoy reading WOLF STREET and want to support it? You can donate. I appreciate it immensely. Click on the beer and iced-tea mug to find out how:

Would you like to be notified via email when WOLF STREET publishes a new article? Sign up here.