The "augmented reality" hype died.
The first warning that not all was right came in mid-July when my wife told me that one of her co-workers who'd been going nuts during lunch playing Pokémon Go, instead of eating, had deleted the app from her smartphone.
It was just a poll with a sample size of n=1. So not highly reliable. It came while the craze was in full bloom on the streets, with people, their eyes fixed on their smartphones, walking at snail's pace down the Embarcadero, or along Columbus, or just about anywhere else in San Francisco, or anywhere in the US and other countries where the game is available.
The brouhaha in the media about the game was deafening, with incessant coverage everywhere. When two guys fell off a cliff on July 13 in Encinitas, California, and got hurt, while playing the game, it made the national news.
About a week after its launch in early July, Pokémon Go dominated Apple's App Store charts. At the time, there was speculation that the game's "daily active users" would soon outnumber those of beleaguered Twitter.
This drove the fear of God into social media platforms, such as Twitter, Facebook, WhatsApp, or Snapchat: their users were spending too much time in Pokémon Go's "augmented reality." The social media apps were getting elbowed out of the mobile "mindshare," as it is called when your mind gets carved up into slices and taken over and monetized by various companies in Silicon Valley and elsewhere.
But among the remaining 7.5 billion or so people on earth who were not into chasing mini-monsters on their smartphones, the craze caused general amusement and a good amount of head-shaking, as they were wondering just how silly mankind was getting.
Pokémon Go is a free app. But it's ultimately not free to play: in order to make progress in the game, users have to buy virtual goods within the app, while paying with hard currency. And investors were licking their chops.
The ballooning traffic caused servers to crash, which was seen as a great sign: too much success for the hardware. Just add more servers, and the future is great.
Then there was the flap about players who'd signed up by using their Google account on Apple devices: unbeknownst to them, they'd given the app "full access" to all their Google accounts, including their emails and their stuff "securely" stored in the Google "cloud."
But no problem. Practically no one among the players cared about that. And so analysts elevated the game to a whole new level. For example, Deutsche Bank's Han Joon Kim:
"Pokémon Go has gone beyond success to become a phenomenon, topping the revenue grossing charts in the three regions into which it has been launched: the U.S., Australia and New Zealand."
There were more warning signs about this "phenomenon": The crowds crawling along the Embarcadero and Columbus, eyes fixed on their smartphones, have thinned out. And suddenly, Pokémon Go has been wrapped in total media silence. It just disappeared.




And now we have hard data, of sorts, that the craze is dead: Bloomberg, citing data from Sensor Tower, SurveyMonkey, and Apptopia, pointed out that "daily active users, downloads, engagement, and time spent on the app per day are all well off their peaks and on a downward trend."
That was a euphemism. The worldwide daily active users peaked at 45 million in mid-July, just as the media hoopla also peaked, and then headed south. It has now plunged 38% to 28 million.
So the frazzled executives and investors of Snapchat, Whatsapp, Twitter et al. can breathe a collective sigh of relief.
"The declining trends should assuage investor concerns about the impact of Pokémon Go on time spent on the above named companies," writes Victor Anthony, senior analyst at Axiom Capital Management. And this ultra-short-lived craze of Pokémon Go could be a bad sign for the rest of augmented reality gaming – ballyhooed to the sky just weeks ago.
Investors playing this game have been on a ride! Shares of Nintendo, which is an investor in Niantic Inc., which developed the game, fell 1.3% in Tokyo on Tuesday, to 22,595. On July 10, in response to this craze, Nintendo shares had skyrocketed 25%, hitting the daily limit. It was the biggest gain in the shares' history, which started trading in 1983, before many Pokémon Go players were born. In two days, shares had soared 34%!
Now the hot air has been let out. Shares are now down 31% from their Pokémon Go peak, but still up 35% so far in 2016, but still down 4% from a year ago….  In this daily chart of Nintendo since February, note the surge in trading volume (bottom part of chart), and how it deflated: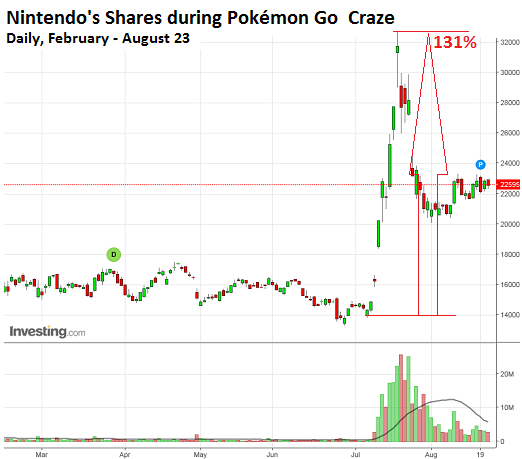 For investors, the craze amounted to this: shares soared 131% from July 6 (14,000) to July 19 (32,400 intraday), to their absolute Pokémon Go peak before the game unraveled for them. Shares have now surrendered more than half of those gains. Pokémon Go has turned a craze in which a lot of investors – not to speak of the players – have surrendered a lot of money.
In turn, folks on the street might re-surrender larger slices of their minds – the mobile "mindshare" – to be monetized by well-deserved companies in Silicon Valley and San Francisco.
"Everything feels distorted and unnatural," the head of credit strategy at Citigroup lamented. Read…  "Mother of all Shorts" when Stocks Cave to Reality?




Enjoy reading WOLF STREET and want to support it? You can donate. I appreciate it immensely. Click on the beer and iced-tea mug to find out how:

Would you like to be notified via email when WOLF STREET publishes a new article? Sign up here.