Stunning acceleration of a trend.
On the surface, it was the same lackadaisical data we've become inured to in this wondrous economy. But beneath the surface, there lurked a nightmare for the already struggling brick-and-mortar retailers.
Total retail sales in July, at $457.7 billion, remained stubbornly flat from June, and ticked up a measly 2.3% from a year ago, adjusted for seasonal variation and holiday and trading day differences, but not inflation, according to the Commerce Department.
As crummy as it was, it was propped up by sales of motor vehicles and parts, the largest category at 21% of total retail sales. They rose 1.1% for the month and 2.4% year-over-year to $93.2 billion. Auto sales have been booming. In terms of unit sales, they set an all-time record last year, funded by cheap debt and loosy-goosy underwriting standards; so comparisons this year are on top of a year that may be hard or impossible to beat for a while, with the industry already talking about a "car recession."
And here's what else propped up retail sales: Sales by "non-store retailers," which includes e-commerce, soared 14.1% from July last year to $47.7 billion, now accounting for 10.4% of total retail sales. Their share has doubled since 2002.
So retail sales without autos and without non-store retailers – an approximation for brick-and-mortar retailers other than car dealers – came in at $321 billion in July not seasonally adjusted. A year ago, they were also at $321 billion. They have not moved one iota over the past year. And they're up only 2% from two years ago.
That's not counting the impact of inflation. CPI rose about 1% over the two-year period despite the collapse of energy prices. Adjusted for CPI, these retails sales might have gone up only 1% over a two-year period.
The US population grows at a rate of about 0.8% per year currently, according to the Census Bureau. So on a per-capita basis, and adjusted for inflation, these brick-and-mortar retail sales might have actually declined over a two-year period! A grisly thought for brick-and-mortar retailers: on average, each individual consumer might already be buying less there than they used to.
That non-store retailers have been kicking butt at the expense of brick-and-mortar retailers is by now well established. The entire brick-and-mortar industry is fretting about it. Big retail chains specialized in clothing and accessories are struggling with stagnating or now declining revenues. There has been a tsunami of bankruptcies by chain retailers. Mall owners are starting to worry about incessant store closings, including the 141 Macy's stores; they're beginning to bite. Eventually, the brick-and-mortar retail debacle will hit mall REITs and commercial mortgage-backed securities.
This has been a slow-motion development that had been denied for its first decade or so, as malls were considered something American consumers could not possibly live without.
And then, as online shopping picked up momentum, brick-and-mortar retailers belatedly tried to gravitate that way too, with only mitigated success. And now, stagnation, at best, has set in for them.
This chart shows retail sales minus non-store sales (blue line) and retail sales minus auto sales and minus non-store sales (black line). Note the circled phase of stagnation. At the bottom, non-store retail sales (red line). At 10.4% of total retail sales, no one is denying their impact on brick-and-mortar anymore: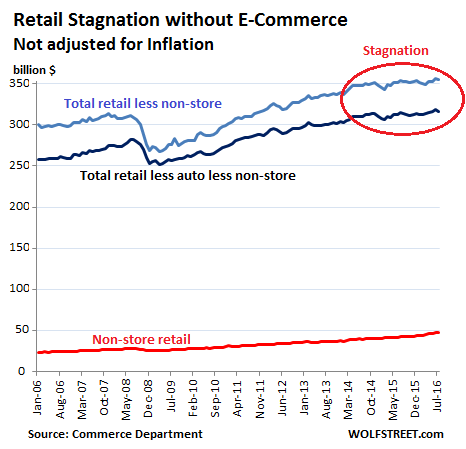 What the chart above doesn't show is just how rapidly non-store sales have been shooting up from a very small base. The chart below shows the share of non-store sales as percent of total retail sales (red line, left) and in dollars (blue line, right). This is where non-store sales are turning into a nightmare for brick-and-mortar retailers: note how both the dollar sales and the percent share of total retail have soared since late last year – a stunning acceleration of a trend: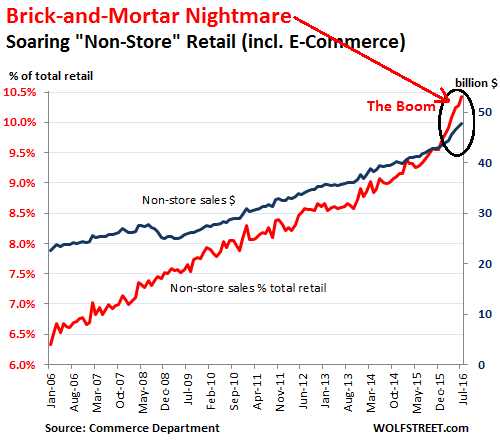 "Declining relevance of brick and mortar stores," is what Krishen Rangasamy, Senior Economist at Economics and Strategy, National Bank of Canada, called this. He did some additional math about the phenomenon and concluded:
[T]he second quarter took that outperformance to a whole new level, with a record 23% annualized jump for real non-store retail sales. That explains why US goods consumption growth was so strong last quarter.
As Millennials, who are big online buyers, are moving in larger numbers into the workforce and advancing on the income and purchasing ladder, the acceleration of that trend toward online sales that we are suddenly seeing is likely to continue. Any forecasts of a leveling off of the share of online sales – and the chunk they're eating out of brick-and-mortar retailers – will likely have to be revised. For mall-based retailers, this is going to get uglier even faster than imagined or feared.
As retailers like Macy's are losing their footing, they try to paper over it artfully, and stock market jockeys feed on it. Macy's sales dropped 4% in the second quarter from a year ago. Net income plummeted 95%. It had already closed 41 stores last year. Now it's going to close another 100. And  yet. Read… Profits Plunge, Sales Drop at Macy's. Slashes Jobs, Closes Stores. Stock Jumps 18%
Enjoy reading WOLF STREET and want to support it? You can donate. I appreciate it immensely. Click on the beer and iced-tea mug to find out how:

Would you like to be notified via email when WOLF STREET publishes a new article? Sign up here.