Soaring rents have hit the wall of reality.
This is how it is happening in Miami: A heroic building boom in Greater Downtown has created a phenomenal condo glut just when federal regulators decided earlier this year to track down money laundering in the real estate sector. It coincided with Brazil and Venezuela – Miami's largest feeder markets – falling into political turmoil and economic chaos respectively. The "strong" dollar doesn't help. And buyers from abroad have become scarce.
No one was prepared for this. The slowdown started a year ago when the resale inventory began to balloon. According to a new report by Integra Realty Resources for the Miami Downtown Development Authority, in May listings soared 58% from two years ago, to about 3,000 units, while monthly sales plunged 43%.
And new supply keeps on coming: In the second quarter, nearly 7,500 condos were under construction, with another 1,550 being marketed for sale.
So resale prices for condos built after 2001 have fallen for the first time in five years, down 4% over the first six months of the year, according to the report. Older buildings experienced steeper haircuts.
Many of these condos were bought by investors who're trying to rent them out, thus pushing them into the rental market.
Alas, an additional 5,500 rental units are under construction in Greater Downtown. To top it off, with condos in trouble, larger projects are now switching to a "rental format" that will add even more supply to the rental market. Now everyone is praying for a throng of buy-phobic Millennials with big paychecks to come along and rent these units.
The impact of this glut ois already visible. After surging 10% a year ago, rents have "leveled off," according to the report, still rising a smidgen for efficiencies and one-bedrooms, but stable or falling for other unit types. And this is just the beginning.
"The current direction of rents suggests that the rental market is going to favor the tenant for the balance of 2017," the report said, while trying to keep an optimistic tone.
A similar scenario is playing out in other "primary markets," such as New Your City, San Francisco, San Jose, and Houston, but all with different dynamics, according to AXIOMetrics' new report on rents. In fact, rent declines in those key markets "drove down" the national averages.
In July, the national annual effective rent rose "only" 3.1% from a year ago, which is still a big increase for stagnant wages. But it was the lowest increase since February 2014. And down from a 5.2% year-over-year increase in July 2015. Rent growth has now fallen for nine of the last 10 months (chart via AXIOMetrics):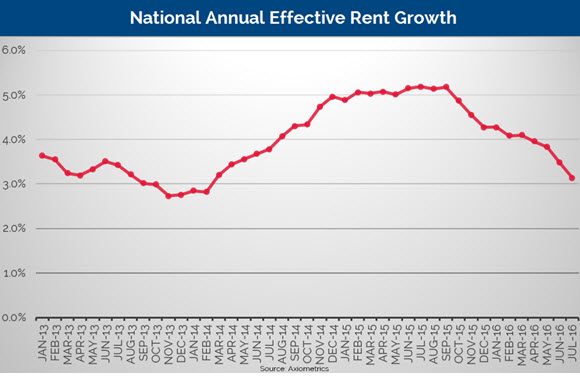 The report:
A separation is beginning to take place among large markets that are experiencing weak performance and smaller markets still showing robust strength. Some 20 markets among Axiometrics' top 50 metros, based on number of units, recorded rent growth of 4.0% or higher in July. The issue is that none of them are what are commonly referred to as "primary markets," such as New York, San Francisco, and Los Angeles.

Markets referred to as "tertiary," such as Sacramento, Riverside, Salt Lake City, Las Vegas, and Nashville, make up the bulk of the top-markets list.

Meanwhile, some primary markets went negative, as the combined effects of slowing job growth and increased supply took their toll.
And among the primary markets with dropping annual effective rents, the report singled out these:
Houston: -2.2%, "the fourth straight month the metro was below zero."
New York City: -0.2%, "the first time it was in negative territory since January 2014."
San Francisco: -0.7%, "the first time the market was negative since April 2010."
In San Francisco, where exorbitant rents have combined into a syndrome called "the Housing Crisis," the apartment glut is taking on peculiar flavors.
On Zillow, there are 1,149 apartments listed as available for rent. Note the dots that say "9+." They represent bigger buildings, some of them with dozens of vacant rental units. Zillow just shows 500 homes in that image. If all 1,149 were shown, some areas would be a solid purple color: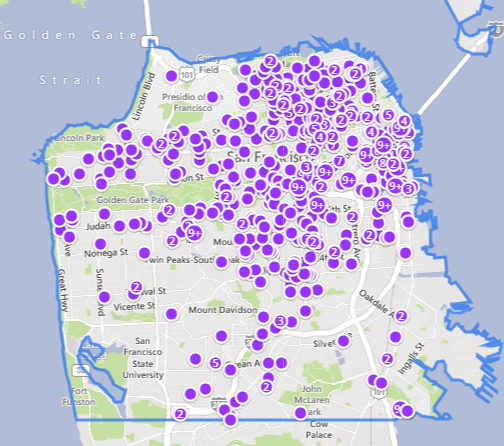 The listings on Craigslist maxed out its gauge at 2,500 apartments for rent. Trulia lists 1,750 apartments for rent.
Apartments.com lists 3,094 apartments for rent. That's up 34% from the 2,302 apartments that it listed in June. The densest clusters of units in both charts are in areas where the high-rise construction boom is most obvious when you walk down the street: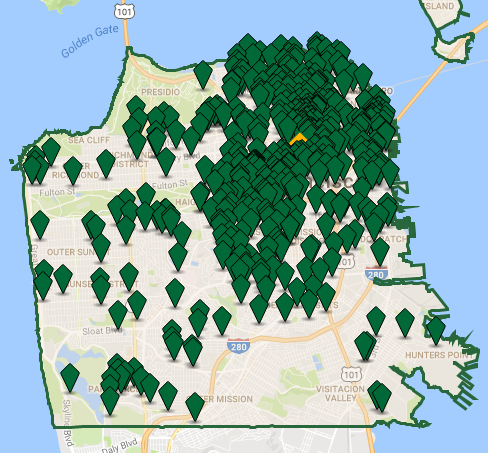 Real estate is local, and every market has its own unique set of dynamics. Houston is getting ravaged by the oil bust. New York and San Francisco have seen historic building booms of both condos and apartments, like Miami's building boom, and now the growth in employment is sagging, and foreign investors are staying away, and many units sit empty.
Big move-in incentives have appeared, even in San Francisco, where there hadn't been any for years. In some buildings, it's one month free rent. In other buildings, it's something else. For example, at the SoMa Square Apartments, which has all kinds of vacancies up and down the building, the move-in incentive is a "$1,500 gift card special":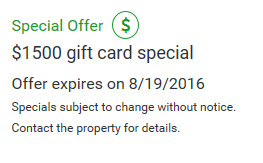 This real estate cycle took years to get to this extravagant level, supported by central bank policies around the globe that flooded the lands with nearly free money and repressed yields. But it has now run into reality: people don't have to live in stocks and bonds, and there is no theoretical limit to the silliness; but people do live in dwellings, and when not enough people can afford these dwellings, just when a flood of these dwellings show up on the market, well then, the boom is going to unwind, perhaps messily, but it will take years, and this is just a feeble beginning.
Manhattan and Miami are already get mauled by it. Now it's expanding to San Francisco, Silicon Valley, Southern California, and Texas even! Read… US Government Mucks up Money-Laundering in Real Estate, Puts Luxury Housing Bubbles at Risk
Enjoy reading WOLF STREET and want to support it? You can donate. I appreciate it immensely. Click on the beer and iced-tea mug to find out how:

Would you like to be notified via email when WOLF STREET publishes a new article? Sign up here.