Record moneys suddenly pile into the material of debt crises.
The Institute of International Finance opined last week that "the 'low for long' interest rate outlook now looks more like 'low forever' – an outcome that has unleashed a powerful renewed search for yield."
They're all doing it.
Japanese investors, such as pension funds and insurance companies, are swarming into US Treasuries now more than ever.
According to the Ministry of Finance, for the week ended July 16, Japanese investors bought a net ¥1.718 trillion ($16.2 billion) of foreign "long-term" debt (everything except "short-term" debt). The week before, they'd bought a net ¥2.55 trillion, the highest on record. And according to the MOF, they were mostly buying US Treasuries.
For them it makes sense: the 10-year punishment yield of the Japanese Government Bond is a negative -0.22%. But the 10-year Treasury yield is still a positive 1.57%. And with the Bank of Japan being outspoken about wanting to crush the yen, the hapless Japanese have even more reason to seek refuge in US paper. We can't blame them.
Europeans are doing the same thing, buying US Treasuries, but also US corporate bonds, and even US junk bonds.
"NIRP refugees" we've come to call them. They're trying to escape their central bank's iron-fisted financial repression where bond buyers are guaranteed to lose money if they hold bonds to maturity, which many institutional investors need to do – such as pension funds and insurance companies. It impacts everyone since they're managing the money of regular folks.
Over $12 trillion of bonds are trading with punishment yields these days. So investors are chasing positive yield where they can, thereby transferring the effects of central-bank policies from their bailiwicks to the US, and in turn pushing down yields in the US.
But where do American investors go to chase yield, now that Treasury yields are disappearing before their very eyes?
Junk bonds. And they have soared, and yields have plunged over the past few months.
And dividend stocks. Even classic bond buyers are switching to stocks that pay a dividend, to get a little extra yield. But companies can eliminate dividends in no time, and the yield goes to zero while the stock dives. A bond would be in default if the issuer were to stop paying the coupon. By that time, bankruptcy lawyers are circling. But cutting a dividend is routinely done during market downturns, and yield investors who switched from bonds to dividend stocks have a rude awakening.




And now everyone has rediscovered another source of yield. The Financial Times, about what happened over the past two weeks:
Investors are piling into emerging market bond funds at the fastest pace on record as pension funds, sovereign wealth funds, and other big institutions follow more seasoned specialists into riskier asset classes in search of yield.
"This is capitulation," Sergio Trigo Paz, head of EM fixed income portfolio management at BlackRock, told the Financial Times. "The big, big investors are starting to move."
More comprehensive data from the Institute of International Finance show that last week, cross-border flows to EM stocks and bonds hit their highest level since the US Federal Reserve shocked markets by pulling back from a rise in interest rates in September 2013.
The governments of these emerging markets have obliged, issuing, according to Dealogic, nearly $100 billion in foreign-currency-denominated bonds so far this year, the most on record and well ahead of the prior record for this time of the year, of €80 billion in 2014.
Foreign-currency denominated EM bonds are the material that debt crises are made of, including the 1994 Tequila Crisis in Mexico, the 1997 Asian Financial Crisis, which then triggered the Samba Effect in Brazil and the 1998 Russian Financial Crisis, followed by Argentina's default…. But people forget.
Foreign-currency denominated EM bonds are devilishly risky, for issuers and investors. Why do governments issue them? Because these bonds are much cheaper than bonds in their own wobbly currencies. Why do investors buy them? Because they're chasing yield, a tiny bit of extra yield, in exchange for a lot of extra risk. It's a match made in heaven.
And now they're hotter than ever.
"Especially eye-catching are recent flows into exchange traded funds," the Financial Times explained. So far this year, $8.3 billion have been shuffled into EM bond ETFs, "more than two and a half times the amount at the same time last year." In just the first two weeks of July, BlackRock's EM bond ETFs pulled in $1.5 billion!
"An individual investor might not realize it – but by buying these funds, he's risking his life's earnings on the governments of Brazil and Russia, among others," wrote Steve Sjuggerud, at Daily Wealth:
The benefit is dubious. The largest emerging market bond ETF pays less than 5% interest. Five percent! Meanwhile, the price of this ETF could easily fall 5% in less than a week – wiping out a whole year's worth of interest.
He added this chart of the largest EM bond ETF, the iShares JPMorgan USD Emerging Markets Bond Fund (EMB), whose shares outstanding have skyrocketed as investors chased after EM-bond bliss by buying its shares: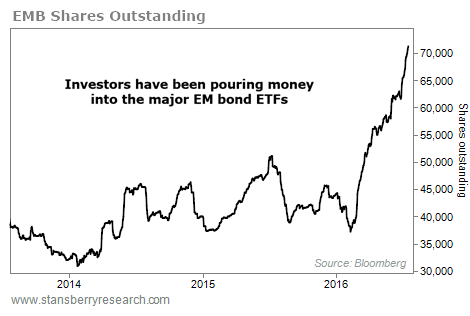 These kinds of exponential spikes cannot go on. They will end. And they will reverse. When funds begin flowing out of emerging markets, as the risks become apparent once again, that's when crisis-talk suddenly graces the headlines, while the IMF begins circling these countries.
And investors who chased yield this far and got in late, especially in bond mutual funds and ETFs, are going to pay the price. Chasing yield, especially late in the game, is one of the more costly forms of excitement.
In the US, many companies are buckling under their debts in an environment of slack demand and declining sales, as the noose tightens one by one. Read…  US Credit Conditions Drop to Worst Level since Q3 2009, Markets Soar




Enjoy reading WOLF STREET and want to support it? You can donate. I appreciate it immensely. Click on the beer and iced-tea mug to find out how:

Would you like to be notified via email when WOLF STREET publishes a new article? Sign up here.