"The only word to describe the Dallas housing market is 'frenzy.'"
At Houston auto dealers, new vehicle sales in June plunged 22% from a year ago, with new truck sales down 18% and new car sales down 29%, according to TexAuto Facts via Greater Houston Partnership. It's not a blip: Year-to-date new vehicles sales dropped 19%, with trucks down 13% and cars down 27%.
Those are scary numbers for car dealers. They're highly leveraged, and a sudden, prolonged plunge like this is causing a lot of gnashing of teeth.
Houston's total retail sales, including auto sales, dropped 9.8% in June and 10.3% year-to-date.
The Houston Purchasing Managers Index for June plunged 6.4% from the already crummy level a year ago, to 43.7. Below 50 = contraction.
In the construction sector, total building contracts plunged 32% in May and 23% for the first five months. Nonresidential contracts plummeted 55% in May and 23% for the first five months. Residential contracts fell 10% in May and 22% for the first five months.
Homes sales – still hanging on by the skin of their teeth – inched down 0.9% in June, according to Multiple Listing Services (MLS). The median price inched up 2.5%. But active listings jumped 14%, and pressures are building.
The office space sector is in serious trouble, as we reported Friday… It Starts: First Mega-Foreclosure Hits Houston Office Market
Employment in the Houston-Sugar Land-Baytown area edged up in June by 0.2% from a year ago. Service sector employment rose 1.5% to 2,465,100. But in the goods-producing sector, which includes oil and gas, employment fell 5.7% to 533,600. The unemployment rate rose to 5.5%.
Foreign trade, which includes oil and petrochemicals, plunged 27% in May from a year ago, and 27% over the five months, with exports down 21% and imports down 34%.
The Port of Houston reported that shipments, measured in short tons, dropped 14% in May from a year ago, and were down 11% year-to-date.
Airfreight into and out of Houston plunged 22% in May and 19% year-to-date.
These are not exactly the data points of a raging boom town but the profile of an economy broadsided by the Great American Oil Bust.
But Houston isn't Texas. While some smaller cities are getting hit hard too, others are not. And Dallas – more generally North Texas – is booming, still, with housing going decidedly nuts. D Magazine, which covers the Dallas area, offers this cover on its latest issue: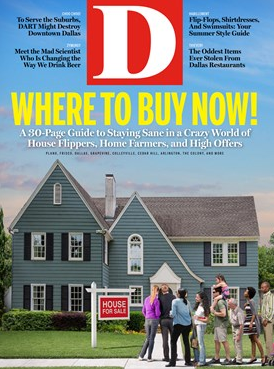 And this cover story: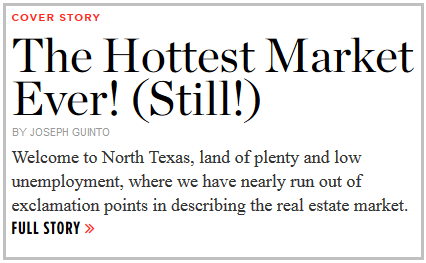 The article starts out nicely tongue in cheek:
Great news, everybody. The white-hot Dallas-area real estate market is even hotter than ever. Again!
David in Texas explained the phenomenon in an email:
"From what I saw driving around last week, the only word to describe the Dallas-Fort Worth real estate market now is 'frenzy.'"
David mentioned some of the companies that are moving to North Texas, including Toyota, which is transferring its North American headquarters to West Plano. And puzzled:
This would drive demand in certain locations but doesn't really explain the area-wide mania for real estate. In the nicer, older parts of town, cottages are being scrapped and gigantic McMansions put up just as fast as contractors can assemble equipment and workers.

I have no idea what will bring it all crashing down. The oil bust has had zero impact on all this (even in nicer parts of Fort Worth, which is a lot closer to the Barnett Shale). So, I suppose the only thing to do is to scrape together a 3% down payment, take on as much debt as I possibly can, and buy the most expensive house I can, now, before being priced out forever.

OK, I'm going insane. But that strategy has worked for a lot of folks in Dallas lately, who now think that real estate is the only sure way to make money. I spent all weekend hearing this, and being chided for conservatism.
So the Dallas Fed struggles to stitch these disparate economic patches into some sort of coherent image for Texas in its latest Dallas Beige Book. The word "mixed" – not an ironclad compliment in Fed-speak – showed up repeatedly. Some tidbits:
Labor Market:
Employment levels declined in the manufacturing sector, and energy service firms continued to trim payrolls. Retail employment was flat, with scattered reports of hiring. Reports of hiring were more prevalent across the service sector….
Note: the official unemployment rate in Texas rose to 4.8% (from 4.2% a year earlier).
Manufacturing:
The manufacturing sector contracted over the reporting period, with contacts citing headwinds from uncertainty in global markets, slow global growth, and low oil prices.

Construction-related manufacturers saw stable demand, with a few contacts noting dips in activity due to recent rains. Dallas continued to outperform other large Texas metros, while construction backlogs in Houston were drying up.

New orders declined in food, machinery, primary metals, and transportation equipment manufacturing, and there was little to no growth in high-tech manufacturing. Overall demand for fabricated metals fell over the reporting period but a few manufacturers noted an uptick in bookings.
Retail Sales:
Softness was attributed to sluggish sales along the Texas/Mexico border, slow economic growth in Texas, and continued conservative spending on apparel…. Sales this year are expected to be below 2015 levels….

Auto sales held steady and were in line with year-ago levels.
Nonfinancial Services:
Overall demand for nonfinancial services expanded over the past six weeks.
While a number of sub-sectors in nonfinancial services increased their employment….
Demand for engineers softened and there were layoffs in the steel industry. The Dallas area continued to be the strongest market.

Legal sector activity grew at a slower rate as litigation work was largely mixed, but transactions work increased. Energy-related legal work ticked upward due to higher demand for bankruptcy and corporate restructuring.

Chemical plant expansion along the Gulf Coast boosted truck cargo volumes, while declines in courier and air cargo were reported. Overall rail cargo dipped as well; however, grain shipments rose strongly…. Airline passenger demand was … slightly lower than a year ago.
Construction and Real Estate:
Home sales rose during the reporting period. Sales continued to be characterized as good in Austin and Dallas-Fort Worth, and steady to down in Houston. Sales of entry-level and first-move-up homes continued to be strong, while a few contacts noted weakness at the very high end of the market.

Homebuilding was active, although some delays were reported due to recent rains. Builders in Houston were contracting for fewer lots and there was some softness in lot pricing in Houston.

Overall, apartment demand was strong. Rent growth was brisk in Austin and Dallas-Fort Worth and steady in San Antonio. Multifamily construction ramped up in Dallas-Fort Worth. In Houston, new apartment deliveries were putting pressure on rents and one contact noted negative rent growth.
Oh my, negative rent growth!
Demand for office space was healthy in Dallas-Fort Worth, but dampened further in Houston where sublease space continued to spike, putting pressure on office rents.
Financial Services:
Loan growth softened over the past six weeks. Commercial and industrial loan growth fell, and commercial real estate loan growth appears to have finally plateaued. Residential lending continued to expand at an anemic rate, excluding refinancing and home equity loans. Consumer loan growth remained steady, particularly due to strong auto lending.

Contacts cited heightened uncertainty in their outlooks following the Brexit vote, and were more pessimistic than in the previous reporting period.
Energy:
Demand for oilfield services remained depressed even as overall business activity improved and the rig count ticked up over the reporting period. Defaults, bankruptcies and mergers and acquisitions continued to climb.

Firms were increasingly confident that oil prices have found a bottom and that market fundamentals will tighten in the second half of the year. However, firms would like to see these higher prices for a while longer before making any changes to existing business plans. Contacts say the worst is likely over, but there is little hope for substantial growth in activity or employment before 2017.
This is why the word "mixed" keeps showing up in the Beige Book. The large, diversified Texas economy – second largest in the US behind California – is feeling the crushing pain from the oil bust in some areas. And more generally, it's feeling the duller pain from the global slowdown. But the housing boom in North Texas – the "area-wide mania," as David calls it – and in other cities soothes some of these wounds. Housing booms are great panaceas, while they last.
But Houston, at the epicenter of the Great American Oil Bust, has had a nasty quarter. Read…  It Starts: First Mega-Foreclosure Hits Houston Office Market




Enjoy reading WOLF STREET and want to support it? You can donate. I appreciate it immensely. Click on the beer and iced-tea mug to find out how:

Would you like to be notified via email when WOLF STREET publishes a new article? Sign up here.