Years of painfully slow growth slashed in one fell swoop!
Something funny happened when I didn't look: the global trade numbers were adjusted down. By a lot. The post-Financial Crisis recovery in trade is suddenly a heck of a lot less vibrant than it looked. And it has completely stalled out over the past two years.
The CPB Netherlands Bureau for Economic Policy Analysis, a division of the Ministry of Economic Affairs, just released its Merchandise World Trade Monitor for May. It was, in its own right, not very uplifting.
World trade volume shrank 0.4% in May, after shrinking 0.3% in April. The index fell to 133.0, the lowest level since May 2015. It's back where it had first been in September 2014.
But wait…. Last time we wrote about the World Trade Monitor (WTM) was July a year ago. We've kept our eyes on it because it is a valuable and unique tool in trying to gauge global trade. So this time, something jarred us, and we went back to look at the data from a year ago: the entire data series going back to Adam and Eve has been adjusted downward, with the most significant adjustments kicking in after the Financial Crisis.
Turns out, the recovery of global trade was a lot weaker than the original data had indicated. Today's WTM level of 133 is where it had first been under the old data in October 2013! Two-and-a-half years of painfully slow growth wiped out in one fell swoop!
So we did something vile. We overlaid the old data and the adjusted data, for all to see. This chart includes the old data released as of July 2015 (blue line) and the new adjusted data released today (red line):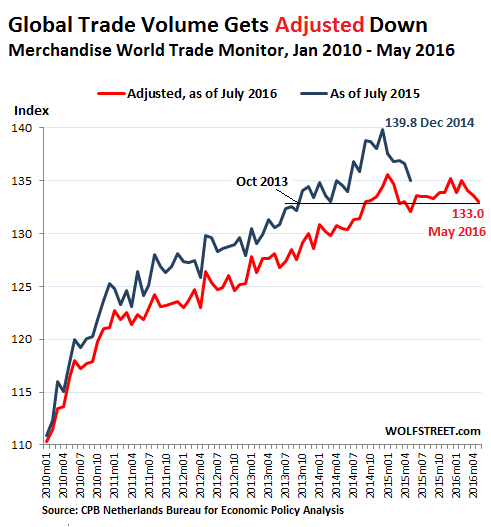 Note the 5% drop from the trade peak in December 2014 (original data) and May 2016!
Trade volume was adjusted down every month by 2% to 3% in recent years, in a world where economic growth is stuck at only 3.1% in 2016, according to the IMF. And that includes the glorious GDP numbers from China that no one believes. So a 2% or 3% reduction in global trade numbers is worrisome. Does it mean that global GDP was also significantly overstated? We don't know, but we don't exclude the possibility.




Aggregating economic data from all over the world is a devilishly difficult task. No one actually sits there and tracks trade volume by land, sea, and air. The CPB accomplishes that by collecting data that has been published by a number of countries in very disparate forms, such as on exports, imports, and production. It harmonizes the data (converting it into US dollars, for example) to create a global image out of this patchwork. Kudos for even trying!!!
At the country level, these data series get revised all the time. For example, a couple of months ago, the Commerce Department revised downward the wholesales data going back many years, which we reported, astonished by the magnitude of the revisions [Why this Economy Feels Even Crummier than the Data].
So the world trade numbers are a lot worse than they looked before, but now they reflect more closely what we're seeing elsewhere, including how the slowdown in global trade is dragging down the US freight sector.
Freight shipments by truck and rail in the US, excluding commodities, fell 4.3% in June from a year ago, and 7.6% from June 2014, according to the Cass Freight Index. It was the worst June since 2010. And not just a blip: shipment volume over the first half was also the worst since 2010.
The Index does not cover bulk commodities, such as beaten down coal, but is focused on consumer packaged goods, food, automotive, chemical, OEM, heavy equipment, and retail. Since it's not seasonally adjusted, it shows strong seasonal patterns. In the chart below, the red line with black markers represents 2016. The colorful spaghetti above it represents the years 2011 through 2015: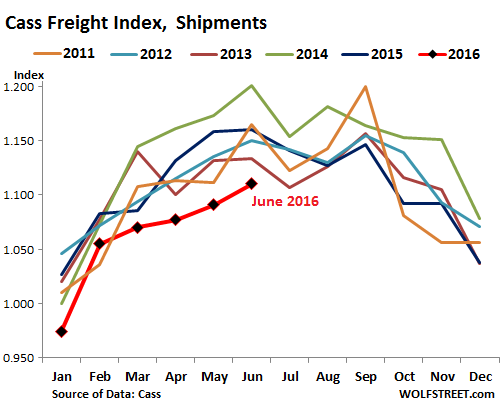 In her report, Rosalyn Wilson at Cass Transportation blamed global trade right out the gate:
For the first five months of 2016, US exports were down 6.9% compared to 2015, while imports were down 5.2% for the same period. These obviously had put a damper on freight performance.
And she concluded with these observations:
The first half of the year's economic performance has been perplexing. Consumer spending has been growing, although the effect on freight is small as most of this increase has been in the service sector (which hired 256,000 new workers in June). Inventories are mostly unchanged at uncomfortably high levels, but the inventory-to-sales ratio fell in April for the first time in over a year. Exports and imports are down, residential and commercial construction has been slowing, and consumer spending on goods is weak….
There's another aspect to this "perplexing" economy: Pharmaceutical products are the single largest category in US wholesales, and thus in the goods-producing sector. In dollar terms, they account for over 12% of total wholesales. They're even bigger than groceries. Year-over-year sales have soared 10%, in a sluggish economy, not because of volume increases, but because of price increases.
Yet, drugs are small and expensive, and shipping volume is relatively small. Since much of the wholesale increase came from price increases, shipping volume has been minimally impacted.
But without these soaring drug sales, the remainder of the goods-producing economy ("ex-drugs") at the wholesale level has been heading south for over two years, including in May. This is reflected in the crummy US transportation data over much of last year and so far this year. The growth in drug sales due to price increases covers up part of the weakness in the goods-producing sector "ex-drugs." But the freight data, where drugs play a smaller role, bring the weakness of the goods-producing sector "ex-drugs" to the foreground.
So the massive multi-year downward adjustment of global trade volume brings it more in line with what's happening in the freight sector in the US – and in many other countries.
What's holding American consumers back? For them, asset bubbles just aren't helpful. On the contrary. Read…  Americans' Economic Gloom Festers as Stocks Hit New High: Gallup Stumped




Enjoy reading WOLF STREET and want to support it? You can donate. I appreciate it immensely. Click on the beer and iced-tea mug to find out how:

Would you like to be notified via email when WOLF STREET publishes a new article? Sign up here.