Forget the Recovery and "Rebalancing" Hype.
Deal makers in the oil patch of the US and Canada are smelling the fees, and they're firing up the machinery. In the first half of the year, there were 52 pending and completed acquisitions of oil & gas exploration & production companies valued at $100 million or more, for a total of $30 billion, Fitch Ratings reported today:
The rise in transaction volume seems to be largely due to the improvement in hydrocarbon prices, including the tightening of bid/ask spreads, and access to capital markets.
The global oil market is "rebalancing" with production falling and demand rising, the meme goes. In anticipation, prices have bounced off the lows in February, with WTI soaring from $26.19 a barrel to $51.23 by June 8. So this would be the great oil price recovery.
At the moment, WTI trades at $45.33 a barrel. Just taking a breath?
On June 1, we wrote, "We have not been true believers in the recent oil rally. And we still aren't." That's our story, and we're sticking to it. Why? Because the world has crude oil and gasoline coming out of its ears.
The International Energy Agency reported on Wednesday that crude oil stored on tankers at sea "continued to build" and reached 95 million barrels at the end of June, "the highest level since 2009."
In 2009, traders held oil for later delivery as prices at the time made this profitable. Not this time: "Today it is driven by logistical and marketing issues," the IEA said. In other words, not enough demand and no place to go.
For example, according to Bloomberg:
Nine tankers holding about 9 million barrels of the major North Sea crude grades are floating off the U.K.'s coast, up from 7 million in May, according to a survey of oil traders and ship-tracking data compiled by Bloomberg.

Most of the cargoes floating idle in the North Sea have yet to find buyers and will probably remain where they are for some time because of subdued demand in Europe, according to three traders who asked not to be identified. The cargo in place longest, carried in a supertanker anchored off the east coast of England named Maran Thetis, has been on the water since April 23.
And this isn't a profitable trade:
Ian Taylor, the chief executive officer of Vitol Group, the biggest independent oil trader, said in a Bloomberg television interview last week that the contango – the premium paid on future oil deliveries over current supplies – isn't wide enough to make stockpiling at sea profitable. Any use of ships for storage now is probably out of necessity amid unloading delays at some ports, he said.
Global crude oil stocks on land are also soaring. The IEA reported that inventories in OECD countries rose by 13.5 million barrels in May to "a record 3,074 mb."




In the US, crude oil stocks, refuse to come back in line, now even during driving season. For the week ending July 8, according to the US EIA, stocks were 60.4 million barrels above the already sky-high levels of last year. On this chart, note the normal five year range to the left (grey area) and how stocks soared above that in 2015, and how this year (right half of the blue line), the glut is even worse: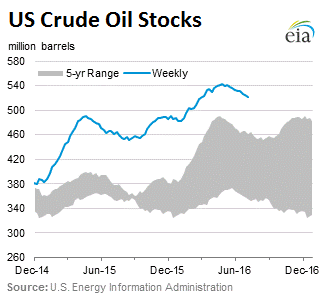 Gasoline stocks are also rising and forming their own glut. Down the road, so to speak, refiners will cut their inputs of crude oil – already happening in some cases – putting further pressure on the crude oil glut: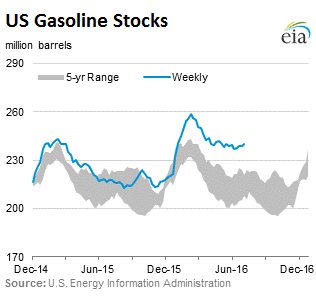 These stunningly high stocks of gasoline aren't just a US problem. The IEA pointed out that global stocks of refined products, such as gasoline and diesel, are "at such elevated levels, especially for products for which demand growth is slackening, that they remain a major dampener on oil prices."
Turns out, global refinery runs in the first quarter were 60% above demand for refined products. Hence the buildup of refined product inventories. This shifted excess inventory from crude oil to refined products. The IEA expects refinery runs to fall in the second quarter, but surge again in the third quarter.
And according to the IEA, "there is a risk that, unless demand turns out to be stronger than we currently anticipate, products stocks could rise still further and threaten the whole price structure."
And that would include crude oil prices.
OPEC crude oil production hit an eight-year high in June of 33.21 million barrels per day, as Gabon rejoined OPEC, Nigeria "partially recovered from rebel attacks," and "Middle East producers sustained record levels, building market share," with Saudi Arabia ramping up to "a near-record rate of 10.45 mb/d."
The increase in production by OPEC was only "partially offset" by a decrease in production by non-OPEC producers. And thus, global oil supplies in June rose by 0.6 mb/d to 96 mb/d.
To add another wrinkle, now there are signs that shale oil producers in the US are once again ramping up production, as prices have moved into the $50-range. Even funding in form of junk bonds and loans is starting to flow again, if tentatively.
Junk bonds, trading like stocks since February – including energy junk bonds – have skyrocketed and yields have plunged. But that doesn't mean the bloodletting is over. Read…  Great American Oil Bust Rages on; Defaults, Bankruptcies Soar




Enjoy reading WOLF STREET and want to support it? You can donate. I appreciate it immensely. Click on the beer and iced-tea mug to find out how:

Would you like to be notified via email when WOLF STREET publishes a new article? Sign up here.