Here's what's happening in my neighborhood.
By Angela Johnson, Vancouver, Canada:
June was another banner month – in a long series of banners months – for housing in Vancouver, with the most sales for any June on record. The MLS Home Price Index benchmark price for all residential properties in the Metro Vancouver market soared 32.1% year-over-year to C$917,800, the Real Estate Board of Greater Vancouver reported today. The benchmark price for apartments jumped 25.3% to C$501,100. The benchmark price for detached houses skyrocketed 38.7% to C$1.56 million.
Another day, another real estate-related headline. Whether chronicling the outcry of frustration and angst felt by locals left out of the Vancouver house-trading frenzy or the shenanigans of unscrupulous realtors, the housing issue is constantly at the forefront.
From shadow-flipping, unoccupied homes acting as bolt holes or safes for ill gotten cash, to unpopular land-assembly deals, we hear opinions, anecdotes, and reports on every side. If you can forget about housing, or if you're lucky or smart enough to join the ranks of euphoric profit-takers, Vancouver is a very enjoyable place. But you're not likely to forget about housing without blinders on or without a sustained effort.
Every other day, our mailbox holds a flyer or two, like these. Note the hundreds, not tens, of thousands of dollars over asking price. Also "Sold in x days" where x is less than 7: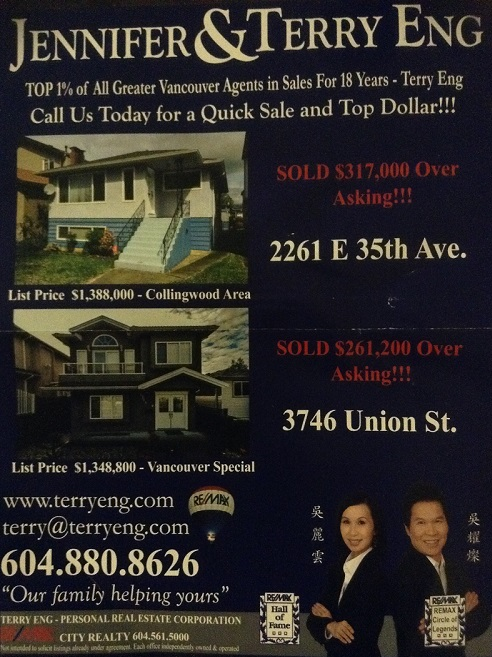 Priced out renters may find the tag line in the ad above ironic.
More irony in the ad below. This company has only existed for 6 months. What does it mean when they say their active listings have a high return? Is something lost in translation. Or is everyone expected to flip these properties? Also note at the top the line, "Immigrant Service by licensed elite teams," addressed to Chinese buyers: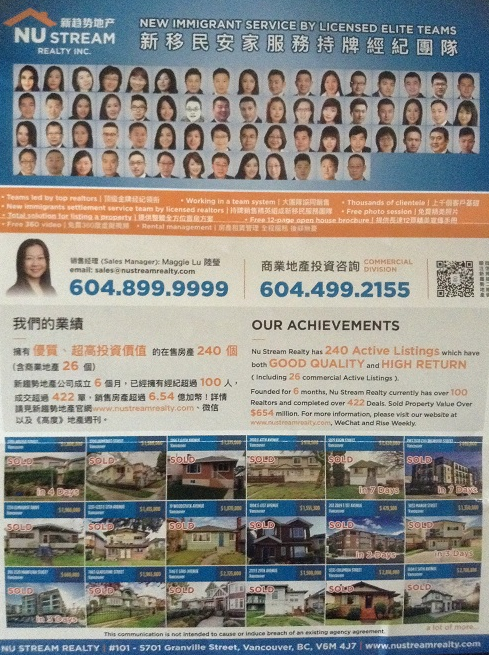 And here's another one from my mailbox…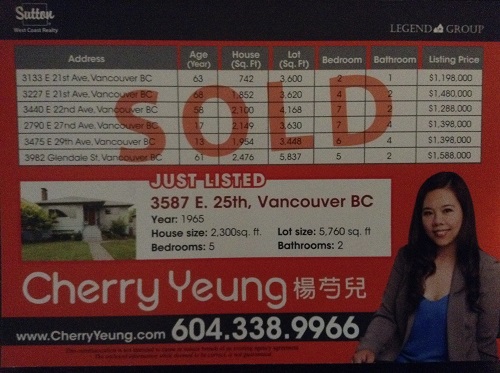 In the current real estate landscape, offering without conditions is the modus operandi. Bidding wars are the norm. Home inspections take time and that's a luxury buyers don't have. Until curtailed by the province just this week, realtors enjoyed dual agency, acting for both buyer and seller in this game. Shadow flipping was also addressed. And Mayor Gregor Robertson "will aggressively advocate" for measures he believes will "help create a level playing field in the Vancouver housing market."




Are these recent developments on the scene more than lip service by the powers that be who profit from the status quo? We'll find out.
When Will Dunning of Mortgage Professionals Canada was asked, his unequivocal reply was that "housing bubbles do not exist in Canada".  (This calls Upton Sinclair to mind: "It is difficult to get a man to understand something, when his salary depends on his not understanding it.")
"There's no evidence of housing bubble," says the report from the Mortgage Professionals. "Price growth in Canada, even in Vancouver and Toronto, is still consistent with the economic fundamental of interest rates and affordability."
Housing bears enjoyed snark and sarcasm at "Vancouver Price Drop" blog until it was abandoned two years ago. In 2016, bears are in hibernation, and a blog titled "Vancouver Price Jump" seems more appropriate. According to the Real Estate Board, the average price of a single-family detached home in the Greater Vancouver area has increased as much in the past five months as it did from 1981 to 2005.
Let's get personal now. My own East side neighborhood was settled last century largely by a stream of Italian, Greek, Vietnamese, and Hong Kong immigrants, who now are mostly of retirement age and keep busy with bocce ball games or mornings of mah jong. While not stunningly beautiful like many West side areas, Hastings-Sunrise is a pleasant place to be. A typical resident on my street is in his late seventies, an Italian retired from a blue collar job. He purchased his family home in the late 1960s for around C$20,000.
Consider this 2016 RE sample, on 2816 East 4th:
In early April, 2816 East 4th Ave. fetched C$1.168 million. This "Vancouver Special" (a ubiquitous type of house) was built last year and boasts seven bedrooms and four bathrooms, with a gorgeous mountain view. Oh, and the springtime cherry blossoms on this street are very appealing. In case you missed it, seven bedrooms means a main three bedroom suite with two mortgage-helper suites for you to act as part-time landlord.
Fast forward three months to today, and this gem on 1515 Renfrew St. is ripe for tearing down. It is only a few blocks away from the above Vancouver Special, close to the busy intersection of 1st Ave. and Renfrew. Will anyone actually live in the existing 73-year-old drab, box-like house with two bedrooms, one bath? Listed for C$1,188,000? Unlikely:
But C$1.188 million is only the listing price. How quickly it sells and at what price remains to be seen. Three weeks on the market already is not encouraging.
It feels like an eerie echo of a certain Dutch phenomenon involving tulip bulbs. Still, we won't hear any calls of a top until the last capitulated bear passes his real estate licensing exam to finally get in the game. By Angela Johnson, Vancouver, Canada.
Some cities are ahead of Vancouver. In Manhattan, sales of apartments in the second quarter dropped 10% year over year, to the lowest since crisis-year 2009. And in a new twist, and until recently a bastion of strength: sales of "lower priced" apartments – that sold for less than $1 million – plunged 20%. Read… It Gets Real: Manhattan Apartment Sales Plunge




Enjoy reading WOLF STREET and want to support it? You can donate. I appreciate it immensely. Click on the beer and iced-tea mug to find out how:

Would you like to be notified via email when WOLF STREET publishes a new article? Sign up here.